Thursday, February 2, 2017
Women's Hockey East Weekend Preview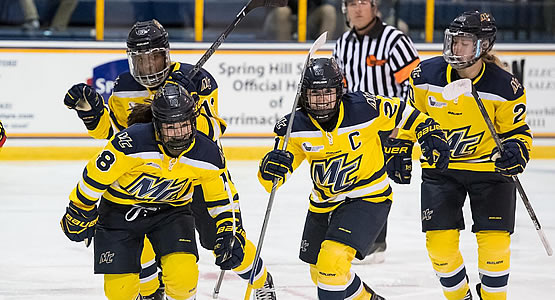 Merrimack College hosts Maine on Friday and Saturday for afternoon matinees
No. 6 Boston College vs. UConn/Northeastern - Fri. 2/3 at BC, Tues. 2/7 at NU
- With at least a share of the Hockey East regular season title already in hand, the No. 6 Boston College Eagles (20-3-4/15-2-2 HEA) return home with a chance to clinch the title outright. Standing in the way are the UConn Huskies (12-13-3/7-10-1 HEA), currently in need of at least two points to secure their playoff berth.
- Earlier this season, BC swept UConn in a home-and-home, the Eagles outscoring the Huskies, 8-1, in the series.
- The Eagles lead the league in both scoring offense (3.68 GPG), and scoring defense (1.37 GPG). BC has four players with double-digit goal totals, as sophomore forward Makenna Newkirk (Scottsdale, Ariz.) and senior forward Andie Anastos (Farmington Hills, Mich.) lead the way with 12 tallies each.
- UConn junior forward Leah Lum (Richmond, B.C.) is currently riding a four-game point streak, scoring six goals in that span. Lum was named last week's Warrior Hockey East Player of the Week for her efforts, scoring three of the Huskies' four weekend goals in a series split with Vermont.
- The Eagles and Huskies clash for the 39th annual Women's Beanpot on Tuesday at Matthews Arena. Boston College looks to repeat as champion while Northeastern searches for its first since 2013.

Providence vs. Northeastern/UConn/Boston College - Fri. 2/3 at NU, Sun. 2/5 at PC, Tues. 2/7 at BC
- Providence College (14-12-2/9-7-2 HEA) and Northeastern (17-9-3/12-7-2 HEA) finish off the regular season series in Boston on Friday, both already having a playoff spot reserved and currently sitting second and third in the league standings. The two previously met in November, when the Friars were edged by the Huskies twice.
- The series could have an impact on playoff seeding, as the Providence has six games in league play remaining to Northeastern's three. The teams are separated by six points.
- Northeastern, currently on a four-game win streak, blanking UNH on Jan. 28 as sophomore forward Brittany Bugalski (Boynton Beach, Fla.) made 29 stops for her fifth shutout on the season. On Tuesday, junior forward Denisa Krizova (Horni Cerekev, Czech Republic) extended her own five-game point streak (5g, 6a) with two assists in the opening round of the Women's Beanpot, helping NU to beat Harvard, 4-1.

New Hampshire at Vermont - Fri. 2/3, Sat. 2/4 at UVM
- New Hampshire and Vermont have both secured playoff spots and are currently tied for fifth in the standings with 20 points each through 18 games played. Both teams sit just one point out of hosting the first round.
- Vermont clinched a playoff spot with a series split with UConn. The first game was a back-and-forth affair, but a second period goal by junior forward Kourtney Menches (Greer, S.C.) would put the Catamounts ahead for good. Menches would also go on to score UVM's lone goal the following night in a 2-1 loss.
- UNH was last shutout by the Northeastern Huskies Saturday, 6-0, after an offensive explosion in a two-game series against Maine where UNH put up 11 goals. The Wildcats are outscoring the Catamounts this season with 2.72 goals per game as opposed to UVM's 2.17. However, UVM is also second in goals allowed per game with 2.17, while UNH sits at 3.06.

Maine at Merrimack - Fri. 2/3, Sat. 2/4 at MC
- Merrimack (9-17-3/5-14-0 HEA) hosts Maine (8-18-1/4-14-1) in a two-game series that carries the heaviest playoff implications. Merrimack currently sits eighth with 10 points, while Maine is in ninth with nine points with just five games remaining for each team.
- Merrimack gained ground with a win over Boston University last weekend, the first victory over the Terriers in program history. Freshman forward Mikyla Grant-Mentis (Brampton, Ont.) scored her first career hat trick and received the Pro Ambitions Rookie of the Week for her efforts. Freshman goaltender Lea-Kristine Demers (Repentigny, Que.) made 36 saves and held the Terriers to just one goal to earn Hockey East Defensive Player of the Week honors.
- Maine put up six goals in a two-game sweep at the hands of Providence. Four of Maine's final five games are against the Merrimack and UConn, the seventh and eighth place teams in the standings.

Boston University vs. Harvard – Tues. 2/7 at NU
- After a late-game goal handed the Terriers a loss in the opening round of the Women's Beanpot, Boston University (13-10-5/8-8-4 HEA) skate again in the consolation game against Harvard on Tuesday night back at Northeastern.
- Despite taking a 2-1 lead in the second period thanks to power-play goals from junior forward Nina Rodgers (Minnetonka, Minn.) and senior forward Maddie Elia (Lewiston, N.Y.), the Terriers surrendered the lead to the Eagles with just under three minutes remaining in regulation.