Thursday, January 5, 2017
Women's Hockey East Weekend Preview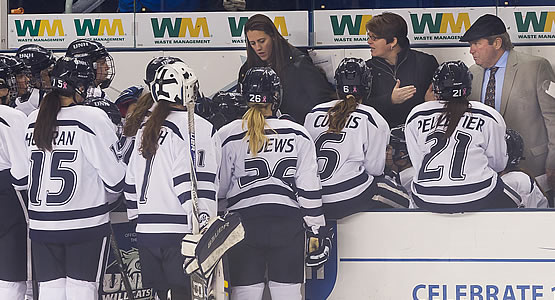 New Hampshire and Northeastern square off for the first time this season, starting in Boston on January 6 and then traveling to Durham on January 7.
No. 6 Boston College vs. Boston University/Harvard - Sat. 1/7 at BC, Tue. 1/10 at Fenway Park
- The conference leading Boston College Eagles (13-3-1/10-2-1 HEA) and the Boston University Terriers (12-7-1/7-6-0 HEA) meet for their second matchup of the season. Boston College took the first meeting on November 4, 5-3.
- Boston College was already back in action in 2017, welcoming Syracuse to Conte Forum for one game. Senior forward Kristyn Capizzano (Oakville, Ont.) rung in the new year with a hat trick to push the Eagles to a 4-3 win.
- December's Warrior Hockey Player of the Month, senior forward Andie Anastos (Farmington Hills, Mich.) enters the contest with a three-game point streak, scoring twice and assisting six times in that span, with nine goals and 11 assists through the first half of the season. Along with Anastos' award, freshman forward Delaney Belinskas (Port Orange, Fla.) was named the Pro Ambitions Rookie of the Month for December after tallying two goals and three assists for five points in two games.
- Sitting atop the scoring standings for BU are the pair of senior forward Mary Parker (Milton, Mass.) and junior forward Victoria Bach (Milton, Ont.) who have 52 points between them. Parker has 17 goals and nine assists through 20 games while Bach has 12 goals and 14 assists.
- Two of the best women's programs in the country take it outside when Boston College and Harvard clash Tuesday at Frozen Fenway as part of a day dedicated to girl's and women's hockey at Fenway. The game will be streamed live on BCEagles.tv.

Providence vs. Cornell - Fri. 1/6, Sat. 1/7 at Cornell
- The Friars return to the ice for the first time since December 9, 2016 when they defeated Merrimack, 3-2. Cornell and Providence have not met since the 2009-2010 season, when Providence the series, 6-3 and 3-0
- As a team, Providence is scoring 2.83 goals per game (4th in HEA), and allowing 3.17 goals per game (6th in HE). Providence also has the third best penalty kill unit in Hockey East, with a percentage of 88.7.
- Senior forward Cassidy Carels (Bruxelles, Man.) leads all Providence skaters with 22 points on the season (13g, 9a) through her 18 games played. Right behind Carels is junior forward Brooke Boquist (Thunder Bay, Ont.) who has racked up 11 goals and eight assists through her 19 games.

New Hampshire vs. Northeastern/Dartmouth - Fri. 1/6 at NU, Sat. 1/7 at UNH, Tue. 1/10 at Dartmouth
- New Hampshire (8-11-1/6-6-1 HEA) and Northeastern (8-4-2/12-6-3 HEA) square off for the first time this season, starting in Boston on January 6 and then traveling to Durham on January 7. Last season the Huskies were able to top the Wildcats in all three match ups during the regular season.
- The hottest UNH skater going into the break was freshman forward Nicole Dunbar (Coto de Caza, Calif.) who is currently on a four-game point streak (4g, 2a). Leading all UNH skaters is Jonna Curtis (Elk River, Minn.) who has found the net 11 times and added nine helpers over 20 games played.
- Northeastern is led in points by two junior forwards, McKenna Brand (Nevis, Minn.) and Denisa Krizova (Horni Cerekev, Czech Republic). Brand has 17 goals and nine assists for 26 points so far, and Krizova has 11 goals and 14 helpers for 25 points of her own.

UConn vs. Merrimack/Boston University - Fri. 1/6 at UConn, Sat. 1/7 at MC, Tue. 1/10 at UConn
- Merrimack (7-13-2/3-10-0 HEA) and UConn (9-7-3/4-4-1 HEA) complete their season series as UConn skated away with a 7-1 win on November 5, 2016. Six different UConn skaters scored in the contest.
- Both teams have already skated in 2017 as UConn fell to Northeastern, 4-2, on January 2 while Merrimack downed Vermont in a 2-1 overtime win on January 3. Warriors' sophomore forward Madison Morey (Fairbanks, Alaska) scored her first career goal in the overtime.
- UConn is led by two junior forwards, Leah Lum (Richmond, B.C.) and Theresa Knutson (Onalaska, Wis.). Lum has 11 goals and seven assists for 18 points through 18 games, and also had three game-winning goals and one game-winning assist in the first half of the season. Knutson has done her part with eight goals and nine assists, with two game-winning assists, and the decisive tally in UConn's 7-1 win over Merrimack.

Maine vs. Vermont - Sat. 1/7, Sun. 1/8 at UVM
- Maine (6-12-1/2-8-1 HEA) and Vermont (8-7-5/4-3-3 HEA) finish up their regular season series with two games in Burlington. Vermont previously took a 3-2 win over Maine on October 30.
- Black Bear freshman forward Tereza Vanisova (Strakonice, Czech Republic) has 22 points (12g, 10a) through 19 games to lead all Maine skaters, while junior forward Brooke Stacey (Kahnawake, Que.) rode a six-game goal streak and closed out 2016 with a two-assist game against Union. Stacey now sits in second among Maine skaters with 14 points (7g, 7a).
- The Catamounts are also led in scoring by a rookie forward in Eve-Audrey Picard (Longueuil, Que./7g, 7a), who started off 2017 the lone goal against Merrimack on Tuesday.