Wednesday, January 4, 2017
Women's Beanpot Tickets on Sale Now
Northeastern to Host 2017 Tournament at Matthews Arena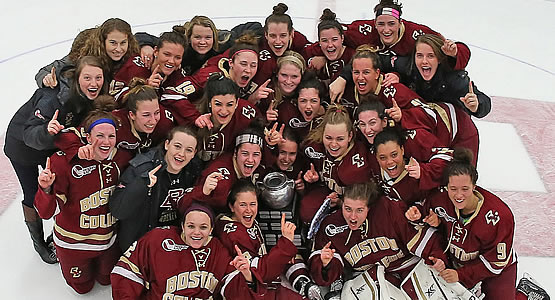 Boston College is the defending Women's Beanpot Champions
BOSTON - Tickets for the 39th-annual Women's Beanpot, hosted by Northeastern University at Matthews Arena on Jan. 31 and Feb. 7, 2017, are on sale now through the Northeastern Athletics ticket office.
Adult tickets are set for $10 per day, while youth tickets (age 12 and under) and groups of 10 or more are set for $5 per day. Tickets for students, faculty and staff members from the four participating schools are free at the door with valid school ID. To purchase tickets, visit tickets.GoNU.com or call (617) 373-4700.
The 2017 Women's Beanpot will commence on Jan. 31 with Boston College vs. Boston University in the first semifinal at 5 p.m., followed by Harvard against host Northeastern at 8 p.m. The winners will meet the following Tuesday in the championship game at 7:30 p.m., while the consolation game takes place at 4:30 p.m.
Buy Semifinal Tickets - Buy Consolation/Finals Tickets
One of the longest-running women's tournaments in all of college sports, the Women's Beanpot has been a Boston fixture since the first edition of the competition in 1979. The battle for city-wide bragging rights was claimed by Boston College in 2016 for the Eagles' sixth Women's Beanpot crown. Northeastern has won the most titles (16) of the four participating schools, including a run of eight consecutive championships between 1984-1991.