Weekly Release: Boston College, Northeastern Clinch Playoff Positions
Three Head Coaches Close In On All-Time Wins Record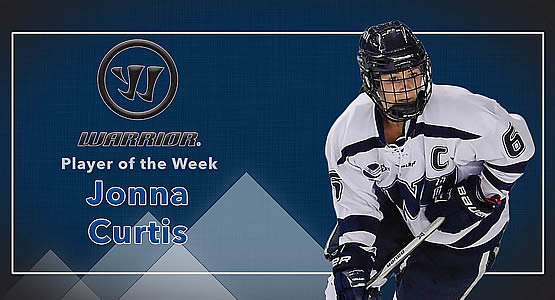 Warrior Hockey Player of the Week Jonna Curtis of New Hampshire
AROUND HOCKEY EAST: A trio of head coaches are within striking distance of the Women's Hockey East all-time coaching wins record of 153 league victories set by New Hampshire's Brian McCloskey. Providence's Bob Deraney sits second with 151 wins, while Boston College's Katie Crowley has won 150 games and Brian Durocher boasts 148 victories ... Boston College and Northeastern became the first two programs to clinch a spot in the Women's Hockey East playoffs over the weekend, earning playoff berths by virtue of a pair of sweeps. No. 6 Boston College traveled to Burlington, Vermont to dual the Catamounts and came away with a pair of wins. Vermont jumped out to a 2-0 lead off Amanda Drobot's (Churchville, Pa.) first goal of the year and Victoria Andreakos's (Aurora, Ont.) sixth. The Eagles then scored three unanswered goals, including two from Makenna Newkirk (Scottsdale, Ariz.), to earn the win. Megan Keller (Farmington Hills, Mich.) scored with just 46 seconds remaining to tie the game before Newkirk netted the overtime tally just 39 seconds into the extra frame. With an assist and a goal, Keller became the all-time assists (49) and points leader (60) for a defenseman in league play. The next night, Katie Burt (Lynn, Mass.) shutout the Catamounts to earn her 28th career shutout and 81st career victory at Boston College, a new school record ... Northeastern earned a pair of wins in a home-and-home with UConn, taking a 3-2 win Friday and a 5-3 decision Saturday. UConn junior forward Leah Lum (Richmond, B.C.) scored twice in Friday's loss, but Northeastern's McKenna Brand (Nevis, Minn.) scored late in the second period to give her Huskies the win. Brand again scored the decisive tally the next night, clinching a playoff spot for her program ... New Hampshire swept Maine as the Wildcats outscored the Black Bears, 11-1, in a pair of games. Senior captain Jonna Curtis (Elk River, Minn.) racked up eight points (4g, 4a) to lead the offensive outburst, including a goal and an assist in Friday's 4-1 win and a hat trick and three assists in Saturday's 7-0 victory ... Boston University took three points from Providence, led by Victoria Bach's (Milton, Ont.) six points on the weekend (3g, 3a). Bach scored a hat trick in Saturday's 5-5 draw before dishing out a trio of helpers in Sunday's 5-2 win over the Friars. Senior defenseman Alexis Crossley (Cole Harbour, N.S.) racked up four assists Saturday as well while junior Rebecca Leslie (Ottawa, Ont.) became the 11th Terrier to record 100 career points after a four-point (2g, 2a) weekend. Meanwhile, Friars rookie defenseman Whitney Dove (Port Moody, B.C.) tallied five assists in the pair of games, including three on Saturday to help her team overcome a 4-1 deficit and eventually earn a 5-5 tie. Dove finished plus-four in that game ... Merrimack skated to a 2-2 tie with No. 8 Quinnipiac Friday in its only game of the weekend thanks to goals from Annie Boeckers (Otsego, Minn.) and Paige Voight (St. Michael, Minn.). Mikyla Grant-Mentis (Brampton, Ont.) assisted on each of the tallies for the Warriors.
---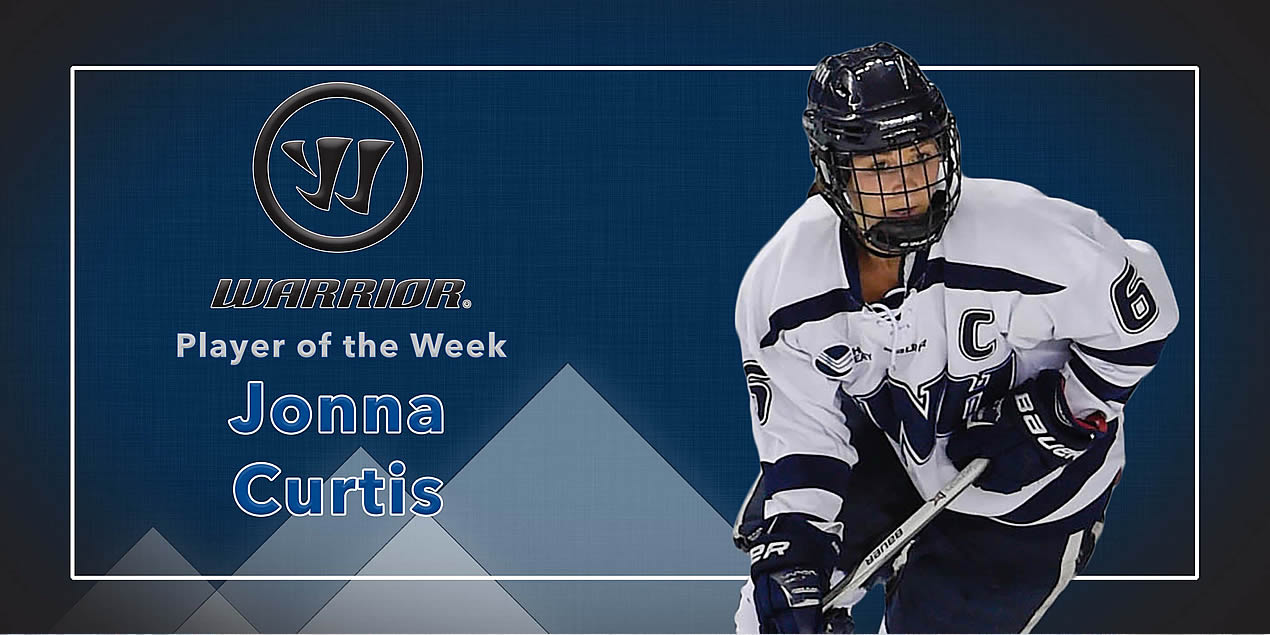 JONNA CURTIS - NEW HAMPSHIRE

Jonna Curtis (Elk River, Minn.) exploded for eight points over the weekend with four goals and four assists. On Friday, she had a goal and an assist before she potted her second hat trick of the season and three assists for a six-point game in UNH's 7-0 victory over Maine Saturday. She ended the weekend with a plus-six rating.
---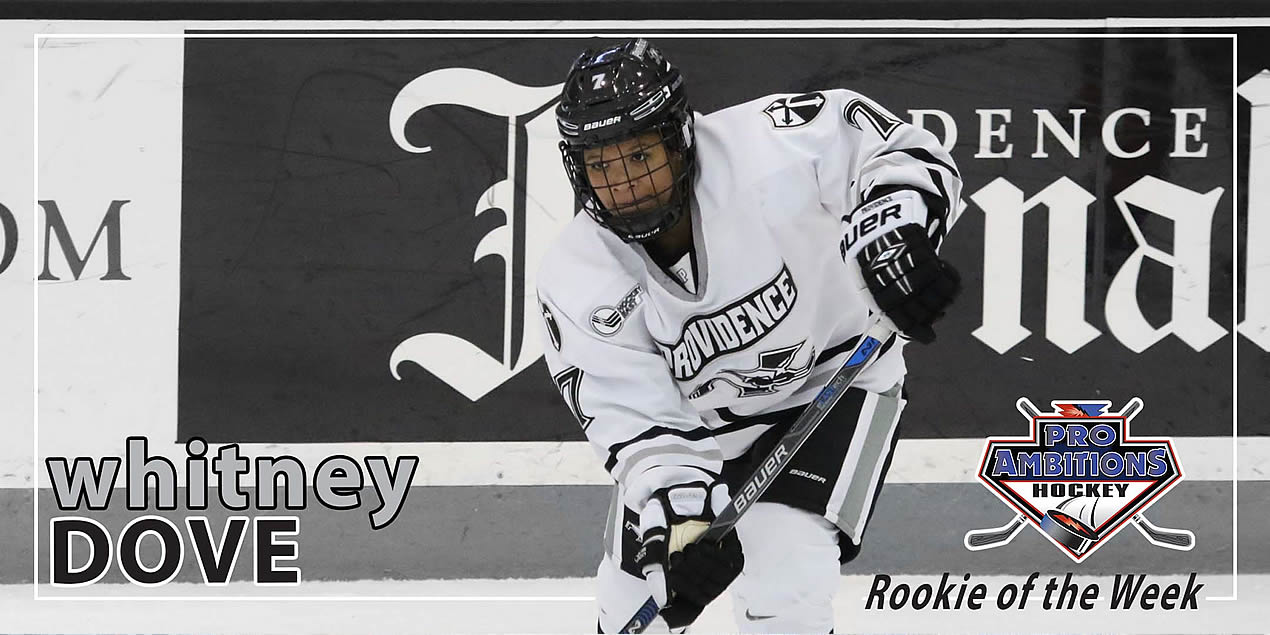 WHITNEY DOVE - PROVIDENCE

Whitney Dove (Port Moody, B.C.) had five assists in a pair of games with BU last weekend. On Friday, she sparked her team to with three assists, coming back from a 4-1 deficit to earn a 5-5 tie. She dished out two more helpers Saturday in a 5-2 setback. She currently sits third on the Friars with 21 points (5g, 16a).
---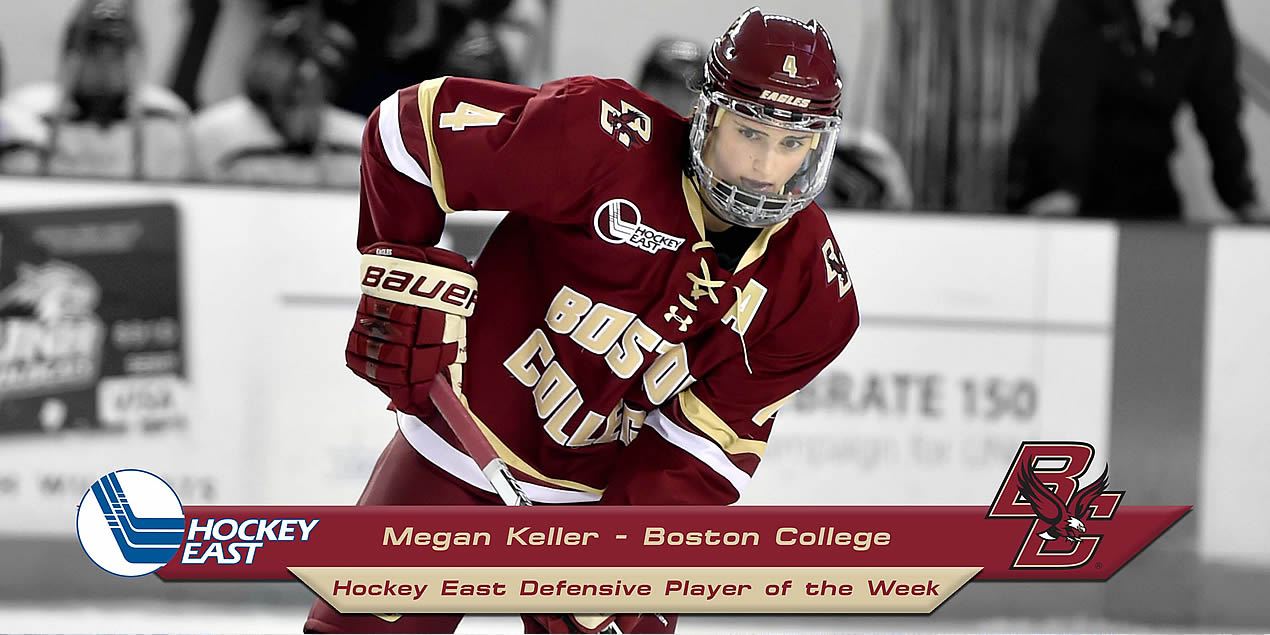 MEGAN KELLER - BOSTON COLLEGE

Megan Keller (Farmington Hill, Mich.) set two separate Women's Hockey East marks over the weekend, becoming the most prolific career point-getter of any defenseman in league history while surpassing the career assists mark as well. Her 60 points and 49 assists are the most by any defenseman, as she passed former Eagle Emily Pfalzer for number one in each category in a pair of victories at Vermont.
---
HOCKEY EAST WEEKLY TOP PERFORMERS
Katie Burt, BC (Jr., G; Lynn, Mass.) Earned career wins No. 80 and 81 over the weekend, the most in Boston College program history. The junior also grabbed her fourth shutout of the season and 28th career blank sheet.
Victoria Bach, BU (Jr., F; Milton, Ont.) Ranked third in the nation in points (6) last weekend with a hat trick on Saturday and three assists on Sunday to help BU grab three league points from Providence.
Abby Cook, BU (Fr., D; Kelowna, B.C.) Had a career-high two-point game on Sunday with a goal and an assist in BU's 5-2 win.
Alexis Crossley, BU (Sr., D; Cole Harbour, N.S.) Tallied four assists for a career-high four points in BU's 5-5 tie against PC on Saturday.
Leah Lum, UConn (Jr., F; Richmond, B.C.) Collected three points (2g, 1a) on the weekend and currently paces the team with 22 points.
Briana Colangelo, UConn (Fr., F; Whitby, Ont.) Registered three points (1g, 2a) to pull into second on the team in points (20) and first in assists (13).
Annie Belanger, UConn (Jr., G; Sherbrooke, Que.) Stopped 60 saves against Northeastern, including 27 and 33-save performances.
Kara Washer, ME (Fr., F; New Lowell, Ont.) Logged Maine's only goal of the weekend in a sweep by UNH, her second goal of the season.
Abby Chapman, UNH (Fr., F; Beverly Hills, Mich.) Had a four-point day with a goal and three assists in a 7-0 win over Maine on Saturday, ending with a plus-four rating.
Hilary Cashin, UNH (So., G; Frederiction, N.B.) Stopped 43 of 44 Maine shots with a .978 save percentage and 0.50 GAA in a weekend sweep of Maine.
McKenna Brand, NU (Jr., F; Nevis, Minn.) Netted two game-winning goals in a weekend sweep of UConn. Brand leads the nation in goals (21) and has the winning goal in each of NU's last three wins. Her five decisive tallies on the year are tied for most in the conference.
Amanda Drobot, UVM (Jr., D; Churchville, Penn.) Notched her first goal of the season Friday to give UVM an early lead over BC.
Eve-Audrey Picard, UVM (Fr., F; Longueuil, Que.) Picked up an assist on Drobot's goal Friday evening. She leads Vermont with 17 points (9g, 8a).
Melissa Black, UVM (So., G; Newmarket, Ont.) Tied her season high in saves on Friday, with 38 stops in an overtime loss to BC.
---