Weekly Release: Maine Black Bears Sweep Northeastern Huskies At Alfond
Boston College Women Make Frozen Fenway Debut In Win Over Harvard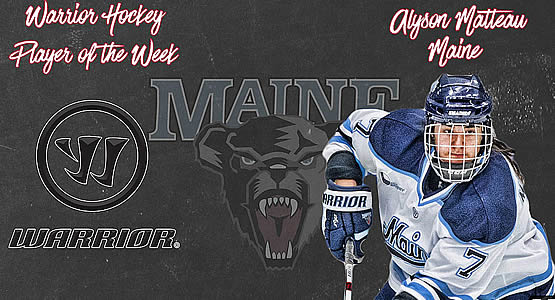 Warrior Hockey Player of the Week Alyson Matteau of Maine
AROUND HOCKEY EAST: The Maine Black Bears earned a weekend sweep over Northeastern at Alfond Arena. Friday saw Maine jump out to a 3-0 lead off goals from Tereza Vanisova (Strakonice, Czech Republic), Alyson Matteau (Mirabel, Que.), and Brooke Stacey (Kahnawake, Que.) to hold on for a 3-1 win. The next day, Matteau scored another goal and added three assists for the Black Bears in a 6-3 victory. Northeastern's Denisa Krizova (Horni Cerekev, Czech Republic) scored twice in Saturday's effort for the Huskies ... No. 6 Boston College met Harvard University on Tuesday as part of the 2017 Capital One Frozen Fenway Series. Freshman forward Erin Connolly (South Boston, Mass.) scored two goals while senior captain Andie Anastos (Farmington Hills, Mich.) added a pair of assists to help the Eagles to a 3-1 victory at a rainy Fenway Park. Later in the week, the Eagles battled league rival Merrimack in a home-and-home series that saw Anastos score the game winner with 2:30 left in the game to earn a 1-0 victory at Conte Forum on Friday. That shutout gave junior goaltender Katie Burt (Lynn, Mass.) her 19th career blank sheet in Hockey East play, the most ever by a league backstop. The next afternoon, Anasots opened the scoring and rookie forward Delaney Belinskas (Port Orange, Fla.) earned two assists in a 3-1 win. Merrimack sophomore forward Paige Voight (St. Michael, Minn.) scored the lone goal for the Warriors in the series ... Providence earned four points in Hockey East play by sweeping UConn in a home-and-home. Friars freshman Whitney Dove (Port Moody, B.C.) scored a pair of goals while three other Providence skaters recorded multi-point games in a 5-2 win Saturday. UConn netminder Annie Belanger (Sherbrooke, Que.) made 28 saves in the loss. The next afternoon, the Friars earned a 4-1 win at home thanks in part to a goal and an assist from sophomore forward Cassidy MacPherson (Oakville, Ont.). The weekend launched Providence into a tie for fifth place in the Hockey East standings and just one point out of third place ... Boston University skated three times last week, dropping a 2-1 decision to UConn on Tuesday before skating to a pair of stalemates with Vermont on Saturday and Sunday. Junior Victoria Bach (Milton, Ont.) had a goal and two assists for a three-point outing in Friday's 3-3 draw while graduate student forward Mary Parker (Milton, Mass.) scored the lone goal for BU Sunday. Vermont's rookie forward Eve-Audrey Picard (Longueuil, Que.) scored a goal in each outing for the Catamounts. The Terriers finished the season series with the Catamounts with a 0-1-2 record ... In New Hampshire's only outing of the week, Meghara McManus's (Milton, Mass.) seventh goal of the year and 23 saves from sophomore netminder Kyra Smith (Littleton, Colo.) was not enough against Dartmouth, as the Wildcats fell to the Big Green, 2-1.
---

ALYSON MATTEAU - MAINE

Alyson Matteau (Mirabel, Que.) racked up a five-point weekend to help the Black Bears sweep Northeastern in a two-game set, including netting the decisive marker in both outings. In Friday's 3-1 win, she scored the game-winning goal before again scoring the winning tally and dishing out three assists the next night.
---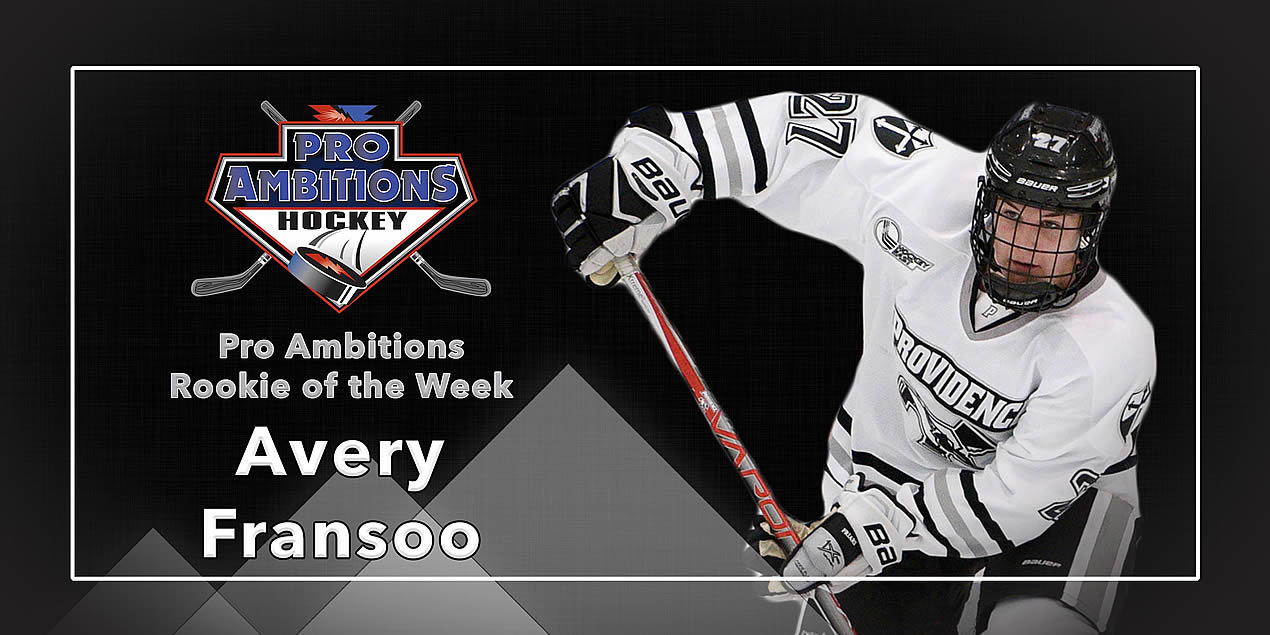 AVERY FRANSOO - PROVIDENCE

Avery Fransoo (North Battleford, Sask.) picked up four assists, two in each game, to help Providence sweep UConn in Hockey East play. She set up two power-play markers in the Friars' 5-2 win at UConn.
---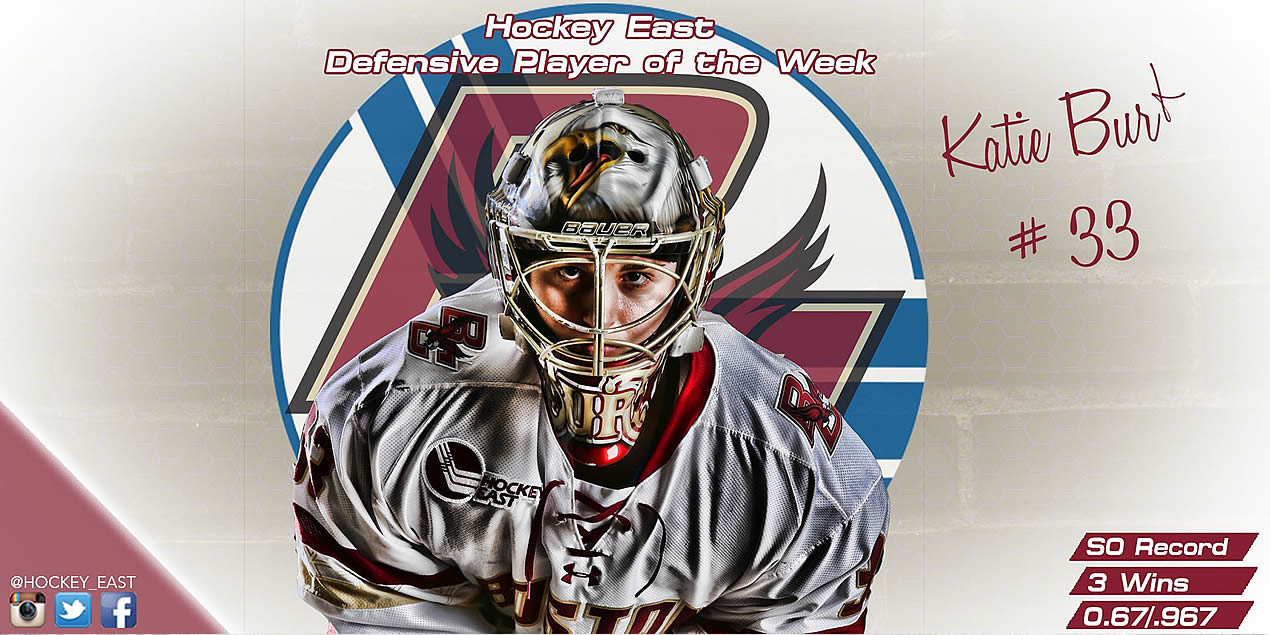 KATIE BURT - BOSTON COLLEGE

Katie Burt (Lynn, Mass.) collected three wins, including her 19th career Hockey East shutout, moving her into first place alltime in that category. She allowed just two goals in three outings and made 59 saves to post a league-best 0.67 goals against average and .967 save percentage across her three appearances.
---
HOCKEY EAST WEEKLY TOP PERFORMERS
Andie Anastos (Sr., F; Farmington Hills, Mich.) recorded five points in a 3-0-0 weekend with the Eagles, including all three game-winning goals. On Tuesday, she also assisted on each of Boston College's first two goals at Frozen Fenway in a 3-1 win over Harvard.
Delaney Belinskas, BC (Fr., F; Port Orange, Fla.) Dished out a trio of assists on the week, including one game-winning assist.
Mary Parker, BU (GS, F; Milton, Mass.) Registered at least a point in all three games last week, including the lone Terrier goal in Sunday's 1-1 tie with Vermont.
Victoria Hanson, BU (Sr., G; Stoughton, Mass.) Stopped 98 saves in three games to go 0-1-2 and earn a .942 save percentage.
Cassidy MacPherson, PC (So., F; Oakville, Ont.) Recorded three points (2g, 1a) in a sweep of UConn, including a power-play tally.
Whitney Dove, PC (Fr., D; Port Moody, B.C.) Registered two power-play points in one game played against UConn, a 5-2 win.
Saana Valkama, UVM (So., F; Pirkkala, Finland) Had a goal and an assist in Saturday's 3-3 draw with No. 10 Boston University.
Ève-Audrey Picard, UVM (Fr., F; Longueuil, Que.) Scored twice on the weekend, once in each of UVM's ties with BU, including the lone goal in a 1-1 stalemate on Sunday.
Madison Litchfield, UVM (Sr., G; Williston, Vt.) Allowed just one goal in 65 minutes of play Sunday and made 28 saves to move her save percentage to .945, a number that leads Hockey East and ranks fifth in the NCAA.
---