Thursday, January 12, 2017
Women's Hockey East Weekend Preview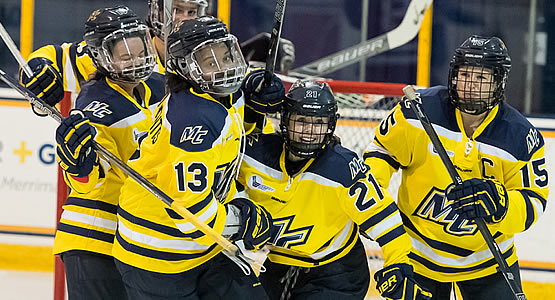 Merrimack College and Boston College play a home-and-home series on Friday and Saturday
Merrimack vs. Boston College - Fri. 1/13 at BC, Sat. 1/14 at MC
- Coming off a 3-1 victory over Harvard at Capital One Frozen Fenway in Fenway Park on Tuesday, the No. 6 Boston College Eagles (14-3-4/10-2-2 HEA) host the Merrimack College Warriors (8-14-2/4-11-0 HEA) who boasted a 2-1-0 week of Hockey East play, defeating Vermont in overtime and then splitting a series with UConn. Last year, Boston College swept the series 3-0-0, outscoring Merrimack 12-1.
- At Frozen Fenway, BC freshman defenseman Erin Connolly (South Boston, Mass.) lit up the scoreboard with a two-goal game, including the eventual game-winner in the second period. Senior forward Andie Anastos (Farmington Hills, Mich.) added two helpers and set up the decisve tally.
- Merrimack split a home-and-home with UConn over the weekend, each winning on their home ice. Warriors sophomore forward Madison Morey (Fairbanks, Alaska) scored her second goal in as many games on Friday night, while freshman forward Mikyla Grant-Mentis (Brampton, Ont.) put the game away with under four seconds remaining in the third period Saturday, giving Merrimack it's first program win over the Huskies.

Northeastern vs. Maine - Fri. 1/13, Sat. 1/14 at ME
- Northeastern (13-7-3/9-5-2 HEA) travels north to face Maine (6-14-1/2-10-1 HEA) to close their season series. Earlier this season, the Huskies and Black Bears faced off in Boston, as NU edged Maine for a 3-2 win on Nov. 5.
- Last weekend, Northeastern split a two-game set with New Hampshire. While at the Whittemore Center, Huskies junior forward and national goal scoring leader (19) McKenna Brand (Nevis, Minn.) went off for three points, with an assist and two goals, including the game-winner. In the same game, sophomore goaltender Brittany Bugalski (Boynton Beach, Fla.) stopped all 30 shots faced to secure her fourth shutout of the season.
- Maine was swept by Vermont on a two game road trip last time out, despite getting out to 1-0 leads in both contests by way of freshman forward Tereza Vanisova (Strakonice, Czech Republic) on Saturday and junior forward Catherine Tufts (Church Point, N.S.) on Sunday.
- Through this point in the season, Maine is the only Hockey East team to have not given up a shorthanded goal in any game. On the other end, Northeastern has scored the most shorthanded goals (7) of any Hockey East team this season.

Providence vs. UConn - Sat. 1/14 at UConn, Sun. 1/15 at PC
- The Providence College Friars (10-11-1/5-6-1 HEA) are set to square off with the UConn Huskies (11-8- 3/6-5-1 HEA) for the first time this season. Providence last split a weekend series at Cornell, and UConn is coming off a three game week, splitting a series with Merrimack, before taking down BU, 2-1, on Tuesday night at Freitas. It was UConn's second win over the Terriers this season after being winless in its previous 22 tries.
- Reigning Pro Ambitions Rookie of the Week, Providence goaltender Clare Minnerath (Sartell, Minn.) got the nod on Friday night, and with her first start in net she stopped all 26 shots faced and shut out Cornell in a 2-0 win. Frirars junior forward Brooke Boquist (Thunder Bay, Ont.) scored markers in both contests against Cornell, extending her point streak to three games.
- In UConn's past seven games, sophomore defenseman Kayla Mee (Winnipeg, Man.) has registered four straight games with an assist and then three straight games with a goal, bringing her to 10 points on the season (5g, 5a).
- Last season, UConn took the season series with Providence, going 2-0-1.

Vermont vs. Boston Univ. - Sat. 1/14, Sun. 1/15 at BU
- Boston University (12-8-2/7-7-1 HEA) and Vermont (10-7-5/6-3-3 HEA) wrap up their regular season series in Boston this weekend with a two-game set. Earlier this season, UVM was able to edge BU, 3-2, giving the Catamounts a win to open their Hockey East schedule for the season on Oct. 9.
- After a 1-1 stalemate with Boston College on Jan. 7 in which senior goaltender Victoria Hanson (Stoughton, Mass.) made 45 saves and earned Hockey East Defensive Player of the Week accolades, Boston University dropped a midweek tilt to UConn, 2-1. Senior forward Mary Parker (Milton, Mass.) registered an assist to sophomore forward Mary Grace Kelley (Natick, Mass.) in the contest, and now leads all BU scorers with 27 points (12g, 10a). Her total places her third among all Hockey East scorers. This was Kelley's first goal since BU's 7-2 defeat of Penn State back on Oct. 15.
- Vermont sophomore forward Alyssa Gorecki (Monee, Ill.) had a hand in both of UVM's victories over Maine, slipping one past the goaltender on Saturday, then adding another goal and an assist on Sunday to help the Catamounts secure the sweep. Fellow sophomore forward Saana Valkama (Pirkkala, Finland) matched Gorecki in points, assisting on Gorecki's Saturday goal before Gorecki set up Valkama's goal Sunday.