Thursday, December 1, 2016
Women's Hockey East Weekend Preview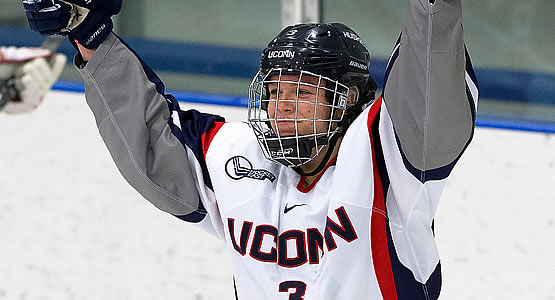 UConn faces Boston University in a home-and-home weekend series
UConn vs Boston University - Fri 12/2 at UConn, Sat. 12/3 at BU
- The UConn Huskies (8-5-3/3-2-1 HEA) welcome in the Boston University Terriers (10-5-1/6-5-0 HEA) as the two square off for the first time this season in a home-and-home weekend. UConn went 0-1-1 in the Nutmeg Classic last weekend, tying Yale, 1-1, and dropping a consolation game to Quinnipiac, 3-2. Boston University is currently on a five-game winning streak, with two overtime wins in the past three games.
- Against Yale, UConn junior forward Justine Fredette (Winnipeg, Man.) netted the tying goal at the 19:49 mark of the third, her third goal of the year. In the next game, junior forward Leah Lum (Richmond, B.C.) netted both goals against a ranked Quinnipiac team, giving her 10 on the year and bringing her point total to 16, good for the lead among all UConn skaters.
- In their midweek contest against Harvard, Mary Parker (Milton, Mass.) came up big against her former team, finding the net twice in regulation, before junior forward Victoria Bach (Milton, Ont.) put one away for the overtime winner as part of her three-point night (1g, 2a). Parker then had her own overtime winner Nov. 26 against Princeton.
- Last year's series between the two teams went 2-0-1 in favor of the Terriers, as both teams advanced to the Hockey East Semifinals.

UNH vs Merrimack - Fri. 12/2 at MC, Sat. 12/3 at UNH
- Merrimack (6-10-2/2-7-0 HEA) returns to league play after capturing the Nutmeg Classic championship, taking down both No. 9 Quinnipiac and Yale. UNH took on Maine last weekend in a single outing, skating to a 2-2 tie after coming back from a 2-0 hole.
- Merrimack sophomore goaltender Samantha Ridgewell (Outlook, Sask.) stopped 43 shots in a 1-1 tie with No. 9 Quinnipiac, before blocking both attempts by the Bobcats in a shootout to push her team into the tournament final. Sophomore forward Katelyn Rae (Courtice, Ont.) netted two pucks in the title game against Yale, including the game-winner.
- In Maine, the Wildcats found themselves down 2-0 midway through the second, when freshman forward Nicole Dunbar (Coto de Caza, Cali.) netted her first of the year to make it a one goal game. The goal was assisted by Pro Ambitions Rookie of the Week Meghara McManus (Milton, Mass.), who then went on to score the game-tying goal, her sixth of the season, assisted by Dunbar.

No. 6 Boston College at Providence - Sat. 12/3 at Providence
- The Providence Friars (8-9-1/4-5-1 HEA) host No. 6 Boston College (10-3-3/9-2-1 HEA) for the first meeting between the two of the season. Last year the Eagles won all three meetings between the two, outscoring the Friars, 25-3.
- Providence won Mayor's Cup over cross-town rival Brown, 7-3, last week. Boston College tied with Northeastern, 2-2, on Nov. 20, then downed the Huskies, 4-2, on Nov. 26.
- Against Brown, Friars' junior forward Blair Parent (Blaine, Minn.) scored a hat trick to pace her team to victory. Parent added another goal against NU for her fourth in two games.
- Providence sophomore forward Cassidy Macpherson (Oakville, Ont.) assisted on four of the seven goals against Brown, including the eventual game-winner.
- BC senior forward Kristyn Capizzano (Oakville, Ont.) netted a shorthanded game-winner for the Eagles over NU, while junior defenseman Toni Ann Miano (Bronx, N.Y.) scored one of her own and assisted on another.

Vermont at No. 10 Northeastern - Sat. 12/3, Sun. 12/4 at NU
- After hosting the Windjammer Classic last weekend, the Vermont Catamounts (4-6-4/2-2-3 HEA) hit the road for a two-game series with No. 10 Northeastern (11-4-3/7-2-2 HEA). Last season, Northeastern swept the season series with Vermont, 3-0-0.
- Vermont defeated St. Cloud State, 5-1, to advance to the Windjammer final, but were defeated by No. 5 Clarkson, 3-1. Northeastern's last outing was a 5-3 win over Providence on Nov. 30.
- Catamounts senior forward Bridget Baker (Los Gatos, Calif.) had a hat trick that featured an even strength goal, a shorthanded goal, and a power play goal, lifting Vermont to an opening round win. She doubled her goal total and now has six on the season.
- In a 4-2 setback to Boston College, Northeastern junior forward McKenna Brand (Nevis, Minn.) and senior forward Paige Savage (Johns Creek, Ga.) scored goals within 1:37 in the third period to put the Huskies ahead, 2-1, briefly. Brand went on to score two more and add two helpers at Providence for her seventh point in three games.
- Sophomore goaltender Brittany Bugalski (Boynton Beach, Fla.) had 56 saves in the past two games, giving her 452 on the season, the most of any Hockey East goalie.

Maine vs. Mount Allison - Sat. 12/3 in Presque Isle, Maine
- The Black Bears (4-12-1/2-8-1 HEA) are set to travel north to Presque Isle, Maine for a one-game exhibition with Mount Allison.
- In the last three games, Maine is 1-1-1, skating to a draw with UNH and splitting a midweek series with Dartmouth.
- In the second game with Dartmouth, freshman forward Tereza Vanisova (Stakonice, Czech Republic) scored twice to help lift the Black Bears to a 3-2 win while senior goaltender Mariah Fujimagari (Markham, Ont.) saved 25 of 27 to earn her second win of the season.