Weekly Release: UConn, Northeastern Take Two League Wins Each
Boston College, Boston University Split Weekend Series in Title Game Rematch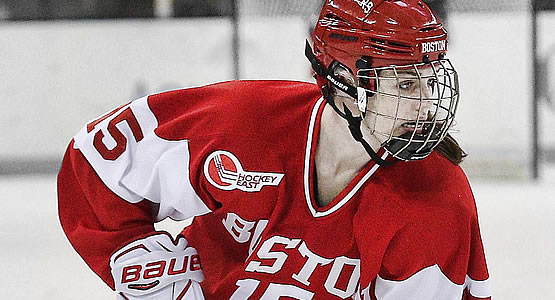 Warrior Hockey Player of the Week Mary Parker of Boston University
AROUND HOCKEY EAST: Friday saw the 2016-17 renewal of the Battle of Comm. Ave as Boston College and Boston University faced each other for the first time since the 2016 Women's Hockey East Championship game. The first six goals of a back and forth tilt were scored by six different skaters, before Boston College freshman forward Delaney Belinskas (Port Orange, Fla.) netted the game-tying and game-winning goals just 2:05 apart in the third to put BC ahead for good. An empty-net goal from Kristyn Capizzano (Oakville, Ont.) sealed the 5-3 Eagles win. Two skaters scored their first goals of the season in the contest, as BC's sophomore defenseman Erin Connolly (South Boston, Mass.) and Terriers junior forward Nina Rodgers (Minnetonka, Minn.) found the back of the net Friday. The next day's tilt saw BC leading 2-0 entering the third before BU graduate student Mary Parker (Milton, Mass.) erupted for four points in the final frame to push the Terriers to a 5-3 victory. Terrier freshman forward Deziray De Souza (Montreal, Que.) netted her first goal of her career on the game-winner ... Northeastern took a pair of games on the weekend from Maine and Providence. Saturday, the Huskies staked an early 3-0 lead by way of goals from juniors Denisa Krizova (Horni Cerekev, Czech Republic) and Makenna Brand (Nevis, Minnesota) and senior Paige Savage (Johns Creek, Ga.). Maine got two third-period goals from junior forward Catherine Tufts (Church Point, N.S.) and Brooke Stacey (Kahnawake, Que.) to bring the Black Bears within one thanks to 24 saves from Brittany Bugalski (Boynton Beach, Fla.). The next day saw three shorthanded goals in a 2-1 Huskies triumph over Providence, behind another 32 saves from Bugalski ... The Providence Friars welcomed the New Hampshire Wildcats Saturday, dropping a tight 4-3 decision. The Wildcats saw goals from junior forward Carlee Toews (Grand Prairie, Alta.), senior forward Jonna Curtis (Elk River, Minn.), and freshman forward Meghara McManus (Milton, Mass.). Friars sophomore forward Cassidy MacPherson (Oakville, Ontario) scored to tie the game at 1-1 just 27 seconds after UNH opened the scoring, but despite goals from freshman defenseman Rachel Rockewell (Broadview Heights, Ohio) and sophomore forward Christina Putigna (Grimsby, Ont.), were unable to close the gap ... The UConn Huskies rolled to a decisive 7-1 victory at Merrimack on the back of three-point nights from Leah Lum (Richmond, B.C./2g, 1a) and Theresa Knutson (Onalaska, Wis./1g, 2a). Merrimack sophomore forward Katelyn Rae (Courtice, Ont.) scored the lone goal for the Warriors ... UConn then traveled to New Hampshire, where Lum netted her third goal of the weekend to put the Huskies up 1-0. New Hampshire's leading point-getter Jonna Curtis (Elk River, Minn.) pulled her Wildcats even at one-goal apiece in the third, forcing an extra frame to decide the winner. UConn junior forward Lindsay Roethke (Buffalo, Minn.) played hero on the day, scoring her first goal of the season with just 35 seconds remaining in the extra frame.
---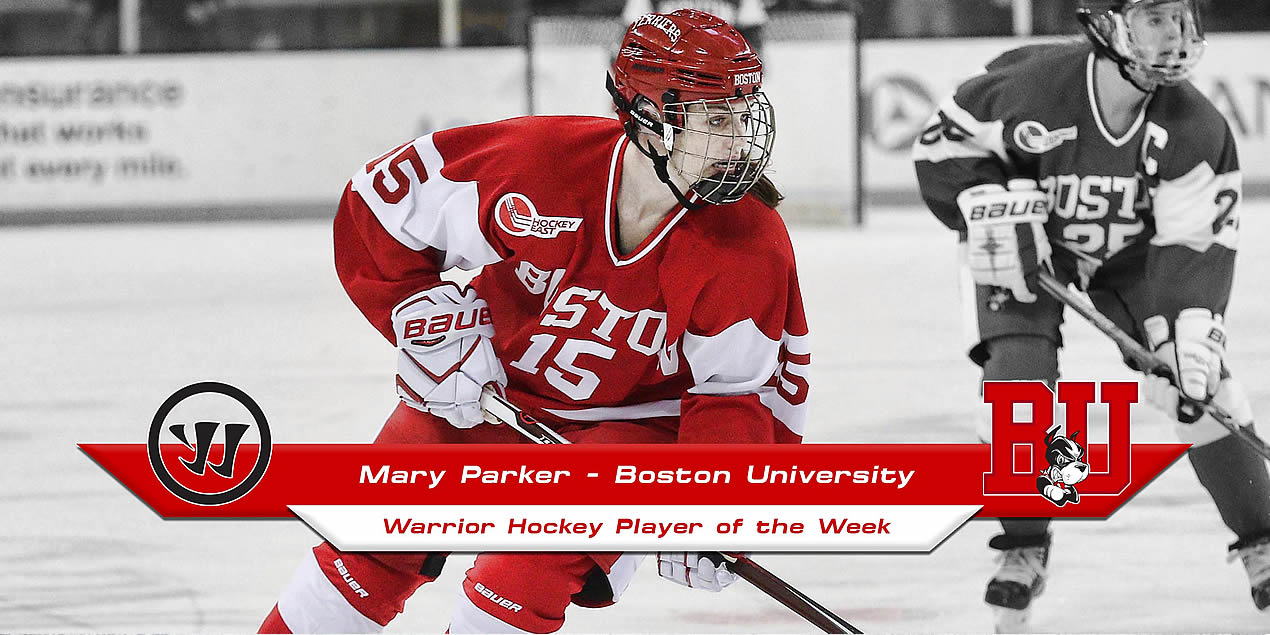 MARY PARKER - BOSTON UNIVERSITY

Mary Parker (Milton, Mass.) racked up five points on one goal and four assists in two games against rival Boston College during a weekend split. Four of those points game in the third period of a 5-3 win over the Eagles after BU trailed 2-0 entering the frame. She finished a plus-three on the day.
---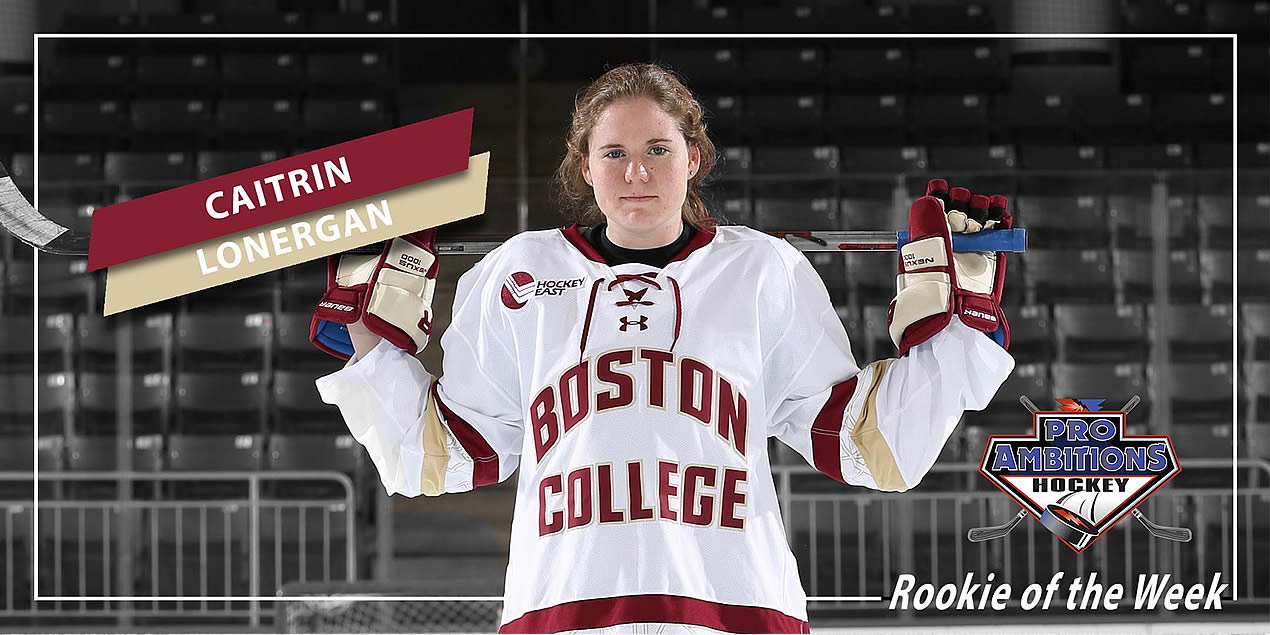 CAITRIN LONERGAN - BOSTON COLLEGE

Caitrin Lonergan (Roslindale, Mass.) picked up another four points (2g, 2a) to extend her point streak to five games. The nation's top scoring freshman (8g, 7a) won 17 of 27 faceoffs this week en route to helping her squad split a pair of 5-3 decisions with rival Boston University, including spurring a come-frombehind win Friday night.
---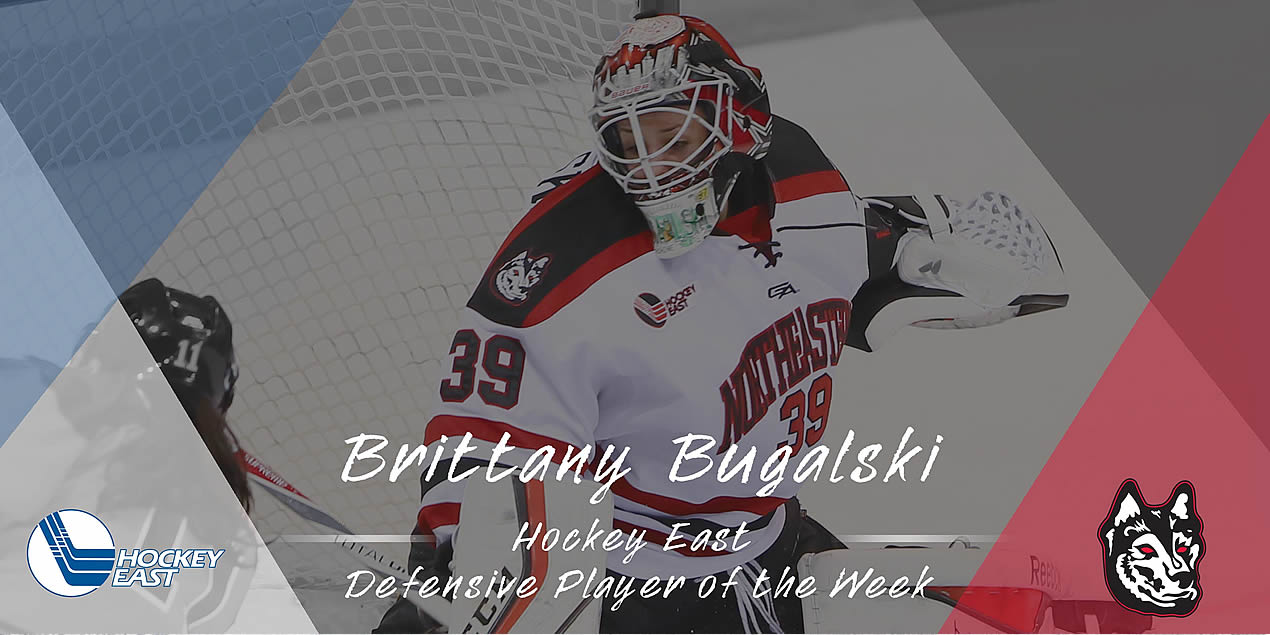 BRITTANY BUGALSKI - NORTHEASTERN

Brittany Bugalski (Boynton Beach, Fla.) stopped another 56 shots in two wins for Northeastern, proving to be the difference maker in two tight tilts. She made 24 saves against Maine in a 3-2 win after the Huskies were up 3-0 before turning in a 32-save performance in Sunday's 2-1 win over Providence, including all 28 shots she saw in the final two periods.
---
HOCKEY EAST WEEKLY TOP PERFORMERS
Makenna Newkirk, BC (So., F; Scottsdale, Ariz.) Tallied four points (1g, 3a) in the weekend series with Boston University, including being part of all three Eagles goals on Saturday.
Deziray De Sousa, BU (Fr., F; Montreal, Que.) Broke a 3-3 tie against BC on Saturday with her first collegiate goal, the eventual game-winner to help lift the Terriers to a 5-3 win to split the series with the Eagles.
Alexis Crossley, BU (Sr., D; Cole Harbour, N.S.) Had a three-assist weekend in the two-game split with Boston College. She also helped to block eight shots over the course of two games.
Jonna Curtis, UNH (Sr., F; Elk River, Minn.) Curtis is on a six-game point streak after netting a goal in each game this weekend against Providence and UConn, finishing with two goals, one assist, 13 shots and a plus-one rating.
Meghara McManus, UNH (Fr., F; Milton, Mass.) Had her first ever multi-point game against Providence (1g, 1a). Her tally out the Wildcats up, 3-2, as UNH held on for the victory.
Denisa Krizova, NU (Jr., F; Horni Cerekev, Czech Republic) After a power-play goal and a helper on the game-winner in a 3-2 victory over Maine, Krizova netted a shorthanded, decisive goal against Providence on Sunday in a 2-1 affair that saw all three goals come shorthanded.
Leah Lum, UConn (Jr., F; Richmond, B.C.) In a 7-1 win over Merrimack Saturday, Lum grabbed three points (2g, 1a), then added another goal in a 2-1 OT win against UNH on Sunday.
Briana Colangelo, UConn (Fr., F; Whitby, Ont.) In two games, she recorded a goal and two assists. Her helpers each came on two power play tallies by Leah Lum. Colangelo leads the team in assists with seven.
Jaime Fox, UConn (So., D; Unionville, Ont.) Had two assists in Saturday's 7-1 win over Merrimack, and added another helper on the OT winner against UNH on Sunday.
---