Thursday, November 3, 2016
Women's Hockey East Weekend Preview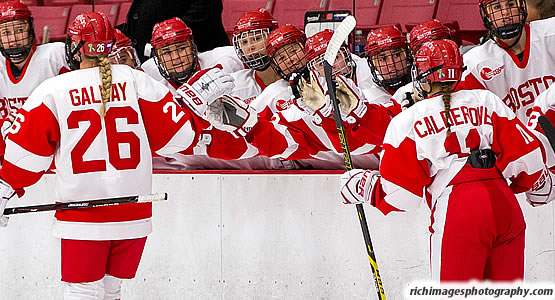 Boston University and Boston College square off in a home-and-home weekend series
No. 4 Boston College vs. Boston University - Fri. 11/4 at Boston College, Sat. 11/5 at Boston University
- Boston College and Boston University meet for the first time since the 2016 Women's Hockey East Championship, when the Eagles topped the Terriers, 5-0, to capture the Bertagna Trophy. It was the Eagles' fifth win of the 2015-16 season over the Terriers.
- Boston University enters November with a 3-3-1 overall record and a 2-3-0 record in Hockey East play, while BC sports a 6-2-2 overall and 5-1-0 in Hockey East contests.
- The matchup pits the Terriers' top scoring offense among all Hockey East teams (3.86 GF/G) against the Eagles' top defense (1.60 GA/G).
- Boston University's senior forwards lead the team's scoring charge as Samantha Sutherland (Cochrane, Alta./7g, 3a) who has Mary Parker (Milton, Mass./6g, 3a) and Maddie Elia (Lewiston, N.Y./5g, 3a) sit atop all Terriers point-getters.
- Eagles senior forward Andie Anastos (Farmington Hills, Mich.) has put up six of her eight points on the season in the past three games, netting four goals and adding two helpers in that span. BC leading point-getter and Pro Ambitions Rookie of the Month Caitrin Lonergan (Roslindale, Mass.) has provided four points of her own in those three tilts, including two game-winning helpers.
- Junior goaltender Katie Burt (Lynn, Mass.) has a 5-2-2 record in net with a .923 save percentage through nine games while Terriers' senior netminder Victoria Hanson (Stoughton, Mass.) has a .920 save percentage in her four games in net with a 2-2-0 record.

Northeastern vs. Maine/Providence - Sat. 11/5, Sun. 11/6 at Northeastern
- Northeastern (6-3-1/2-1-0 HEA) opens a two-game home stand Saturday against Maine (2-8-0/1-5-0 HEA) before welcoming the Providence Friars (5-5-0/2-1-0 HEA) on Sunday.
- Northeastern claimed two of the three spots in October's monthly awards, as junior forward Denisa Krizova (Horni Cerekev, Czech Republic) was named Warrior Hockey Player of the Month (6g, 8a) and sophomore goaltender Brittany Bugalski (Boynton Beach, Fla.) nabbed Hockey East Goaltender of the Month (6-2-1, 232 saves, .935 save percentage, three shutouts).
- Maine continues its 11-game run against Hockey East foes after dropping a pair of 3-2 decisions to Providence and Vermont last weekend. Black Bears freshman goaltender Carly Jackson (Amherst, N.S.) leads all Hockey East goaltenders with 100 saves in conference road games as her squad heads to Matthews Arena for a one-game stint against the Huskies.
- Black Bears junior forward Catherine Tufts (Church Point, N.S.) staked Maine to an early lead against Providence Saturday, netting the game's first two goals, her second and third strikes of the year. A pair of third-period assists from Friars sophomore Christina Putigna (Grimsby, Ont.) helped Providence rally for the 3-2 victory.
- Sunday's contest saw the Black Bears attempt a stage a come-from-behind victory of their own, as junior forward Brooke Stacey (Kahnawake, Que.) and senior forward Morgan Sakundiak (Calgary, Alta.) found the back of the net at 1:21 and 4:10 of the third period, respectively, to tie things at two goals apiece. The Catamounts' Kourtney Menches (Greer, S.C.) ended the comeback bid at the 5:25 mark of the final frame to secure a 3-2 Vermont win.
- Last season Northeastern swept the series against Maine, 3-0-0.

UNH vs. Providence/UConn - Sat. 11/5 at Providence, Sun. 11/6 at UNH
- UNH (2-7-0/2-2-0 HEA) battles once on the road and once at home this weekend, after taking a win from Vermont last weekend, 4-2. UNH currently owns the best penalty kill percentage among Hockey East teams, killing off 93.8% of opponents power plays (45 of 48).
- Providence travels to Whittemore for the first time this season after taking down Maine, 3-2, and Merrimack, 6-2 last weekend. Providence has scored the most goals overall among Hockey East teams, with 34 in 10 games.
- UNH senior forward Jonna Curtis (Elk River, Minn.) has tallied eight points in the last four games (5g, 3a).
- After staging a late-game comeback against Maine, Providence sophomore defenseman Kate Friesen (Altona, Man.) put up two goals and an assist while Warrior Hockey Co-Player of the Week Brooke Boquist (Thunder Bay, Ont.) added two goals and three assists of her own to take down Merrimack, 6-2.
- Providence took the series last season against UNH, 2-1-0.

UConn vs. Merrimack/UNH/Brown - Sat. 11/5 at Merrimack, Sun. 11/6 at UNH, Tue. 11/8 at Brown
- UConn (4-4-1/0-2-0 HEA) dropped a pair of games in a home-and-home with No. 4 Boston College last weekend, 3-0 and 5-1.
- Merrimack (4-5-1/2-2-0 HEA) comes off a 1-1-0 weekend where it earned its first program win against Northeastern, 3-2. As a team, Merrimack has the highest goals per shot on net rate of any Hockey East team, operating at a .118 clip this season.
- UConn junior goaltender Annie Belanger (Sherbrooke, Ont.) got the start in both games against the Eagles, racking up a total of 75 saves. Her .942 save percentage on the season is the second-highest save percentage in the conference.
- The lone Huskies goal scored on the weekend came off a power play shot from junior forward Theresa Knutson (Onalaska, Wis.), her fifth on the year.
- In the Warrior's 3-2 win over Northeastern, Merrimack buried three pucks before the Huskies were able to respond. Merrimack freshman goaltender Lea-Kristine Demers (Repentigny, Que.) kicked out 35 shots to earn Pro Ambitions Rookie of the Week honors.
- In the same contest, two Merrimack sophomores, defenseman Felia Manu (Anchorage, Alaska) and forward Emily Volpe (Whitby, Ont.), both buried the puck to pick up their first goals of the season. Volpe's goal turned out to be the game-winner.
- UConn and Merrimack met four times last season, including once in the Nutmeg Classic, and the Huskies took the series 3-0-1.
- UConn also faces UNH this weekend, whom they eliminated from the Hockey East Playoff last season in two straight games, including a triple-overtime thriller.