Monday, November 28, 2016
Weekly Release: Merrimack Captures Nutmeg Classic Title
Boston University Takes Three on the Week Behind Two Parker OT Winners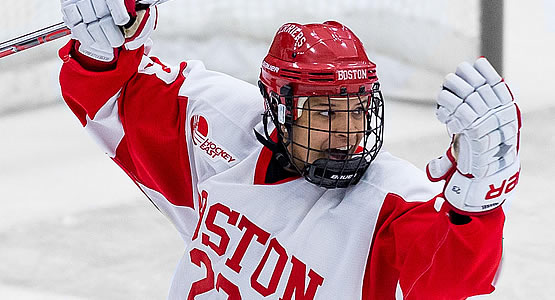 Warrior Hockey Player of the Week Nina Rodgers of Boston University
AROUND HOCKEY EAST: The Merrimack Warriors claimed the title at the Nutmeg Classic hosted by Quinnipiac, downing the Bobcats in a shootout before toppling Yale for the championship victory. A late third-period goal by sophomore forward Paige Voight (St. Michael, Minn.) forced overtime and a shootout, where sophomore goaltender Samantha Ridgewell (Outlook, Sask.) denied out both of the Bobcats' attempts to advance to the final. In title game, Warriors sophomore forward Katelyn Rae (Courtice, Ont.) scored twice, including the game-winner, as freshman goaltender Lea-Kristine Demers (Repentigny, Que.) stopped 18 third period shots to give Merrimack the win ... In the other side of the Nutmeg Classic bracket, UConn junior forward Justine Fredette (Winnipeg, Man.) netted a late goal with an extra attacker, forcing a 1-1 tie and an eventual shootout with Yale. Junior goaltender Annie Belanger (Sherbrooke, Ont.) kicked out 38 pucks on the night, but UConn fell to Yale, 3-2, in the shootout. The following day Belanger made another 42 saves on 45 shots, and junior defenseman Leah Lum (Richmond, B.C.) had two goals, but Quinnipiac came out on top, 3-2 ... No. 10 Northeastern and No. 6 Boston College squared off in the second ranked matchup of the season after skating to a 2-2 tie Nov. 20. The Eagles held a 1-0 lead going into the third period off a goal from sophomore defenseman Erin Connolly (South Boston, Mass.) before Northeastern junior forward MaKenna Brand (Nevis, Minn.) evened the tilt 1-1 with an assist from senior forward Paige Savage (Johns Creek, Geo.). Savage scored just a minute and a half later to give the Huskies a 2-1 lead. Eagles junior defenseman Toni Ann Miano (Bronx, N.Y.) responded to tie the game and senior forward Kristyn Capizzano (Oakville, Ont.) netted the shorthanded game-winner as the Eagles went on to win 4-2 ... New Hampshire and Maine squared off in Auburn, Maine, skating to a 2-2 stalemate. Maine took a 2-0 lead off goals from senior forward Morgan Sakundiak (Calgary, Alta.) and junior forward Brooke Stacey (Kahnawake, Que.) before UNH struck back with tallies from rookie forwards Nicole Dunbar (Coto de Caza, Calif.) and Meghara McManus (Milton, Mass.) in the third ... BU senior forward Mary Parker (Milton, Mass.) knocked off her former team Harvard with an overtime winner Tuesday in a 4-3 Terrier triumph. Boston University then toppled Princeton in a two-game set, taking a 4-1 win Friday night thanks to a three-point night from junior forward Nina Rodgers (Minnetonka, Minn./1g, 2a). Parker scored yet another OT winner the next night to sweep the Tigers with a 4-3 win ... The Mayors' Cup was up for grabs in Rhode Island, as the Providence Friars took Brown in the one-game tournament. Junior forward Blair Parent (Blaine, Minn.) posted a hat trick as the Friars piled on six goals in the first two periods to take a 6-0 lead into the final frame. Senior forward Cassidy Carels (Bruxelles, Man.) netted a shorthanded goal in the final period to add insurance to a 7-3 victory while sophomore goaltender Madison Myers (Colchester, Vt.) stopped 20 shots on 23 attempts ... Vermont hosted the Windjammer Classic in Burlington, where the Catamounts took down St. Cloud State, 5-1, in the first round. Senior Bridget Baker (Los Gatos, Cali.) accounted for three of those goals, registering her first hat trick of the season. Senior goaltender Madison Litchfield (Williston, Vt.) kicked out 16 of the 17 shots faced in the matchup. On Saturday, senior forward Sarah Kelly (Vestal, N.Y.) netted her first goal of the season, but No. 5 Clarkson took the tournament title with a 3-1 win.
---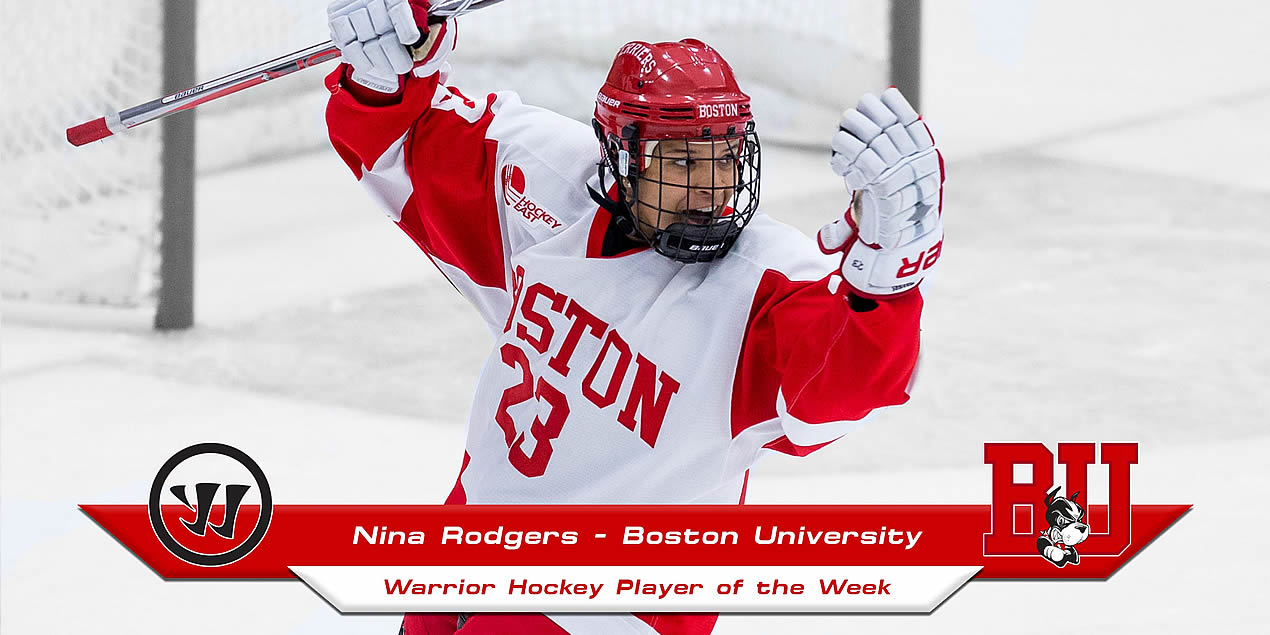 NINA RODGERS - BOSTON UNIVERSITY

Nina Rodgers (Minnetonka, Minn.) Finished with a league-best five points (1g, 4a) as she helped BU to win three games last week. As part of her fivepoint outing, she set up the overtime winners Nov. 22 against Harvard and Saturday against Princeton.
---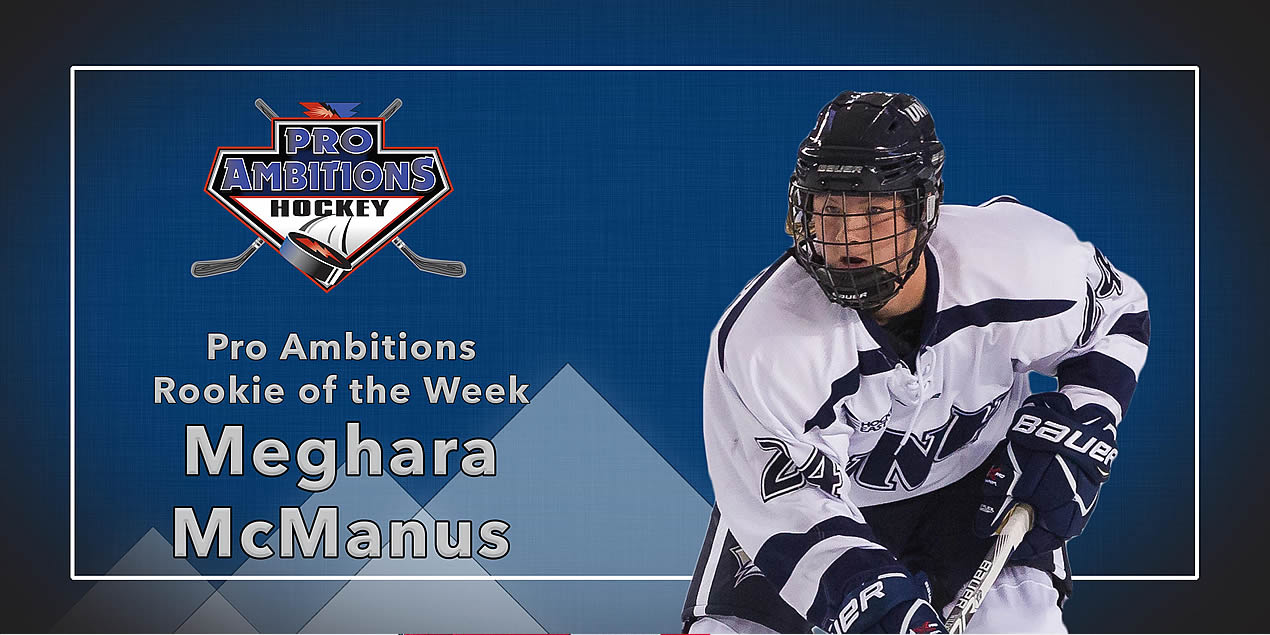 MEGHARA MCMANUS - NEW HAMPSHIRE

Meghara McManus (Milton, Mass.) tied a career high with two points and factored on both UNH goals (1g, 1a) in a 2-2 tie at Maine Saturday, knotting the game at two with just 2:25 left in regulation.
---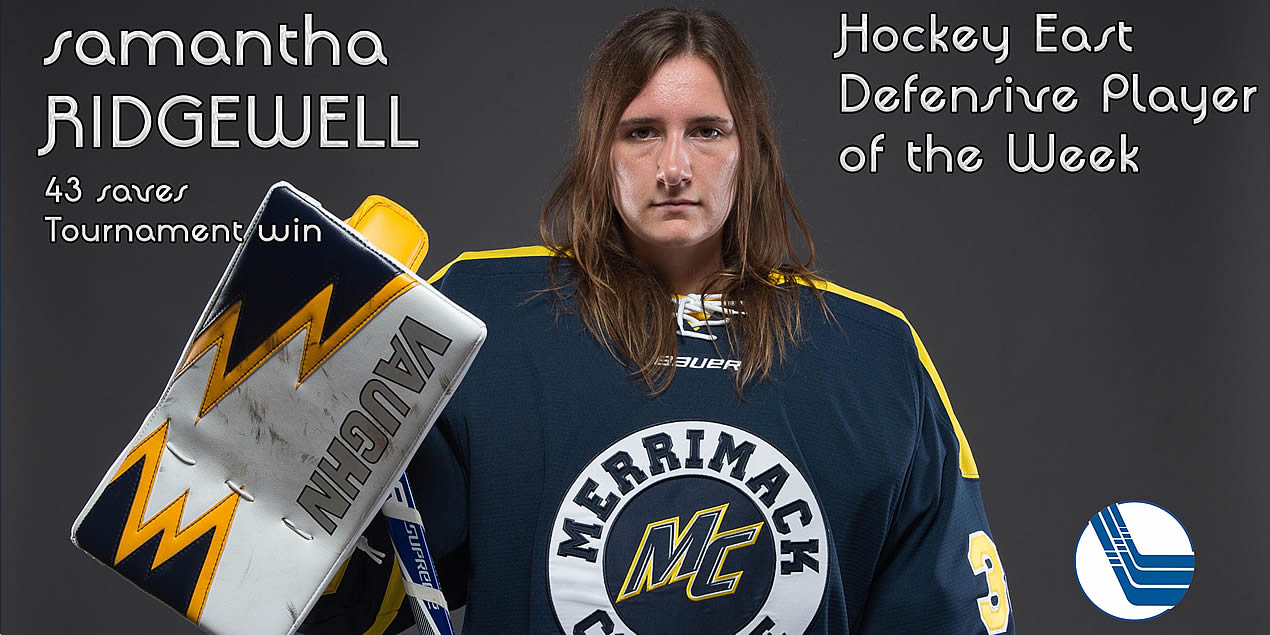 SAMANTHA RIDGEWELL - MERRIMACK

Samantha Ridgewell (Outlook, Sask.) stopped 43 shots on 44 attempts in a 1-1 tie with No. 8 Quinnipiac in the first game of Nutmeg Classic, hosted by the Bobcats. Also stopped two shootout attempts to propel the Warriors into the tournament championship game.
---
HOCKEY EAST WEEKLY TOP PERFORMERS
Toni Ann Miano, BC (Jr., D; Bronx, N.Y.) Scored the game-tying goal at No. 10 Northeastern to make the game 2-2 and added an assist in a 4-2 win for the Eagles. Helped the penalty kill convert all seven attempts on the day.
Delaney Belinskas, BC (Fr., F; Port Orange, Fla.) Picked up two assists in a 4-2 win at NU, her first multi-assist outing.
Megan Keller, BC (Jr., D; Farmington Hills, Mich.) Led all players with a plus-three rating and helped a penalty kill unit that was a perfect 7-for-7 with four blocked shots.
Abby Cook, BU (Fr., D; Kelowna, B.C.) Scored the first NCAA goal of her career Saturday in the third period to force overtime against Princeton. Added an assist Friday night.
Victoria Hanson, BU (Sr., G; Stoughton, Mass.) Won all three games last week, posting a .929 save percentage and 2.28 goals against average. Made a career high 41 saves Friday night en route to 91 stops on the week. Carly Jackson, ME (Fr., G; Amherst, N.V.) Stopped 36 shots, including 17 in the third period and four in overtime to preserve a 2-2 tie with UNH.
Katelyn Rae, MC (So., F; Courtice, Ont.) Assisted on the lone goal of a 1-1 tie with No. 8 Quinnipiac then netted two goals, including the game-winner, to pace Merrimack to a 4-3 win over Yale and the Nutmeg Classic title.
Mikyla Grant-Mentis, MC (Fr., F; Brampton, Ont.) Dished out two assists against Yale, her fourth two-assist outing.
Nicole Dunbar, UNH (Fr., F; Coto de Caza, Calif.) Scored her first career goal and first multi-point game with a goal and an assist to pace UNH to a 2-2 tie at Maine.
Hilary Cashin, UNH (So., G; Fredericton, N.B.) Stopped 25 of 27 shots in a 2-2 draw at Maine, with 1.85/.926 numbers.
Blair Parent, PC (Jr., F; Blaine, Minn.) Had a hat trick through two periods helping PC to a 7-3 Mayor's Cup win.
Bridget Baker, UVM (Sr., F; Los Gatos, Calif.) Netted a hat trick in a 5-1 win over St. Cloud Friday and was named to the Windjammer Classic All-Tournament Team for her efforts.
Madison Litchfield, UVM (Sr., G; Williston, Vt.) Kicked out 16 saves Friday to earn a win over St. Cloud before turning aside 23 Saturday. She was named to the All-Tournament team.
---