Thursday, November 24, 2016
Women's Hockey East Weekend Preview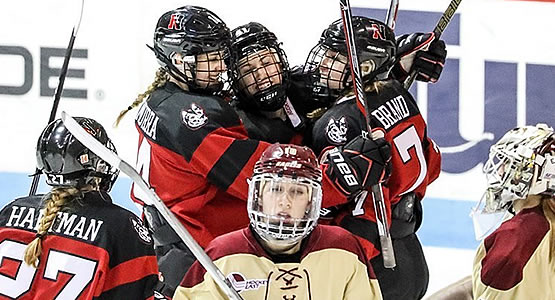 Northeastern hosts a top-ten match-up against Boston College on Saturday
No. 6 Boston College vs. No. 10 Northeastern - Sat. 11/26 at NU
- In their second matchup of the season, No. 6 Boston College (9-3-3/8-2-1 HEA) and No. 10 Northeastern (10-3-3/6-1-2 HEA) clash again as top-ranked teams. They tied, 2-2, Nov. 20. With a win, Northeastern would come within one point of BC for first place in the conference.
- BC freshman forward Caitrin Lonergan (Roslindale, Mass.) is currently riding an eight-game point streak, tallying five goals and 10 assists in that span.
- NU junior forward McKenna Brand (Nevis, Minn.) scored both of the Huskies' goals Nov. 20 against BC, each time tying the game as a result.
- Eagles' junior Katie Burt (Lynn, Mass.) made 28 saves on 30 shots last time out and currently ranks second in goals against average (1.77) and fifth in save percentage (.922) among Hockey East goaltenders. Husky sophomore Brittany Bugalski (Boynton Beach, Fla.) kicked out 36 of 38 for Northeastern and currently sits fourth in GAA (2.20) and third in save percentage (.928).

Merrimack vs. Quinnipiac/(Yale or UConn)/Brown - Fri. 11/25, Sat. 11/26 at QU, Tue. 11/29 at Brown
- The Merrimack Warriors (4-10-1/2-7-0 HEA) kick off the Nutmeg Classic, facing off with the tournament hosts, No. 9 Quinnipiac. Warriors sophomore forward Jessica Bonfe (Woodbury, Minn.) leads the team with eight goals and four assists in 15 games.
- In net for the Warriors, freshman Lea-Kristine Demers (Repentigny, Que.) has started 11 games overall and kicked out 319 shot attempts, fourth-most among all Hockey East goaltenders.
- This will be the first time that Merrimack and Quinnipiac have squared off. Nutmeg Classic opponents Yale and UConn both own winning records against Merrimack, at 1-0-0 and 4-0-1, respectively.

UConn vs. Yale/(Merrimack or Quinnipiac) - Fri. 11/25. Sat. 11/26 at QU
- The UConn Huskies (8-4-2/3-2-1 HEA) will take on in-state rival Yale for their first game of the Nutmeg Classic. Junior forward Theresa Knutson (Onalaska, Wis.) is currently on a six-game point streak, netting three goals and adding six helpers in that span, including two multi-point games.
- Through 15 games, UConn's netminder duo of junior Annie Belanger (Sherbrooke, Ont.) and Morgan Fisher (Vernon, Conn.) has 406 stops and a combined save percentage of .947. They have allowed the fewest goals overall (26) of any team in Hockey East.
- In the 2014-15 season, UConn took down Yale, 3-1, in the Nutmeg Classic third place match. UConn dropped their only matchup with No. 9 Quinnipiac thus far in the season, 3-0, while downing Merrimack, 7-1, on Nov. 5.

Vermont vs. St. Cloud State/(Clarkson or Robert Morris) - Fri. 11/25, Sat. 11/26 at UVM
- Vermont (3-5-4/2-2-3 HEA) hosts the Windjammer Classic this weekend, having skated to a draw in its last three games.
- Catamount sophomore forward Alyssa Gorecki (Monee, Ill.) put up two of the Catamounts three goals in a 3-3 tie with Northeastern on Nov. 18, her first time finding the back of the net since Oct. 9 when she scored the game-winner against Boston University.
- Hockey East's top goaltender in goals against average (1.44) and save percentage (.947), Madison Litchfield (Williston, Vt.), backstopped all three of Vermont's last games, earning points in each outing.
- Vermont has not faced St. Cloud since Jan. 18-19, 2008, dropping both games. No. 5 Clarkson defeated the Catamounts in two games last year, while Robert Morris went 1-0-1 in a series between the two earlier this season.

Boston University vs. Princeton - Fri. 11/25, Sat. 11/26 at BU
- Boston University (8-5-1/6-5-0 HEA) enters a two-game set with Princeton on a three-game winning streak and having won five of their seven November games.
- BU senior forward Mary Parker (Milton, Mass.) netted two goals against her former team in a 4-3 overtime win for Boston University Tuesday evening. The overtime winner came off the stick of junior forward Victoria Bach (Milton, Ont.) at the 3:14 mark of the extra frame, adding to her two assists for a three-point night.
- The Terriers continue their Ivy League matchups against Princeton, whom they last defeated in both games in 2010-11 and hold a 4-2-0 series lead.

Maine vs UNH/Dartmouth - Sat. 11/26, Mon. 11/28, Tue. 11/29 at Maine
- Maine (3-11-0/2-8-0 HEA) welcomes in UNH (5-11-0/4-6-0 HEA) for the first meeting of the season between the two. Maine junior forward Brooke Stacey (Kahnawake, Que.) enters the contest riding a five-game point streak (5g, 2a), including multi-point games in each of her last two outings.
- Black Bears points leader, rookie Tereza Vanisova (Strakonice, Czech Republic) is on a five-game point streak of her own (4g, 5a).
- Wildcats senior forward Jonna Curtis (Elk River, Minn.) grabbed Warrior Player of the Week honors after netting two goals against Harvard Tuesday night, including the overtime winner, and then assisting on both goals in a 2-1 win over Providence.
- The last time the two teams tangled, UNH came out on top taking the series 2-1-0. Maine will also take on Dartmouth on Monday, whom they defeated 4-1 last season.

Providence vs. Brown/Northeastern - Sat. 11/26 at Brown, Wed. 11/30 at PC
- The Providence Friars (7-8-1/4-4-1 HEA) take on in-town rival Brown for the Mayor's Cup on Saturday. Friars junior forward Brooke Boquist (Thunder Bay, Ont.) has earned herself a four-game point streak (4g, 2a). She currently sits in second among Friars skaters in points with 16 (10g, 6a) behind sophomore forward Christina Putigna (Grimsby, Ont./7g, 10a)
- Last season the Friars took the Mayor's Cup, 6-1, behind a four-point night (1g, 3a) from Boquist.