Thursday, November 17, 2016
Women's Hockey East Weekend Preview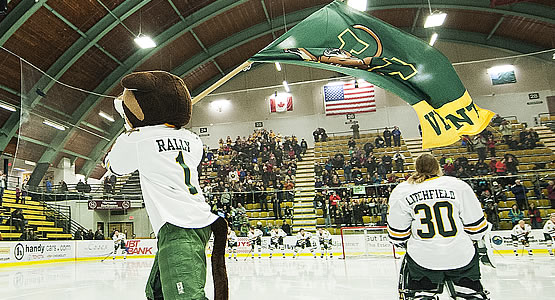 Vermnt hosts two league contests this weekend
No. 10 Northeastern vs. Vermont/No. 7 Boston College - Fri. 11/18 at UVM, Sun. at NU
- Coming off weekend sweep of Merrimack, Northeastern (10-3-1/6-1-0 HEA) takes on two Hockey East opponents this weekend, traveling to Vermont (3-5-2/2-2-1 HEA) and returning home to take on the conference leading Boston College Eagles (9-3-2/8-2-0 HEA).
- Huskies point leaders, junior forwards Denisa Krizova (Horni Cerekev, Czech Republic/9g, 11a) and McKenna Brand (Nevis, Minn./11g, 5a) combined to score four of last weekend's eight weekend goals.
- Vermont senior forward Bridget Barker (Los Gatos, Calif.) netted a goal in each of two games in Providence last weekend, a 5-2 loss and a 1-1 tie for the Catamounts.
- Catamounts senior goaltender Madison Litchfield (Williston, Vt.) kicked out 32 shots in the 1-1 stalemate. She now has a .951 save percentage in five games, tops among goaltenders in Hockey East play.
- For Boston College, a weekend sweep of UNH was led by freshman forwards Delaney Belinskas (Port Orange, Fla.), who netted the puck four times on the weekend, including a hat trick on Saturday, and Caitrin Lonergan (Roslindale, Mass.) who racked up five points between the two games to give her 20 on the season.
- Last year, Northeastern took all three games from Vermont, while Boston College won each of the five matchups against Northeastern, including a 7-0 win in the Women's Beanpot Championship and a 5-1 victory in the NCAA Quarterfinals.

UConn vs. Maine/Vermont - Fri. 11/18 at UConn, Sun. 11/20 at UVM
- After a weekend off, UConn (7-4-1/2-2-0 HEA) returns to the fray at home against Maine (3-10-0/2-7-0 HEA) and on the road against Vermont.
- The Huskies last played Nov. 8 at Brown, a 3-1 win that saw junior forwards Theresa Knutson (Onalaska, Wis.) and Leah Lum (Richmond, B.C.) each record a goal and an assist. They lead the Huskies in point-getting with 14 and 12, respectively.
- Freshman goaltender Morgan Fisher (Vernon, Conn.) got her third win in as many starts for the Huskies in the tilt against Brown, making 28 saves.
- Maine freshman forward and current Warrior Hockey Player of the Week Tereza Vanisova (Strakonice, Czech Republic) leads the Black Bears with 14 points (8g, 6a) after scoring her first career hat trick in a 4-1 win over Boston University on Saturday. Rookie goalie Carly Jackson (Amherst, N.S.) made 41 saves for Maine in the win. She now has a .913 save percentage with 324 saves in 12 games played.
- Last season UConn swept the season series from Maine, but only outscored the Black Bears 6-4 across three games. UConn will also tangle with Vermont on Sunday, whom they took down in three games last season, twice by only one goal.

Boston University vs. Merrimack - Fri. 11/18 at MC, Sat. 11/19 at BU
- The Boston University Terriers (5-5-1/4-5-0 HEA) take on the Merrimack College Warriors (4-8-1/2-5-0 HEA) in a home-and-home, starting off in North Andover. BU is coming off a split series with Maine last weekend, while Merrimack looks to get back on track after dropping both games to Northeastern.
- In BU's 5-3 win over the Black Bears last Friday, junior forward Victoria Bach (Milton, Ont.) found the back of the net three times for her first hat trick this season, while adding an assist in the 4-1 loss the following day for four points on the weekend.
- Senior forward Mary Parker (Milton, Mass.) scored a goal in each game and added an assist on Friday, bringing her to 17 points on the season (9g, 8a).
- Merrimack sophomore forward Paige Voight (St. Michael, Minn.) scored three times last weekend in a pair of setbacks to Northeastern, giving her at least one goal in four of Merrimack's past five games. Fellow sophomore forward Jessica Bonfe (Woodbury, Minn.) scored her seventh of the season in Saturday's loss.

UNH vs. Providence - Sat. 11/19 at PC, Sun. 11/20 at UNH
- UNH (4-10-0/3-5-0 HEA) took an overtime victory over Harvard on home ice Tuesday night, while Providence (6-7-1/3-3-1 HEA) took three points last weekend after a two-game set with Vermont last weekend.
- Wildcats junior defenseman Amy Schlagel (Blaine, Minn.) scored her third of the season to tie the game against Harvard at 2-2 late in the third period, to force overtime and set up senior forward Jonna Curtis's (Elk River, Minn.) overtime winner. It was UNH's first win against Harvard since the 2007-2008 season.
- On Saturday in Providence, freshman defenseman Whitney Dove (Port Moody, B.C.) had a three-point day, including the game-winning tally to lead the Friars to a 5-2 victory in league play.
- In a tight battle on Sunday, Friars sophomore goaltender Madison Myers (Colchester, Vt.) fought off 30 shots in the 1-1 draw.
- The Friars took a close season series from the Wildcats last season, 2-1-0, including two one-goal contests.