Monday, November 14, 2016
Weekly Release: Maine Earns Split With BU Behind Vanisova Hat Trick
Providence Takes Three League Points; Boston College, Northeastern Sweep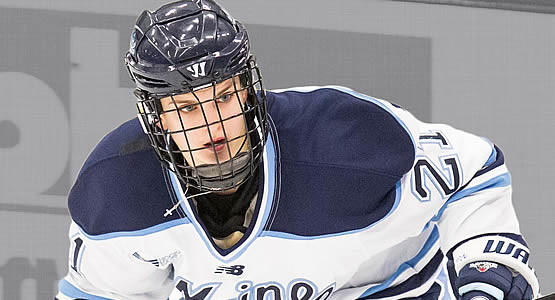 Warrior Hockey Player of the Week Tereza Vanisova of Maine
AROUND HOCKEY EAST: Boston University and Maine split a weekend series in Orono that saw a hat trick from the winning team in each game. Terrier junior forward Victoria Bach (Milton, Ont.) netted a trio of goals in Friday's 5-3 victory, Bach opened the scoring in the first period, scored the game-tying goal midway through the third period and added an unassisted empty-netter to seal the win and complete the hat trick. Black Bears freshman Tereza Vanisova (Strakonice, Czech Republic) erupted the next night to carry Maine to a 4-1 victory. Sophomore defenseman Alyson Matteau (Mirabel, Que.) assisted on three goals in the game to finish the weekend with four points after a goal Friday ... Providence took three points from Vermont over the weekend, winning Friday's outing, 5-2, before the two programs skated to a 1-1 draw Sunday afternoon. Friars rookie defenseman Whitney Dove (Port Moody, B.C.) scored twice, including the game-winner, and added an assist to power Providence to Saturday's win. Sunday's stalemate saw Friars sophomore Madison Myers (Colchester, Vt.) make 30 saves on 31 shots while Vermont senior Madison Litchfield (Williston, Vt.) stopped 32 of 33 shots she faced ... Boston College took two games from New Hampshire on the weekend, outscoring the Wildcats 12-1. In Friday's 5-1 victory, Eagles rookie Caitrin Lonergan (Roslindale, Mass.) scored a goal and added three assists, while junior defenseman Megan Keller (Farmington Hills, Mich./3a) and sophomore forward Makenna Newkirk (Scottsdale, Ariz./2g, 1a) each had three-point outings. The next night, freshman Delaney Belinskas (Port Orange, Fla.) netted a hat trick, including the game-winning goal, bringing her weekend total to four goals ... Northeastern took a pair of 4-2 wins in a home-and-home with Merrimack. Huskies junior forward McKenna Brand (Nevis, Minn.) scored three goals on the weekend, moving into a tie for the overall goal-scoring lead among all Hockey East skaters. Merrimack sophomore forward Paige Voight (St. Michael, Minn.) also scored a set of three goals, bringing her total to seven for the Warriors ... UConn took a 3-1 win at Brown Tuesday behind two-point nights from juniors Leah Lum (Richmond, B.C./1g, 1a) and Theresa Knutson (Onalaska, Wis./1g, 1a) and freshman Briana Colangelo (Whitby, Ont./2a). Rookie netminder Morgan Fisher (Vernon, Conn.) stopped 28 shots to earn her third win in as many career starts.
---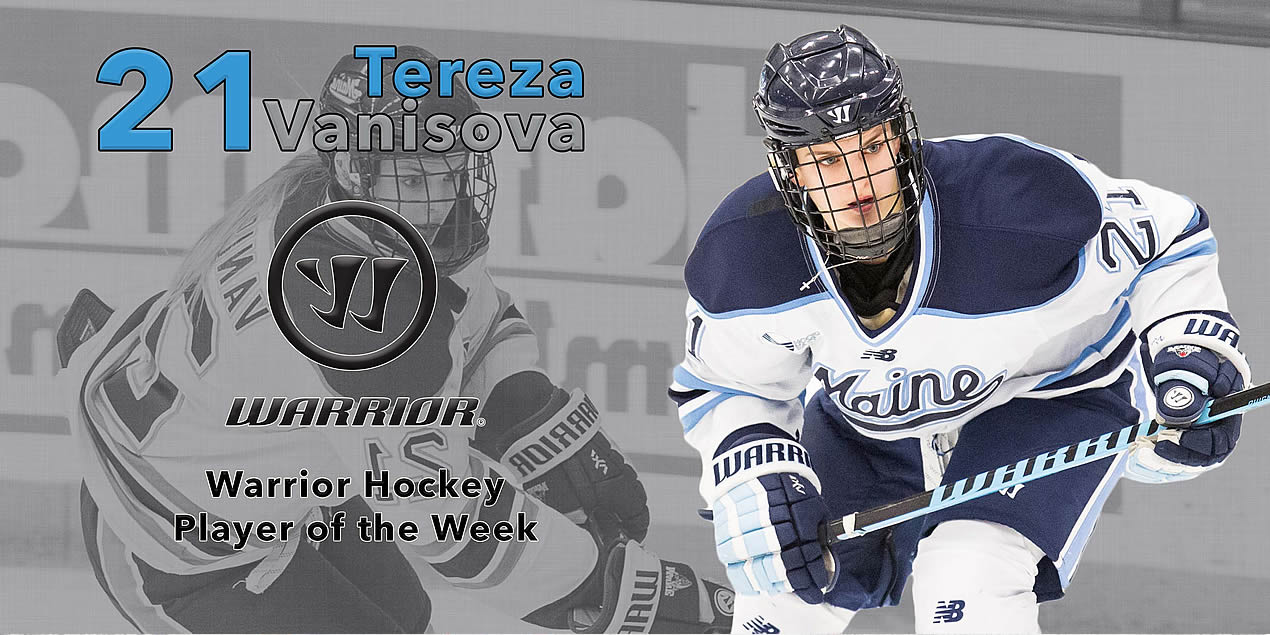 TEREZA VANISOVA - MAINE

Tereza Vanisova (Stankonice, Czech Republic) racked up a five-point weekend (4g, 1a) against Boston University in a 1-1-0 weekend for the Black Bears. In Saturday's 4-1 win, Vanisova netted her first career hat trick, scoring the game-winning goal in the final frame.
---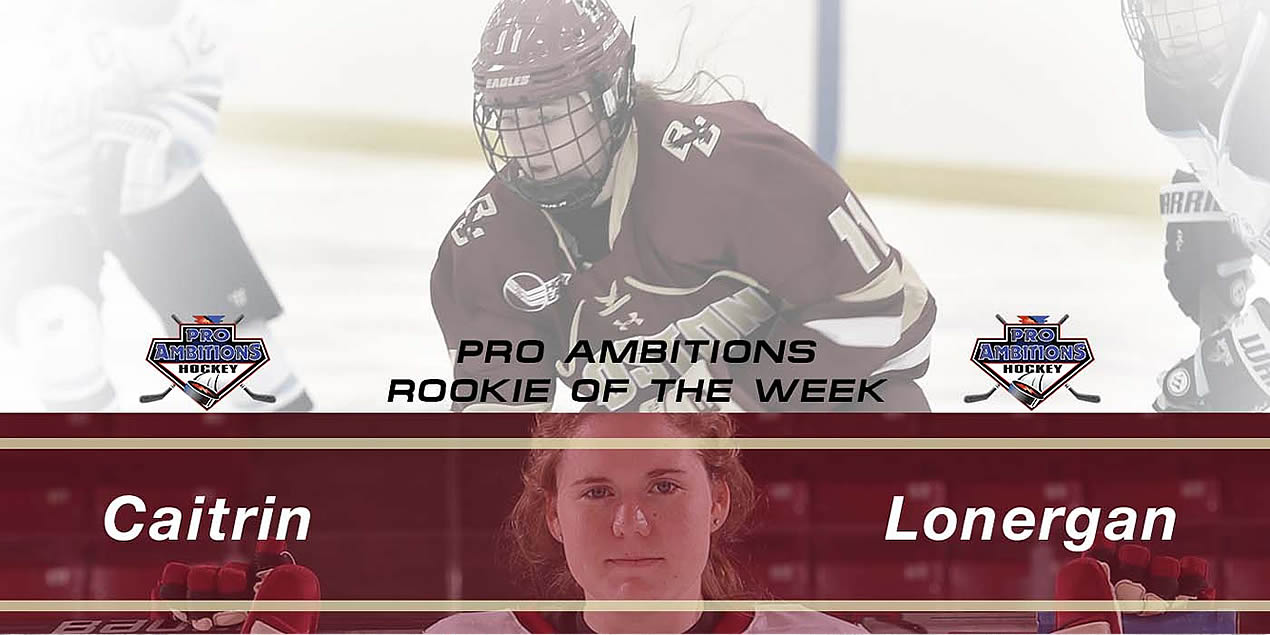 CAITRIN LONERGAN - BOSTON COLLEGE

Caitrin Lonergan (Roslindale, Mass.) tied the national lead with five points (1g, 4a) last week, finishing plus-five through two games with a .700 faceoff winning percentage. The rookie forward helped the Eagles down New Hampshire in back-to-back games, outscoring the opponent 12-2.
---

TONI ANN MIANO - BOSTON COLLEGE
ALYSON MATTEAU - MAINE

Toni Ann Miano (Bronx, N.Y.) posted four points (1g, 3a) to tie the national lead among defensemen last week as she helped the Eagles to a sweep of New Hampshire, including a career-high three assists in Saturday's 7-1 win.

Alyson Matteau (Mirabel, Que.) netted a power-play goal Friday and set up three strikes in Saturday's 4-1 win over the Terriers. The sophomore's four points tied the national lead among defenders.
---
HOCKEY EAST WEEKLY TOP PERFORMERS
Delaney Belinskas, BC (Fr., F; Port Orange, Fla.) Registered her second career hat trick in a 7-1 win over UNH.
Victoria Bach, BU (Jr., F; Milton, Ont.) Recorded her second career hat trick in a 5-3 win at Maine Friday before setting up the lone goal in Saturday's 4-1 setback. She is currently riding a three-game point streak.
Leah Lum, UConn (Jr., F; Richmond, B.C.) Had a two-point game (1g, 1a) and score the game-winner in a 3-1 triumph over Brown last Tuesday.
Briana Colangelo, UConn (Fr., F; Whitby, Ont.) Dished out two assists, and set up the decisive tally in a 3-1 win over Brown.
Carly Jackson, ME (Fr., G; Amherst, N.S.) Stopped 68 pucks against BU for a .932 save percentage, including 41 in her second career win on Saturday.
Paige Voight, MC (So., F; St. Michael, Minn.) Potted three goals in two outings at Northeastern, including her second two-goal game this season on Friday at home.
Brittany Bugalski, NU (So., G; Boynton Beach, Fla.) Made 52 saves on 56 shots and posted a 2.00 GAA in a sweep of Merrimack.
Alanna Serviss, PC (Sr., G; Chicago, Ill.) Stopped 24 shots Saturday in a 5-2 victory over Vermont.
Whitney Dove, PC (Fr., F; Port Moody, B.C.) Scored two goals and added an assist in a 5-2 win over UVM, including the game-winner.
Bridget Baker, UVM (Sr., F; Los Gatos, Calif.) Scored in each of Vermont's games at Providence this weekend, including the game-tying goal in Sunday's 1-1 draw.
Madison Litchfield, UVM (Sr., G; Williston, Vt.) Stopped 32 pucks Sunday in a 1-1 stalemate at Providence.
---