Thursday, November 10, 2016
Women's Hockey East Weekend Preview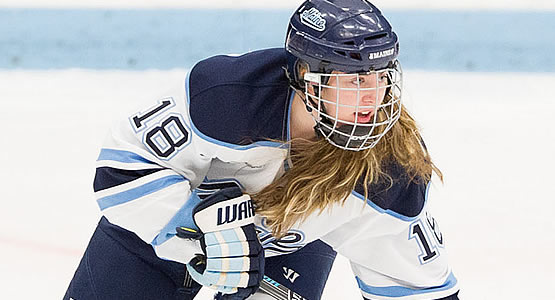 Maine hosts Boston University for two league games this weekend
Boston University vs Maine - Fri. 11/11, Sat. 11/12 at Maine
- After a road loss last weekend, Maine (2-9-0/1-6-0 HEA) returns home for a two-game set with Boston University (4-4-1/3-4-0 HEA), who split home-and-home series against a top-ranked Boston College Eagles team last week.
- Senior forward Mary Parker (Milton, Mass.) had a five-point (1g, 4a) weekend for the Terriers, helping BU to a 5-3 win over BC on Saturday. Her efforts earned Warrior Hockey Player of the Week honors.
- In a 3-2 loss at Northeastern, Maine junior forward Catherine Tufts (Church Point, N.S.) spurred an attempted comeback, as she scored Maine's first of two goals in the third period. She now has three goals in the last three games.
- BU junior goaltender Erin O'Neil (Minnetonka, Minn.) started both games last weekend, turning aside 34 shots each night and going 1-1-0. She has 150 saves in five starts with a .904 save percentage.
- Rookie netminder Carly Jackson (Amherst, N.S.) started the last four games for Maine. In total on the year, she has stopped 256 pucks to carry a .908 save percentage.
- Last season the Terriers took all three games from the Black Bears.

Northeastern vs. Merrimack - Fri. 11/11 at MC, Sat. 11/12 at NU
- Northeastern (6-3-1/4-1-0 HEA) takes on Merrimack (4-6-1/2-3-0 HEA) in a home-and-home series as the Huskies come off a 2-0-0 weekend, while Merrimack dropped its only contest last weekend, a 7-1 defeat by UConn.
- Northeastern junior forward Denisa Krizova (Horni Cerekev, Czech Republic) dished out the game-winning assist on Saturday to fellow junior forward McKenna Brand (Nevis, Minn.), and netted the game-winning goal on Sunday.
- Sophomore goaltender Brittany Bugalski (Boynton Beach, Fla.) stopped 56 shots, raising her season total to 288 saves, the most of any Hockey East netminder. Her eight wins and three shutouts also pace the league.
- Warriors sophomore forward Katelyn Rae (Courtice, Ont.), scored her team's only goal against UConn, giving Merrimack an early 1-0 lead. This was her ninth goal of the season.
- In their first matchup this season on Oct. 28, Merrimack edged Northeastern, 3-2. It marked the Warriors' first win over the Huskies since joining Hockey East last season.

No. 7 Boston College vs UNH - Fri. 11/11 at UNH, Sat. 11/12 at BC
- After a win in Providence, 2-1, and an OT loss to UConn, 2-1, New Hampshire (3-8-0/2-3-0 HEA) hosts first in a home-and-home with Boston College (7-3-2/6-2-0 HEA).
- Senior forward Jonna Curtis (Elk River, Minn.) leads the Wildcats in the points column with 13 (7g, 6a). She now has seven goals in her last six games.
- Eagles freshman sensation, forward Caitrin Lonergan (Roslindale, Mass.), has found the back of the net eight times and dished out another seven assists. She turned in a goal and an assist in each game against BU last weekend.
- With 11 points (3g, 8a) of her own, Makenna Newkirk (Scottsdale, Ariz.) added three assists and a goal against BU.
- BC and UNH squared off on Oct. 14, with the Eagles skating away with a 4-1 win.

Vermont vs. Providence - Sat. 11/12, Sun. 11/13 at PC
- After a weekend off, Vermont (3-4-1/2-1-0 HEA) hits the road to take on the Friars (5-7-0/2-3-0 HEA) in a two-game series in Providence.
- Providence dropped a pair of one-goal games last weekend to UNH in Durham and Northeastern in Providence. Friars sophomore forward Christina Putigna (Grimsby, Ont.) scored in both of the contests, bringing her point streak to nine games. He has scored 12 points in that span (5g, 7a).
- Senior goaltender Alanna Serviss (Chicago, Ill.) stopped 24 of 26 shots for the Friars in a 3-2 setback Sunday, bringing her to 141 saves on the season. It was her first loss in her past four starts, putting her at 3-3-0 in net.
- Vermont rookie forward Eve-Audrey Picard (Longueuil, Que.) has tallied nine points in eight games, including three assists in the past two games, including the game-winning helper against Maine on Oct. 30.
- In her three games between the pipes for the Catamounts, senior netminder Madison Litchfield (Williston, Vt.) has racked up 85 saves, a .944 save percentage, and a 1.39 goals against average. She currently leads Hockey East in overall goals against average and is second in save percentage.
- Last season Vermont took the series against Providence, 2-1-0.