Weekly Release: Anastos Ties NCAA Record in Boston College Win
Providence Takes Two Wins in League Play; Merrimack Wins First Over Northeastern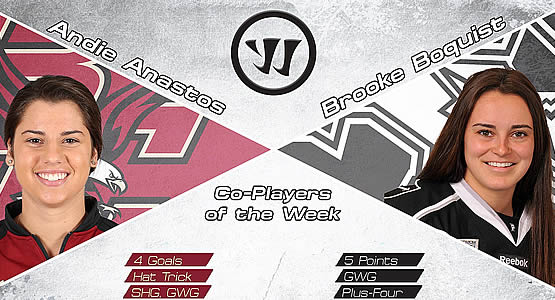 Warrior Hockey Co-Players of the Week Andie Anastos of Boston College and Brooke Boquist of Providence College
AROUND HOCKEY EAST: Boston College and UConn squared off in a home-and-home to open UConn's 2016-17 Hockey East season. Katie Burt (Lynn, Mass.) earned her second shutout of the season with a 3-0 win on the road Friday night. Eagle skaters scored eight goals on the weekend, with senior forward Andie Anastos (Farmington Hills, Mich.) scoring half, including each goal in Friday's 3-0 win for her second career hat trick. She tied an NCAA record with three power-play goals in one game. UConn junior goaltender Annie Belanger (Sherbrooke, Que.) made 75 saves on the weekend, including 43 on Friday night … Northeastern and Boston University met again on a Tuesday night for the second straight week, with Northeastern junior forward McKenna Brand (Nevis, Minn.) finding the back of the net twice for the Huskies in a 4-3 win. The Terriers had their own two-goal performance from junior forward Victoria Bach (Milton, Ont.). Huskies sophomore goaltender Brittany Bugalski (Boynton Beach, Fla.) made 32 saves while BU senior Victoria Hanson (Stoughton, Mass.) kicked out 36 shots… Merrimack won the program's first win over Northeastern in a 3-2 victory at Matthews Arena Friday night. Warriors sophomore forward Emily Volpe (Whitby Ont.) put the game away with a second-period power-play goal to make it a 3-0 game. Northeastern rookie defenseman Codie Cross (Airdrie, Alta.) and freshman forward Matti Hartman (Etna, NH) both struck to bring the Huskies within one, but a 35-save night by Merrimack freshman goaltender Lea-Kristine Demers (Repentigny, Que.) ended the comeback bid at two … The Providence Friars downed Maine in a tight 3-2 tilt that saw Providence junior forward Madison Sansone (Lockport, N.Y.) spark a three-goal comeback after being down 2-0, following two first period goals by Maine junior forward Catherine Tufts (Church Point, N.S.). Providence carried the momentum of Friday's comeback win with them to Merrimack the following night, where junior forward Brooke Boquist (Thunder Bay, Ont.) had a two goal, two assist night in the Friars' 6-2 win over the Warriors ... New Hampshire welcomed Vermont into Whittemore for their first matchup this season. Wildcat sophomore goaltender Kyra Smith (Littleton, Colo.) made 33 saves, backboning UNH to a 4-2 victory ... Vermont freshman forward and team points leader Ève-Audrey Picard (Longueuil, Que.) tallied another three assists on the weekend, including two helpers in a 3-2 win at Maine … The Maine Black Bears returned home after facing Providence to square off with Vermont and attempted to rally from a 2-0 deficit in the third period as junior forward Brooke Stacey (Kahnawake, Que.) and senior forward Morgan Sakundiak (Calgary, Alta.) found the back of the net. Vermont junior forward Kourtney Menches (Greer, S.C.) eventually netted the game-winner while Catamounts senior goaltender Madison Litchfield (Williston, Vt.) turned in a 27-save performance to improve to a .951 save percentage.
---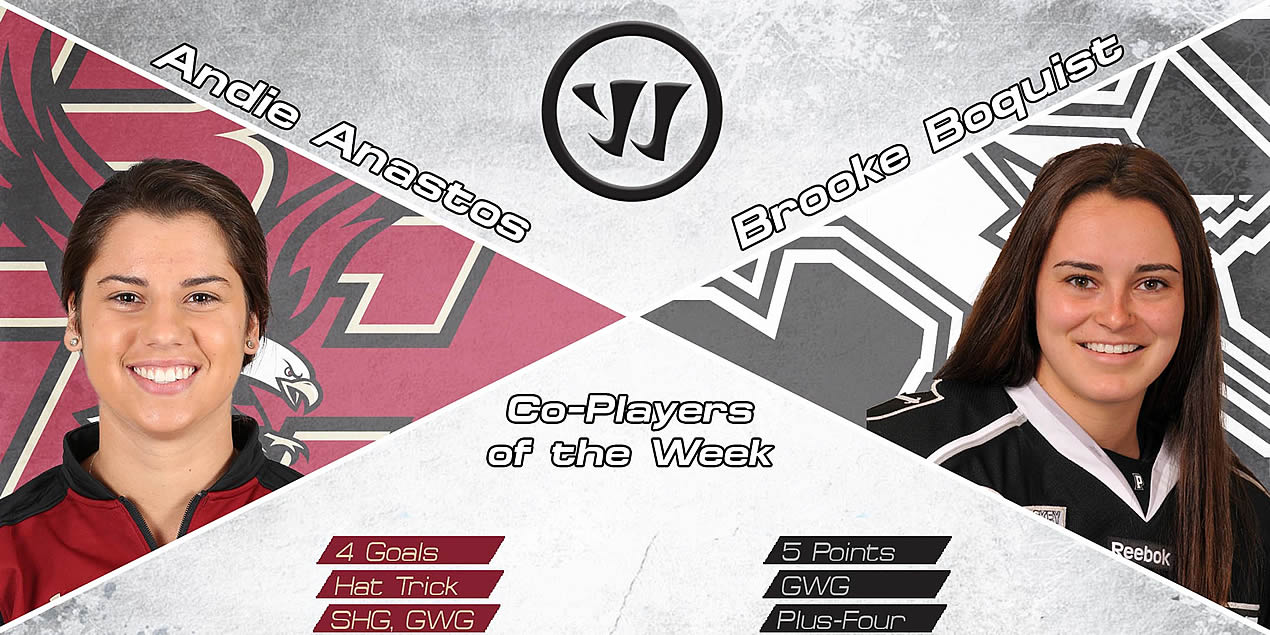 ANDIE ANASTOS - BOSTON COLLEGE
BROOKE BOQUIST - PROVIDENCE

Andie Anastos (Farmington Hills, Mich.) tied an NCAA record with three power-play goals in one game, pacing the Eagles to a 3-0 win over UConn. The next day, she again found the back of the net on a short-handed opportunity.

Brooke Boquist (Thunder Bay, Ont.) racked up five-point weekend (2g, 3a) in two wins for the Friars. She setup the game-winner in a 3-2 comeback win over Maine before a four-point outing led to a 6-2 PC victory over Merrimack. She scored two goals within 18 seconds and added two helpers.
---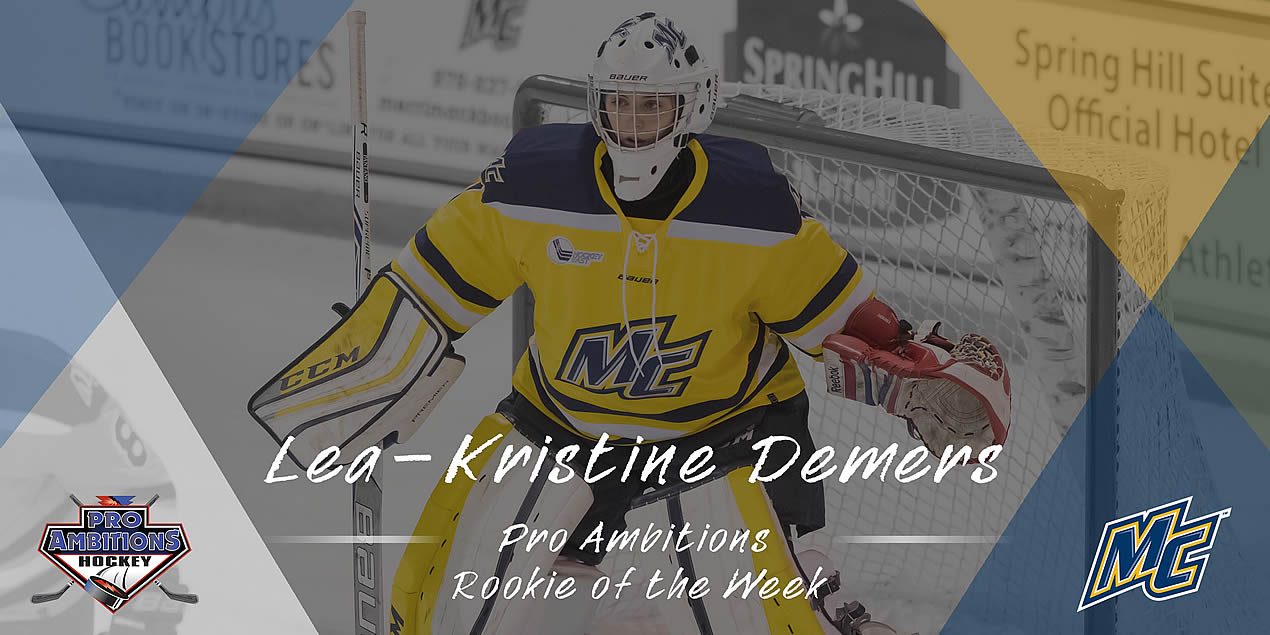 LEA-KRISTINE DEMERS - MERRIMACK

Léa-Kristine Demers (Fr., G; Repentigny, Que.) backboned Merrimack to the first win in program history over Northeastern, stopping 35 shots in a 3-2 victory. Her .924 save percentage ranks third in Hockey East to go along with her 2-1-0 record.
---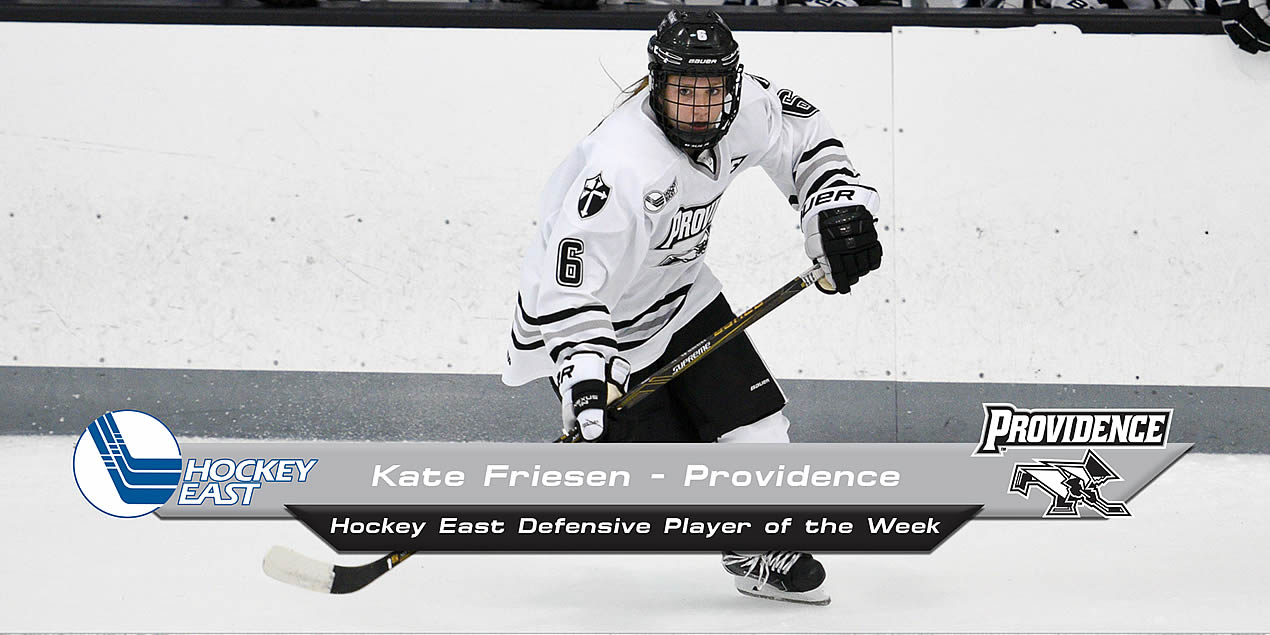 KATE FRIESEN - PROVIDENCE

Kate Friesen (Altona, Man.) exploded for four points on the weekend to help PC to two conference wins. Her assist on Oct. 28 led to the game-winning strike before she added two goals and another assist in a 6-2 win over Merrimack.
---
HOCKEY EAST WEEKLY TOP PERFORMERS
Caitrin Lonergan, BC (Fr., F; Roslindale, Mass.) The Eagles top point-getter (5g, 6a) added one assist and an end-to-end goal 1:14 into Saturday's tilt in a weekend sweep of UConn.
Toni Ann Miano, BC (Jr., D; Bronx, N.Y.) Had two assists in the two-game sweep of UConn over the weekend, helping to hold the Huskies to just 36 shots and one goal in two games.
Victoria Bach, BU (Jr., F; Milton, Ont.) Scored two goals against Northeastern, one in the second and one in the third period, in an attempted comeback in Tuesday's 4-3 set back.
Savannah Newton, BU (Jr., D; Halifax, N.S.) Assisted on the Terriers' opening goal and the marker to pull BU within one in Tuesday's decision against Northeastern, matching her career high with two assists.
Annie Belanger, UConn (Jr., G; Sherbrooke, Que.) In UConn's first Hockey East games of the season against Boston College, Belanger made 75 saves over two outings, including a 43-save performance on Friday.
Catherine Tufts, ME (Jr., F; Chase Point, N.S.) Netted the first two goals of the contest in Saturday's set back to league foe Providence.
Paige Voight, MC (So., F; St. Michael, Minn.) Found the back of the net twice and added a helper in a 1-1-0 weekend for the Warriors. Netted a goal in Merrimack's 3-2 win over Northeastern, the first victory in the program's history over the Huskies.
Jenna Rheault, UNH (So., D; Deering, N.H.) In Saturday's tilt with Vermont, Rheault tallied a goal and an assist for a career high two point game.
Meghara McManus, UNH (Fr., F; Milton, Mass.) With a wrist shot to the upper right corner of the net, she scored her second goal on the season and put the Wildcats up 2-0 in the eventual 4-2 win.
Kyra Smith, UNH (So., G; Littleton, Colo.) Stopped 33 of 35 pucks she saw against Vermont, including a clean third period and denying all seven power plays to get her first win of the season.
Whitney Dove, PC (Fr., D; Port Moody, B.C.) Netted her first collegiate goal with 1:08 left in Friday's tilt against Maine, finishing off the Friars' comeback win, 3-2.
Kourtney Menches, UVM (Jr., F; Greer, S.C.) Put the Catamounts up for good to break a 2-2 tie in Sunday's contest against Maine. Also had an assist in Saturday's loss against UNH.
Eve-Audrey Picard, UVM (Fr., F Longueuil, Que.) Dished out three assists in two games for Vermont, one coming on Kourtney Menches' game-winner against Maine on Sunday.
Madison Litchfield, UVM (Sr., G; Williston, Vt.) Kept the net clear from 12 shots over 40 minutes on Friday, then followed it up with 27 more stops Sunday to earn a win on the road at Maine.
---