Weekly Release: Boston College Takes Three Points from No. 3 Quinnipiac
Northeastern Topples Boston University; Merrimack Goes 1-0-1 Against RMU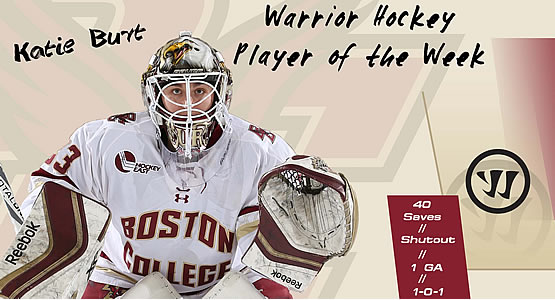 Warrior Hockey Players of the Week Katie Burt of Boston College
AROUND HOCKEY EAST: Friday featured a top-10 matchup to kick off the weekend, as No. 7 Boston College had a home-and-home against No. 3 Quinnipiac. The Eagles defense held strong in each contest, holding serve for a 0-0 tie at home Friday and taking a 4-1 win at Quinnipiac on Saturday. Junior goaltender Katie Burt (Lynn, Mass.) and sophomore defenseman Grace Bizal (Minnetonka, Minn.) led the BC defense, holding Quinnipiac to just one goal. BC out shot the third ranked team in the nation 56 to 42 ... Tuesday night featured a pair of matchups for Hockey East, as Boston University traveled to Northeastern and Providence welcomed Union to Rhode Island. Huskies senior forward Paige Savage (Johns Creek, Ga.) recorded four points (1g, 3a) in the outing against BU, combining with a two-goal effort by junior forward Shelby Herrington (Bow, N.H.) to give the Huskies a 6-2 win at home. Northeastern continued play over the weekend at Dartmouth. Sophomore goaltender Brittany Bugalski (Boynton Beach, Fla.) had her third shutout of the season against the Big Green, taking a 3-0 win ... BU senior forward Mary Parker (Milton, Mass.) continued her hot offensive start to the 2016-17 season, netting her sixth goal of the season against Northeastern ... The Merrimack Warriors held their homecoming festivities with a two-game series against Robert Morris. Freshman forward Mikyla Grant-Mentis (Brampton, Ont.) netted her first collegiate goal in overtime of game one to give Merrimack a 4-3 win and added her second career goal the following day to help Merrimack push to a draw ... Vermont took on No. 7 St. Lawrence in a home-and-home series. Freshman forward Eve-Audrey Picard (Longueuil, Que.) scored the lone Catamounts goal Friday night while senior goaltender Madison Litchfield (Williston, Vt.) tallied 25 saves in her second start of the season on Saturday, but it wasn't enough as St. Lawrence swept the series, 3-1 and 2-1 ... At UConn, the Huskies took on Penn State in a two-game series. The first night ended all knotted up at zero, as junior goaltender Annie Belanger (Sherbrooke, Ont.) made 39 saves on the night to blank the Nittany Lions for her first career shutout. The following day UConn junior defenseman Leah Lum (Richmond, B.C.) netted two late goals, including the game-winner, to give UConn a 4-2 win. It was the Huskies first home win of the season ... New Hampshire sophomore goaltender Hilary Cashin (Frederiction, N.B.) had the first 40-plus save outing for the Wildcats since February 2015 Sunday, stopping 41 of 44 shots from No. 8 Clarkson. The Wildcats got another goal from senior forward Jonna Curtis (Elk River, Minn.) on Sunday, marking her fifth tally in eight games, but Clarkson took both decisions from the Wildcats by the same score of 3-1 ... Providence welcomed Union Tuesday night. The Friars came out with a win, 4-2, as four different skaters found the back of the net. Over the weekend, Friars sophomore forward Christina Putigna (Grimsby, Ont.) extended her point streak to five games, adding a goal and an assist in a two-game series with Princeton at home.
---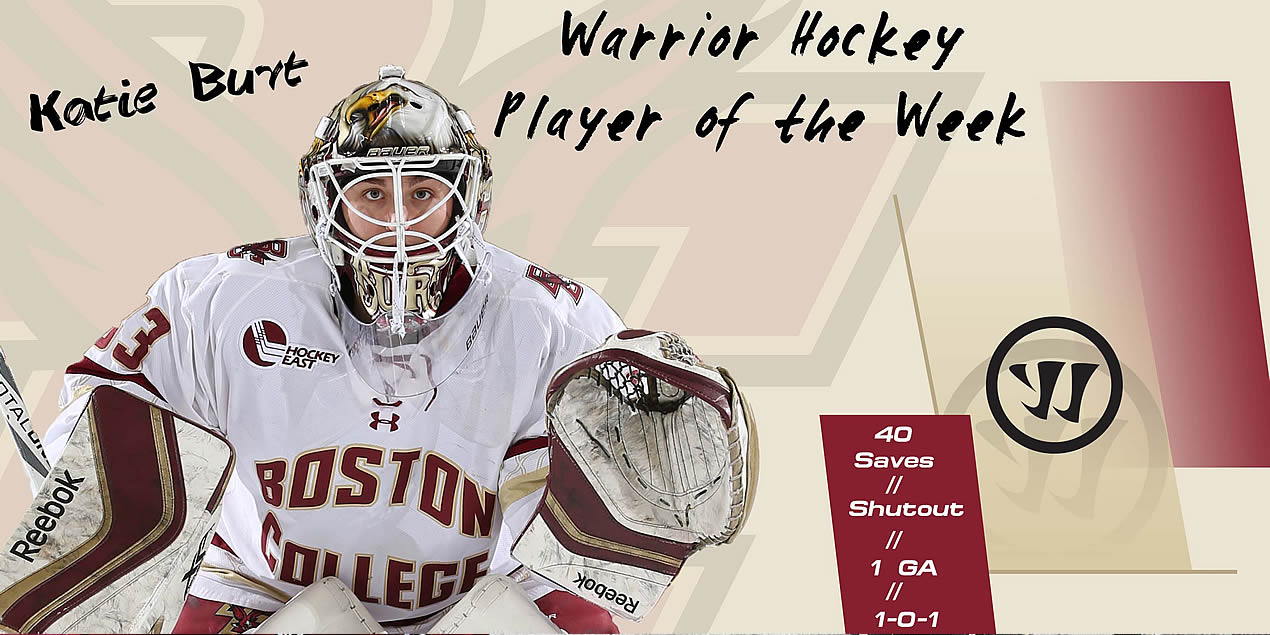 KATIE BURT - BOSTON COLLEGE

Katie Burt (Jr., G; Lynn, Mass.) backboned the Eagles to a 1-0-1 series win over No. 3 Quinnipiac, picking up a 23-save shutout in Friday's 0-0 tie and making 17 saves in a 4-1 win Saturday. She held the fourth-ranked offense to just one goal over 125:00 of play.
---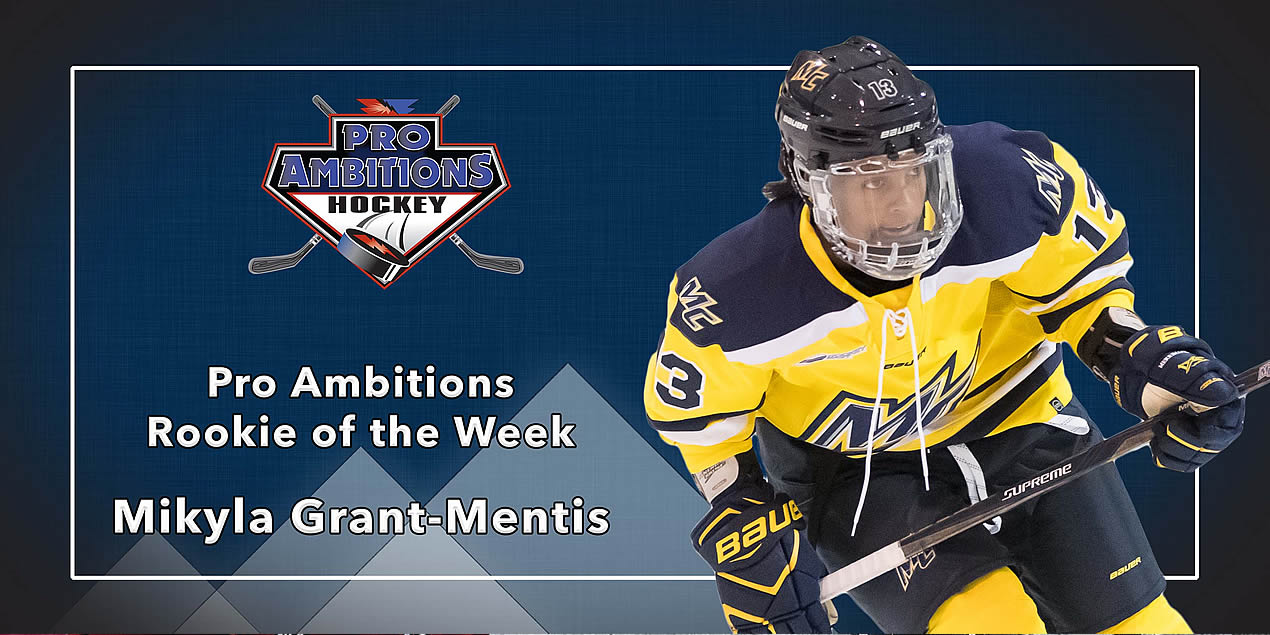 MIKYLA GRANT-MENTIS - MERRIMACK

Mikyla Grant-Mentis (Fr., F; Brampton, Ont.) scored twice in two games for Merrimack during Homecoming weekend. Her first career goal proved to be the overtime, game-winning mark Friday night, before potting another tally in a 3-3 tie Saturday.
---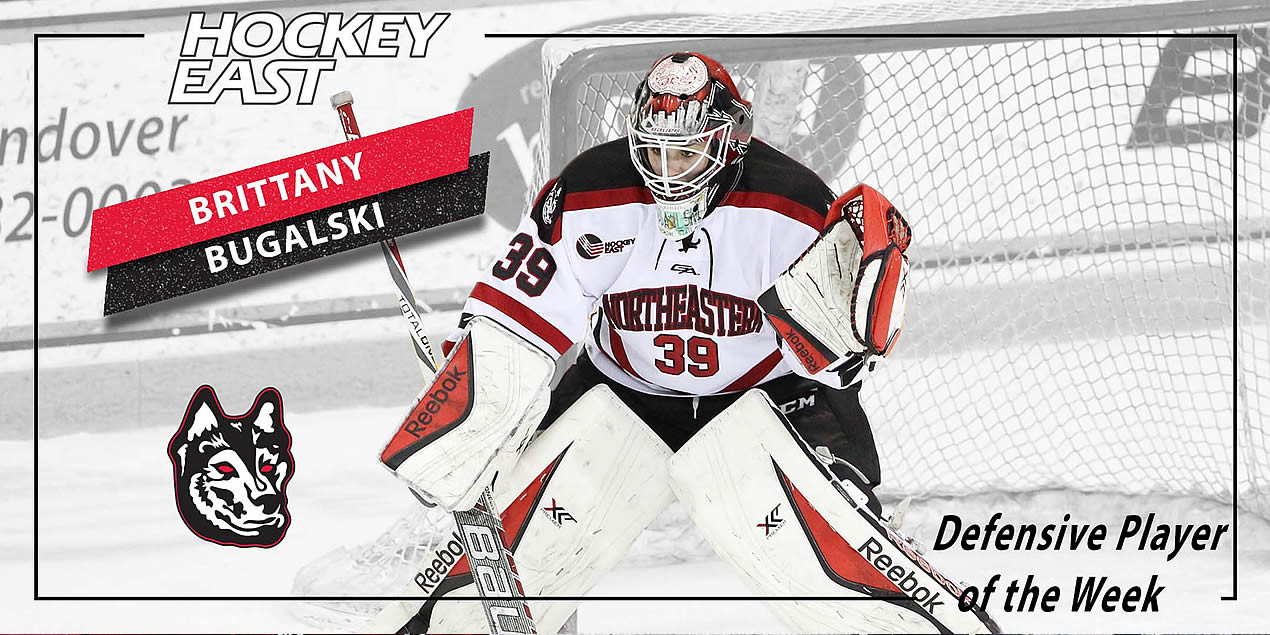 BRITTANY BUGALSKI - NORTHEASTERN

Brittany Bugalski (Boynton Beach, Fla.) picked up her second consecutive Defensive Player of the Week honor after stopping 52 of 54 shots over last week. Over her last four outings, she has saved 105 of 109 shots she's seen, collecting three wins and two shutouts.
---
HOCKEY EAST WEEKLY TOP PERFORMERS
Caitrin Lonergan, BC (Fr., F; Roslindale, Mass.) Paced BC with one goal and two assists and 10 shots on net in a 1-0-1 weekend with Quinnipiac, setting up the game-winning goal Saturday and scoring a short-handed goal.
Grace Bizal, BC (So., D; Minnetonka, Minn.) Finished plus-two on a weekend when three of four BC goals were special team tallies while also picking up two helpers, including assisting on Saturday's game-winner.
Leah Lum, UConn (Jr., F; Richmond, B.C.) Netted two goals in the third period, including the game-winner, in a 4-2 victory against Penn State Saturday. It marked UConn's first win at home this season and brought Lum's total to a team-high four on the year.
Morgan Fisher, UConn (Fr., G; Vernon, Conn.) Posted the second win of her career in as many starts, kicking out 29 shots in a 4-2 win over PSU Saturday. In two starts, Fisher is 2-0-0 with 50 saves, a .942 save percentage and 1.51 goals against average.
Annie Belanger, UConn (Jr., G; Sherbrooke, Que.) Kicked out 39 shots for her first career shutout Friday to preserve a 0-0 tie, including making nine saves in the overtime period.
Jessica Bonfe, MC (So., F; Woodbury, Minn.) Potted two goals in two games, helping the Warriors to a 1-0-1 weekend over Robert Morris. In her last four outings, she has four tallies, setting a new career single season high with five markers on the year.
Hilary Cashin, UNH (So., G; Fredericton, N.B.) Made a career-high 41 saves Sunday in a 3-1 loss to No. 8 Clarkson, including 21 stops in the third period alone and denied each powerplay opportunity the Golden Knights saw. It was the first 40-plus save performance from a UNH goaltender since February 2015.
Paige Capistran, NU (Fr., D; Manchester, N.H.) Scored her first career goal in a 6-2 win over BU Tuesday and then added an assist on the game-winning strike Friday at Dartmouth.
Kourtney Menches, UVM (Jr., F; Greer, S.C.) Opened the scoring in Saturday's outing against No. 6 St. Lawrence.
Ève-Audrey Picard, UVM (Fr., F; Longueuil, Que.) Scored the Catamounts' lone goal in Friday's contest with St. Lawrence.
Melissa Black, UVM (So., G; Newmarket, Ont.) Kicked out 25 pucks Friday against St. Lawrence.
---