Weekly Release: Maine Hands Boston College First League Loss Since 2014
Parker Leads BU in Two-Game Road Set; Curtis Carries UNH to First Win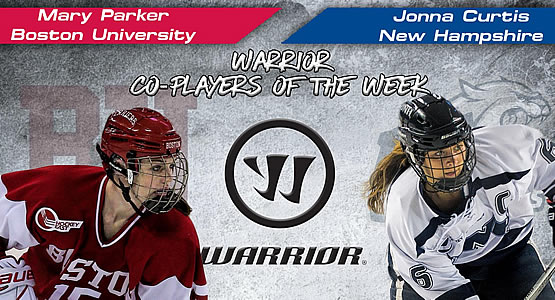 Warrior Hockey Co-Players of the Week Mary Parker of Boston University and Jonna Curtis of New Hampshire
AROUND HOCKEY EAST: The Maine Black Bears, after being taken down in Boston twice last weekend in league play, ended the Eagles' 52-game undefeated streak and 27-game winning streak against Hockey East opponents with a 3-2 win in Auburn, Maine. The streak was the longest such streak in league history, dating back to February 2014. Maine freshman forward Vendula Pribylova (Olomouc, Czech Republic) scored the decisive goal with 37 seconds remaining in the third period to give the Black Bears the victory. Freshman goalie Carly Jackson (Amherst, N.S.) was in net in the win, making 28 saves and letting up just two goals for a .911 save percentage ... The night prior, Maine dropped a 5-1 decision to Merrimack in a game that saw Warriors sophomore forward Paige Voight (St. Michael, Minn.) net two goals and add an assist, giving her a career high three points ... In the Eagles' first game of the weekend, Boston College defeated New Hampshire, 4-1, using four different goal scorers. Junior goaltender Katie Burt (Lynn, Mass.) played the full 60 minutes, making 24 saves and carrying a .904 save percentage ... To wrap up Hockey East play on the weekend, the Wildcats and Warriors had a Saturday tilt that saw senior forward Jonna Curtis (Elk River, Minn.) score four goals, a career high, including UNH's third goal and two empty-netters to seal the win ... Outside of the conference, Boston University traveled to take on Penn State. The two programs tied in the contest Friday, 3-3, but Saturday was all Terriers as senior forward Mary Parker (Milton, Mass.) went off for a five-point night. Parker netted a hat trick and added a pair of helpers to pace her squad ... In a series with RPI, UConn was shutout on Friday night, but rebounded for a 4-1 victory on Saturday. Junior defenseman Leah Luhm (Richmond, B.C.) registered back-to-back goals in the first period, the second of which proved to be the game-winner ... After fighting to a draw with Syracuse on Friday, 2-2, Northeastern's sophomore goalie Brittany Bugalski (Boynton Beach, Fla.) stood tall Saturday, earning her fifth career shutout and second of the season, with 27 saves to preserve a 1-0 win for the Huskies ... Vermont traveled to Robert Morris, for a twogame set, coming home with a 0-1-1 weekend. Junior defenseman Taylor Willard (Naperville, Ill.) scored with just under five minutes remaining to knot things up Saturday, while sophomore goalie Melissa Black (Newmarket, Ontario) and the Catamounts held on to salvage a tie in the overtime period.
---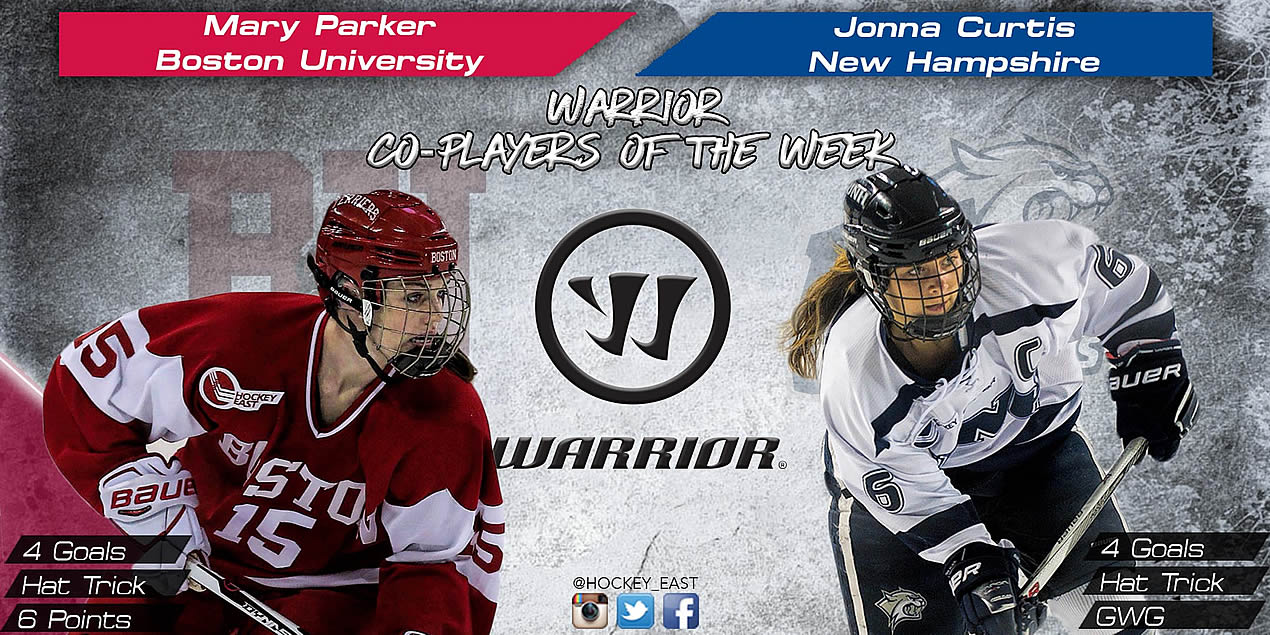 MARY PARKER - BOSTON UNIVERSITY
JONNA CURTIS - NEW HAMPSHIRET

Mary Parker (Milton, Mass.) Racked up a career high five points (3g, 2a) in a 7-2 win over PSU Saturday after netting a goal in the 3-3 tie the day before. She led the nation in points (6) and goals (4) last weekend.

Jonna Curtis (Elk River, Minn.) matched her career high for single- game points with four goals in Saturday's 6-2 win over Merrimack, lifting UNH to its first win of the year. She is the first Wildcat to score four goals in a game since Oct. 22, 2005 when Leah Craig achieved the feat at Niagara.
---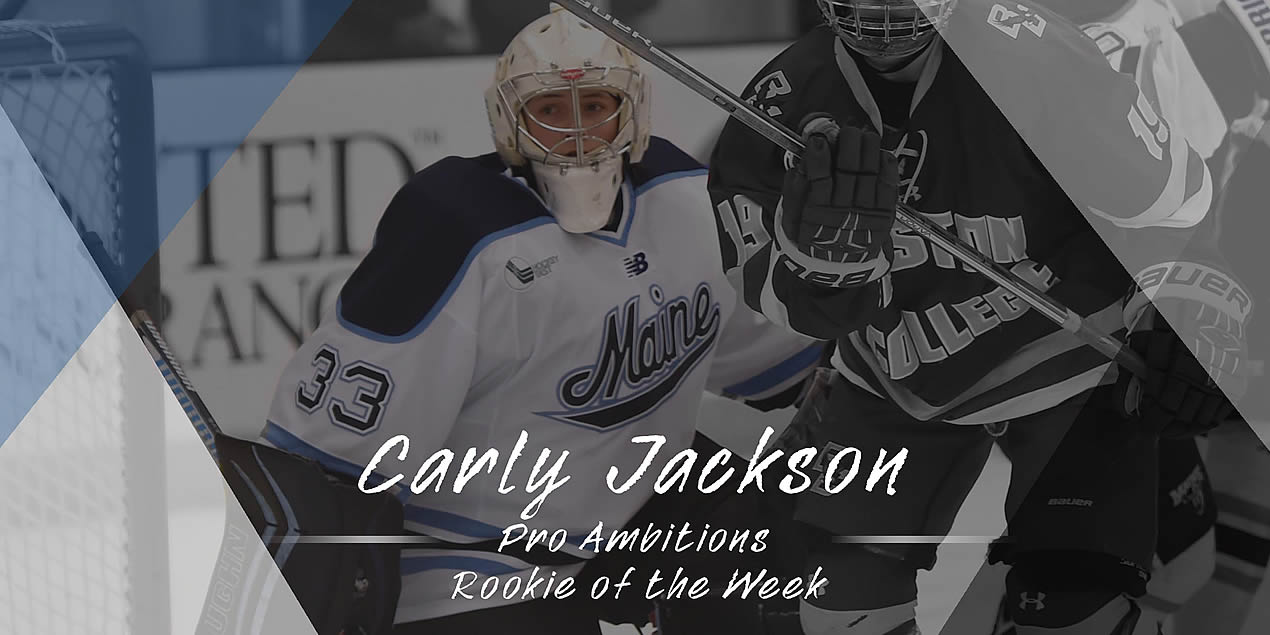 CARLY JACKSON - MAINE

Carly Jackson (Amherst, N.S.) helped to end the longest unbeaten streak in Hockey East history by stopped 28 of 30 shots from Boston College in a 3-2 win for the Black Bears Saturday. It was her first career win. She also stopped all six shots she saw in relief Friday against Merrimack.
---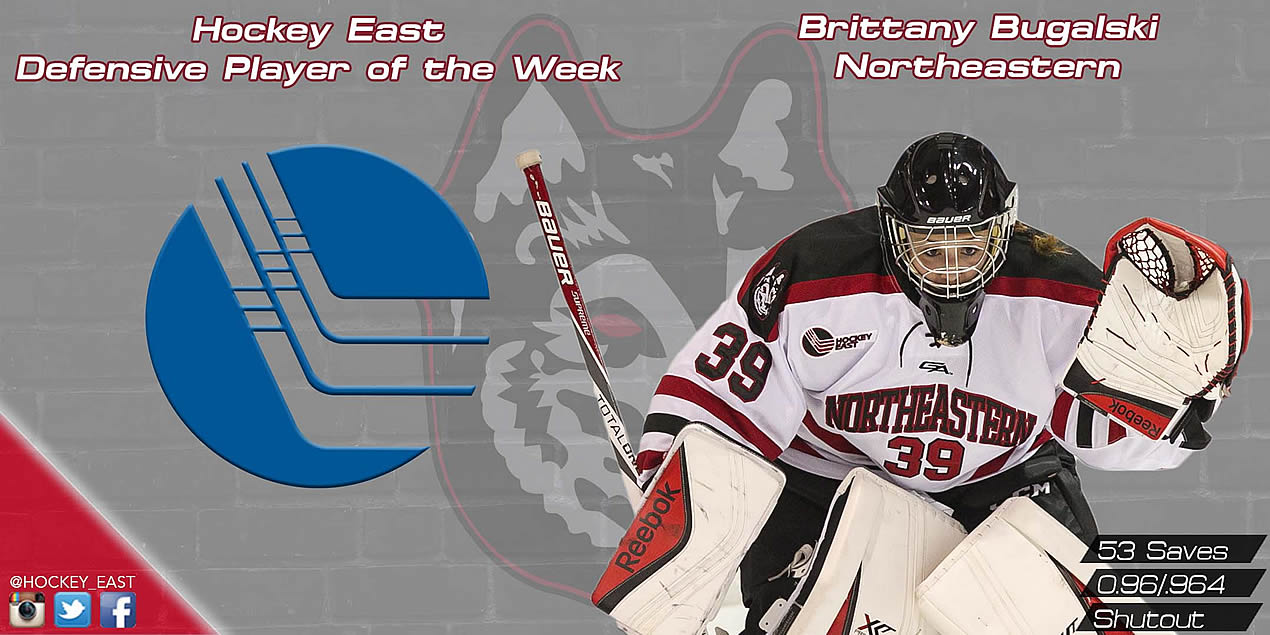 BRITTANY BUGALSKI - NORTHEASTERN

Brittany Bugalski (Boynton Beach, Fla.) stopped 53 of 55 shots she saw this weekend for a .964 save percentage and a 1-0-1 weekend against Syracuse. She spun away 27 shots in Saturday's 1-0 win for her fifth career shutout.
---
HOCKEY EAST WEEKLY TOP PERFORMERS
Connor Galway, BU (So., D; Athens, Ont.) Started off the series against Penn State with an assist on Friday night and then followed that performance up with her first collegiate goal on Saturday.
Carlee Turner, UNH (Fr., F; Scottsdale, Ariz.) Over the weekend she racked up four points in two games, including her first career goal and two assists in a 6-2 win over Merrimack on Saturday, ending with a plus three rating.
Hilary Cashin, UNH (So., G; New Brunswick) In a win over Merrimack, 6-2, saved 21 shots, including nine of ten in the third period, for her first career win and the Wildcats' first win of the season
Tereza Vanisova, ME (Fr., F; Strakonice, Czech Republic) Had a three point weekend which included two crucial assists against Boston College, she currently leads the team in both points (7) and goals (4)
Vendula Pribylova, ME (Fr. F; Olomouc, Czech Republic) Scored the game winner against Boston College to end the Eagles' record 51 game undefeated streak against Hockey East opponents.
Morgan Fisher, UConn (Fr., G; Vernon, Conn.) In her first career start, she earned a win with one goal allowed against 21 shots on the night and ended with a .955 save percentage
Leah Lum, UConn (Jr., D; Richmond, B.C.) Netted back-to-back goals, one being the game-winner, in UConn's 4-1 win over RPI, she also tacked on an assist for three points on the night
Briana Colangelo, UConn (Fr., F; Whitby, Ont.) For the three goals she was on the ice for, she earned an assist on all three times the puck found the net, ending the night with three points and a plus two rating
Melissa Black, UVM (So., G; Newmarket, Ont.) Got the start between the pipes for UVM on Saturday and made 33 saves in the OT tie, including double digit saves in both the first and second period
Mackenzie MacNeil, UVM (Jr., F; Richmond Hill, Ont.) Had an assist in both games against Robert Morris this weekend
Eve-Audrey Picard, UVM (Fr., F; Longueuil, Que.) Continued her impressive first season with an assist in Friday night's game at Robert Morris.
Paige Voight, MC (So., F; St. Michael, Minn.) Had a career high three points, two of them being goals and one being an assist, in Merrimack's 5-1 win over Maine on Friday night.
---