Thursday, October 13, 2016
Women's Hockey East Weekend Preview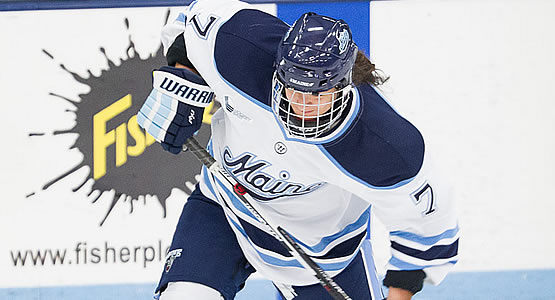 Maine hosts a pair of league games in Orono this weekend
Maine vs. Merrimack/No. 5 Boston College - Fri. 10/14, Sat. 10/15 at Maine
- Maine stands at 1-5-0 (0-2-0 HEA) on the young season at home and look to improve as Merrimack comes in for the first clash of the season between the Warriors and Black Bears. Maine then welcomes No. 5 Boston College on Saturday for their third and final game of the year after the Eagles took a pair of games at Conte Forum last weekend, 2-1 and 5-1.
- Maine defends its home ice behind freshmen forwards Tereza Vanisova (Strakonice, Czech Republic) and Vendula Pribylova (Olomouc, Czech Republic), who have four points each on the season
- Last season the Black Bears swept Merrimack in all three season contests, but the Warriors return to Orono with the number two goal scorer in the nation, sophomore forward Katelyn Rae (Courtice, Ont.) and freshman goaltender Lea-Kristine Demers (Repentigny, Que.).
- The Eagles travel to Maine after a successful homestand against the Black Bears last weekend, including a 2-1 win Saturday. Pro Ambitions Rookie of the Week Delaney Belinskas (Port Orange, Fla.) then netted four goals in Sunday's 5-1 victory, the first Eagles rookie to achieve that feat in 21 years.

UNH vs. No. 5 Boston College/Merrimack - Fri. 10/14, Sat. 10/15 at UNH
- The Wildcats welcome two Hockey East foes to the Whittemore Center this weekend, as New Hampshire prepares for No. 5 Boston College Friday and Merrimack Saturday. Last season, UNH went 0-3-0 against an undefeated BC squad and 2-1-0 against Merrimack. The 2-1 Merrimack win against New Hampshire on Oct. 17 marked the Warriors' first win as a varsity program.
- UNH still seeks its first win of the season as the sophomore goaltending duo of Kyra Smith (Littleton, Col.) and Hilary Cashin (Fredericton, N.B.) have combined for 123 saves on the season for a save percentage of .891.
- Merrimack travels to Durham Saturday after a tilt with Maine. The Warriors have so far had success on the road, defeating St. Cloud State in the opening weekend.

Boston University vs. Penn State/Northeastern - Fri. 10/14, Sat. 10/15 at PSU; Tue. 10/18 at NU
- After a 1-1-0 weekend against league rivals UNH (W, 5-1) and Vermont (L, 2-3), the Terriers travel to Penn State for a two game set.
- Last season the Terriers and the Nittany Lions split a series at Walter Brown Arena, 1-1-0, Oct. 9 and 10.
- BU's goaltenders, senior Victoria Hanson (Stoughton, Mass.) and junior Erin O'Neil (Minnetonka, Minn.), have combined for a .936 save percentage on 88 shots through three games this season.
- Sophomore forward Sammy Davis (Pembroke, Mass.) currently sits third in the nation for points scored with eight (8a), skating along with national goal-scoring leader, senior forward Samantha Sutherland (Cochrane, Alta/7g, 0a).
- Boston University and Northeastern then continue the Hockey East slate with a weekday game at Matthews Arena, Tuesday Oct. 18. In 2015-16, BU went 1-3-0 against Northeastern in the regular season, including the Beanpot, but knocked the Huskies out of the Hockey East Tournament as the Terriers advanced to their fifth consecutive title game.

UConn vs. RPI - Fri. 10/14, Sat. 10/15 at RPI
- The Huskies look to rebound after a home opener loss against in-state rival No. 2/3 Quinnipiac, 3-0.
- Junior goaltender Annie Belanger (Sherbrooke, Ont.), has spent 178:40 of 180 possible minutes between the pipes, building a .950 save percentage on the season with 76 saves and two wins.
- The Huskies are led on the offensive zone by junior forward Theresa Knutson (Onalaska, Wis.) and freshman forward Briana Colangelo (Whitby, Ont.), who each have three points on the season.
- This will be the first meeting between UConn and RPI since the 2014 - 2015 season, when UConn went 0-1-1 Oct. 25-26 at RPI.

Northeastern vs. Syracuse - Fri 10/14, Sat. 10/15 at Syracuse
- After moving to .500 with a two-game road sweep of Lindenwood, Northeastern returns home to defend Matthews Arena as Syracuse comes to Boston for a pair of contests.
- In three games played this season, sophomore goaltender Brittany Bugalski (Boynton Beach, Fla.) boasts a .918 save percentage with 67 saves, including a shutout against Lindenwood on Saturday.
- After scoring her 100th career point last weekend with two goals and an assist, junior forward Denisa Krizova (Horni Cerekev, Czech Republic) captured a share of Warrior Hockey East Player of the Week honors. Junior forward McKenna Brand (Nevis, Minn.) also had three points of her own against Lindenwood, potting a goal and chipping in two helpers.
- Northeastern won their only matchup against Syracuse last season, 5-4, on Oct. 9. In that game, Krizova and Brand both registered assists.

Vermont vs. Robert Morris - Fri. 10/14, Sat. 10/15 at RMU
- After defeating then-No. 9 Boston University in the home opener, 3-2, for their sixth straight Hockey East opening win, the Catamounts take to the road for a two game series with Robert Morris.
- Splitting time in net, sophomore transfer Melissa Black (Newmarket, Ont.) and senior Madison Litchfield (Williston, Vt.) have remained undefeated on the year.
- Warrior Hockey Player of the Week co-winner, freshman forward Ève-Audrey Picard (Longueuil, Que.) posted a two goal game in her first collegiate competition and added another goal and registered assist in the win over BU to collect her first weekly league award.

Providence vs. Union - Tuesday 10/18 at Providence
- Providence looks for their first home win of the season against Union with a weekday matchup on Tuesday at Schneider Arena.
- Defensive Player of the Week sophomore goaltender Madison Myers (Colchester, Vt.) posted two shutouts last weekend against RIT, doubling her total from 2015-16.
- Senior forward Cassidy Carels (Bruxelles, Man.) had three assists and a goal in the two game series at RIT, and is currently riding a five-game point streak to open the season (4g, 4a).
- The Friars won their only meeting with Union last year, 4-1, on Dec. 12 behind a goal and an assist from sophomore forward Christina Putigna (Grimsby, Ont.)