Wednesday, September 7, 2016
Coyne Named Top 30 Finalist For NCAA Women Of The Year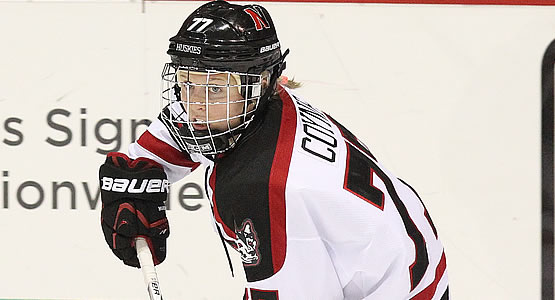 Northeastern women's hockey alumna Kendall Coyne was named one of 30 finalists for the prestigious NCAA Woman of the Year award
INDIANAPOLIS – Northeastern women's hockey alumna Kendall Coyne was named one of 30 finalists for the prestigious NCAA Woman of the Year award, as announced Wednesday.
A record 517 school nominees were submitted this year, which was whittled down to 142 conference nominees. The NCAA Woman of the Year selection committee picked 30 women from that pool – 10 from each of the three NCAA divisions – representing 13 sports and a host of undergraduate majors, including biology, accounting, criminal justice, education, engineering and computer science.
The top 30 honorees have demonstrated excellence in academics, athletics, community service and leadership.
"This year's top 30 honorees have achieved remarkable things during their time in college," said Sarah Hebberd, chair of the Woman of the Year selection committee and director of compliance at the University of Georgia. "They are model student-athletes for generations of young women to come, and we are immeasurably proud of their accomplishments."
The selection committee will name nine finalists – three women from each division – in late September. From the nine finalists, the NCAA Committee on Women's Athletics will select the 2016 Woman of the Year, who will be announced Oct. 16 at a ceremony in Indianapolis.
Coyne was previously nominated for the honor by both Northeastern University and the Colonial Athletic Association (CAA) on July 27. The Palos Heights, Illinois native enjoyed a record-breaking senior season in 2015-16, which was capped by leading the Huskies to their first-ever NCAA tournament appearance.
Coyne was also named the 2016 Patty Kazmaier Memorial Award winner for the top player in NCAA Division I women's ice hockey, and was honored as a First Team AHCA All-American, the All-New England Player of the Year, and the Cammi Granato Award winner for the WHEA Player of the Year.
As impressive as her on-ice feats were, Coyne was equally established in the classroom and the community. Coyne earned a perfect 4.0 GPA in both semesters this past year as a corporate communications major, and has been heavily involved with community service endeavors with the Ronald McDonald House, Make-A-Wish Foundation, For Julie Foundation, Bonnie's Foundation, Chicago Blackhawks Youth Hockey Camps, and more.