Monday, September 26, 2016
Weekly Release: Terriers, Friars Open Hockey East Play Season on First Weekend
Sutherland Nets A Hat Trick to Push BU over PC; Maine Splits with RPI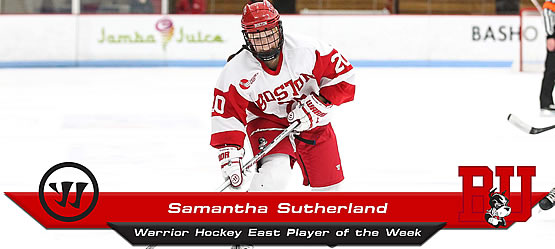 Warrior Hockey Player of the Week Samantha Sutherland of Boston University
AROUND HOCKEY EAST: Boston University and Providence College opened the 2016-17 Women's Hockey East season Sunday afternoon, with the Terriers taking a 5-2 victory over the Friars. Senior forward Samantha Sutherland (Fernie, B.C.) netted her first hat trick as a Terrier to help BU to the season-opening win, while also adding an assist in an exhibition match up against Whitby on Saturday to earn Warrior Player of the Week honors. Terrier goaltender Victoria Hanson (Stoughton, Mass.) blocked 34 shots in the win to pick up Defensive Player of the Week accolades ... The Maine Black Bears also opened the regular season with a pair of tilts against RPI, splitting the weekend series with the Engineers. Freshman Tereza Vanisova (Strakonice, Czech Republic) potted a goal and added an assist in a 2-0 victory over RPI, while senior netminder Mariah Fujimagari (Markham, Ont.) kicked out all 20 shots she faced in the shutout ... Five other Hockey East teams kicked off the year with exhibition contests, including Boston College, which split a pair of games with the Boston Pride (L, 2-3) and the Cambridge Rivulettes (W, 7-1), New Hampshire, which downed Whitby, 2-0, Merrimack handled Cambridge, 7-0, Northeastern traveled to Toronto and came away with a 3-0 win, and Vermont fell in overtime to McGill, 3-2.
---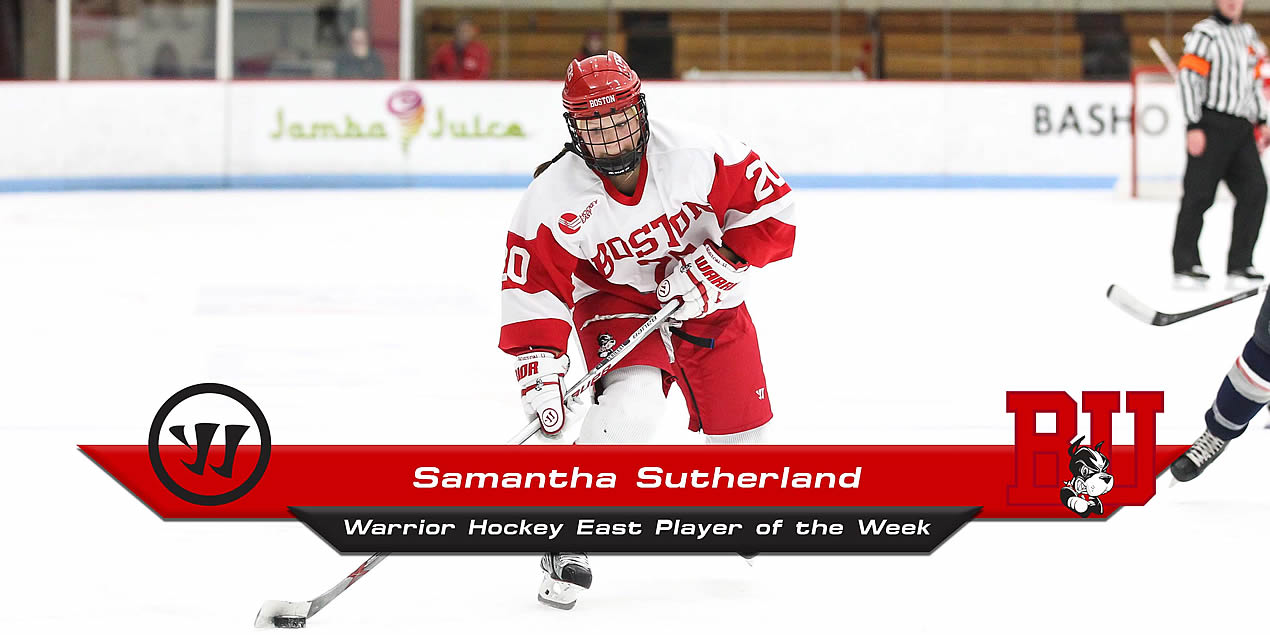 Samantha Sutherland - Boston University

Samantha Sutherland, BU (Sr., F; Fernie, B.C.) In BU's first game of the season, scored her first career hat trick to help lead the Terriers to a 5-2 win over Providence. She also added a helper in BU's 6-0 exhibition victory over Whitby.
---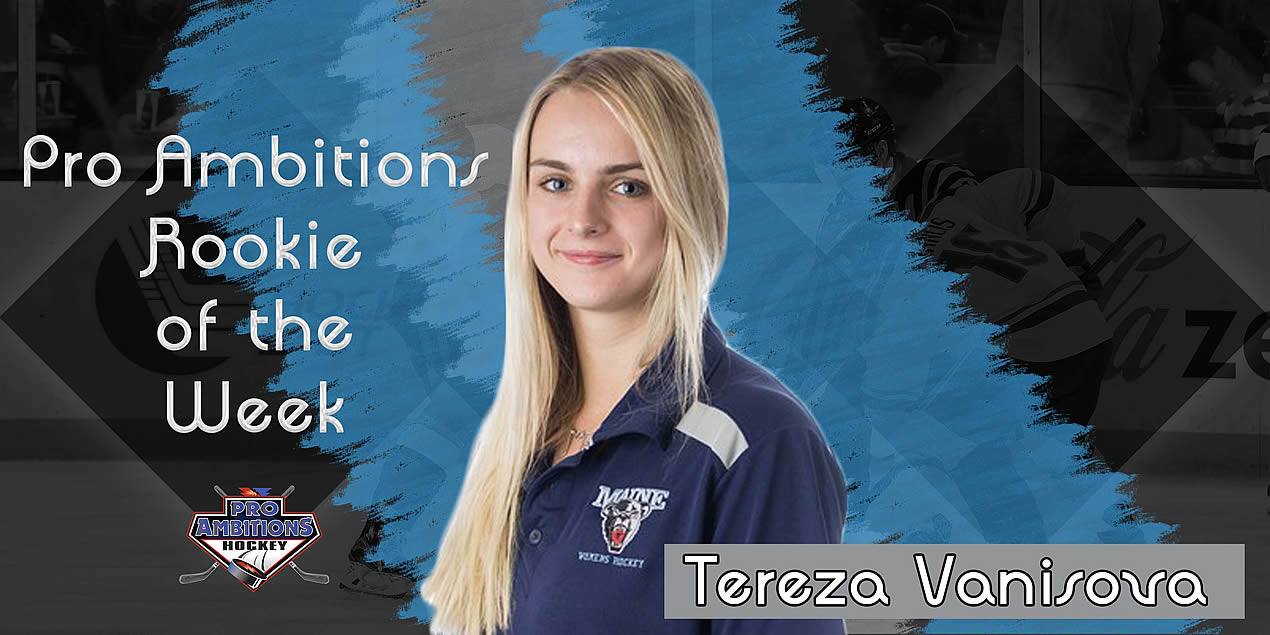 Tereza Vanisova - Maine

Tereza Vanisova, ME (Fr., F; Strakonice, Czech Republic) Scored a goal and tallied an assist for two points in her first weekend in a Black Bears uniform. Both points came in a 2-0 win over RPI on Sunday to help Maine to its first win of the year.
---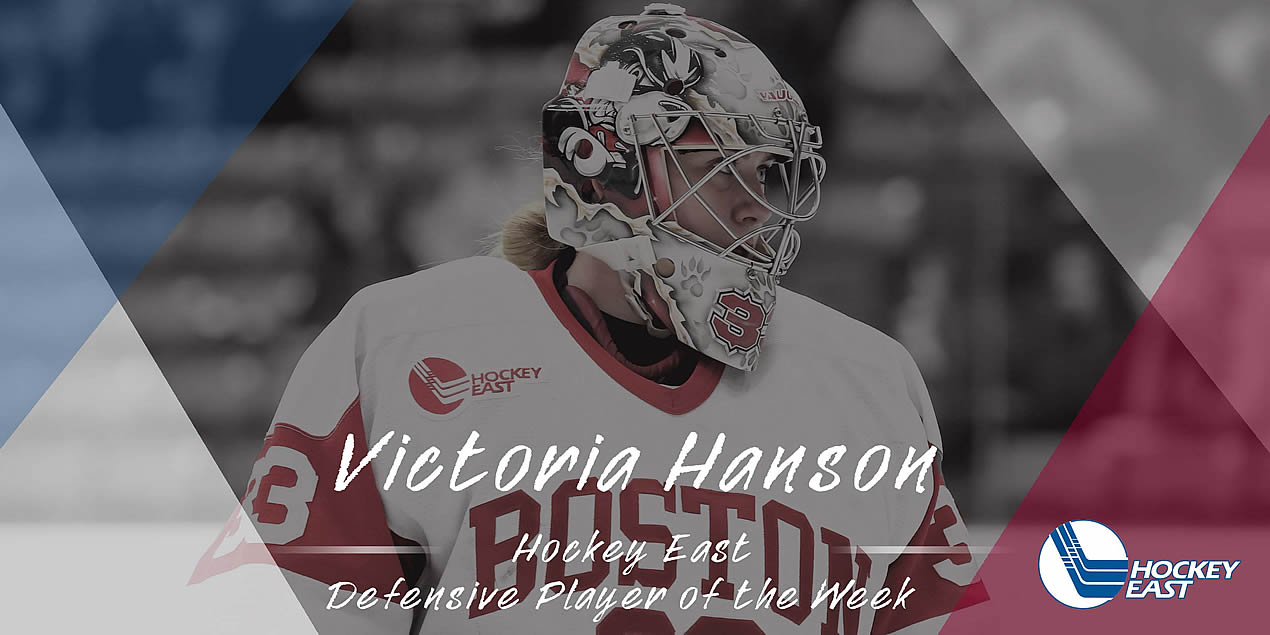 Victoria Hanson - Boston University

Victoria Hanson, BU (Sr., G; Stoughton, Mass.) The senior goaltender blocked 34 shots, including 16 in the third period and 16 on the penalty kill as she backboned the Terriers to a 5-2 win over Providence on Sunday in the first Hockey East game of the 2016-17 season.
---
HOCKEY EAST WEEKLY TOP PERFORMERS
Mariah Fujimagari, ME (Sr., G; Markham, Ont.) Stopped 20 of 20 shots faced in a shutout victory to capture her first win of the season and Maine's first win of the season
Abby Cook, BU (Fr., D; Kelowana, B.C.) Obtained her first career collegiate assist in BU's 5-2 win over Providence and was plus-1 in the game.
Codie Cross, NU (Fr., D; Airdrie, Alta.) Scored on a shot between the circles on the power-play in Northeastern's 3-0 exhibition win in Toronto on Friday
---