Friday, September 23, 2016
Women's Hockey East Weekend Preview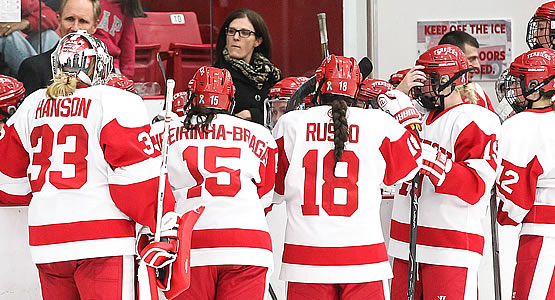 Boston University hosts Providence in a Women's Hockey East league contest on Sunday afternoon.
No. 10 Boston University vs. Whitby Wolves/Providence - Sat. 9/24, Sun. 9/25 at BU
- Boston University and Providence College kick off the 2016-17 Hockey East schedule with the first league game on Sunday. The Terriers skated to their fifth consecutive Hockey East title game in 2015-16 after going 17-5-2 in league play. They fell to Boston College in the final game of the year to finish at 23-14-2 overall.
- Head coach Brian Durocher will carry a roster of 23 skaters this year, including top point-getters from 2015-16 in juniors Rebecca Leslie (Ottawa, Ont./15-34-49) and Victoria Bach (Milton, Ont./22-26-48).
- The Providence Friars are coming off a 10-23-2 overall season in 2015-16 with a 6-16-2 record against Hockey East rivals. The Friars top-three point-scorers return in 2016-17 in senior Cassidy Carels (Bruxelles, Man./9-20-29), All-Rookie selection Christina Putigna (Grimsby, Ont./11-17-28) and junior Brooke Boquist (Thunder Bay, Ont./12-10-22).

Maine vs. RPI - Sat. 9/24, Sun. 9/25 at Maine
- The Maine Black Bears open the regular season with a pair of games at home against RPI with a roster boasting 11 freshmen.
- Gone from the Maine roster will be mainstay goaltender Meghann Treacy, who finished within the top 10 in several Hockey East goaltending categories for her career. On the other end of the ice, the Black Bears return several key offensive pieces to replace departed senior Audra Richards in junior Brooke Stacey (Kahnawake, Que.) and sophomore defenseman Alyson Matteau (Mirabel, Que.) who were the team's second and third leading scorers in 2015-16.
- The Black Bears enter 2016-17 after going 10-23-2 last season, including a 6-17-1 mark in league play.

No. 3 Boston College vs. Boston Blades/Cambridge Rivulettes - Thu. 9/22, Fri. 9/23 at BC
- The defending Hockey East champion Boston College Eagles take to the ice twice this weekend, skating in two exhibitions against the Boston Blades and Cambridge Rivulettes.
- The Eagles lost several potent offensive threats to the cap and gown, including Alex Carpenter, Haley Skarupa and Dana Trivigno, but retain several award-winners from 2015-16 including Pro Ambitions Rookie of the Year Makenna Newkirk (Scottsdale, Ariz.) and Best Defenseman Megan Keller (Farmington Hills, Mich.).
- Also returning for Katie Crowley's squad is junior goaltender Katie Burt (Lynn, Mass.). Burt currently sits at 36-0-1 in her career in Hockey East play, having gone undefeated last year and setting nearly every single-season goaltending mark in the conference.

No. 9 Northeastern vs. Toronto - Fri. 9/23 at Toronto
- Northeastern loses 2016 Patty Kazmaier Award winner Kendall Coyne to graduation, but retains several skaters that helped the Huskies to their first NCAA Tournament appearance in 2015-16 after skating to a 28-9-1 record overall and 20-4-0 mark in Hockey East.
- Junior Denisa Krizova (Horni Cerekev, Czech Republic) was the team's second-highest scorer last year, racking up 59 points in just 37 games played. Also returning for Dave Flint's team are seniors Hayler Scamurra (Williamsville, N.Y.) and Paige Savage (Johns Creek, Georgia), who ranked in the top-five team scorers last year.
- Goaltenders Brittany Bugalski (Boynton Beach, Fla.), who was an All-Rookie selection in 2015-16, and senior Sarah Foss (N. Reading, Mass.) return in between the pipes for the Huskies.

New Hampshire vs. Whitby Wolves - Fri. 9/23 at UNH
- Senior forward Jonna Curtis (Elk River, Minn.), junior forward Kate Haslett (Rothesay, N.B.) and sophomore defensemen Marie-Jo Pelletier (Dalhousie, N.B.) are the captains of the 2016-17 UNH Wildcats.
- Curtis led last year's squad in goals (16), assists (17) and points (33), as well as shots (171); in 24 Hockey East league games, she scored 23 points on 10 goals and 13 assists.
- Pelletier skated in all 36 games last year as a freshman. She ranked third among all skaters in Hockey East with 67 blocked shots and tied for second among UNH defensemen in assists with eight.

Merrimack vs. Cambridge Rivulettes - Sat. 9/24 at MC
- Merrimack begins its second season as a varsity program with an exhibition contest against the Cambridge Rivulettes, looking to improve upon a 5-26-3 record from a season ago.
- Maintaining a young roster, Merrimack returns nearly the entire team from 2015-16, including All-Rookie selections in goaltender Samantha Ridgewell (Outlook, Sask.), who stopped over 600 shots in her rookie campaign in Hockey East play, and Paige Sorensen (Plymouth, Minn.).

Vermont vs. McGill - Sun. 9/25 at UVM
- Vermont will open its year against McGill in an exhibition contest on Sunday. In the past two seasons, Vermont has fallen to Boston University in the Hockey East quarterfinals, pushing the Terriers to a decisive Game 3 in the 2016 Women's Hockey East Tournament.
- The Catamounts return top defenseman Taylor Willard (Naperville, Ill.), who was the second-leading scorer on her team last year as a sophomore (10g, 9a). Overall, the Catamounts bring back nine of the top 10 scorers from last season.