Women's Hockey East Names 2015-16 Pro Ambitions All-Rookie Team
Six Other Award Winners Announced For 2015-16 Season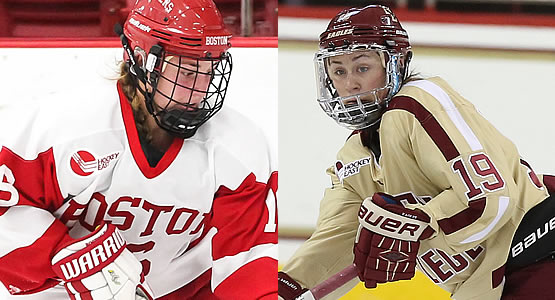 Sammy Davis (BU) and Makenna Newkirk (BC) were unanimous All-Rookie Team selections
NORTH ANDOVER, Mass. - The Women's Hockey East Association announced the 2015-16 Pro Ambitions All-Rookie Team and six other season-long awards as voted by the league's nine head coaches Wednesday afternoon ahead of the 2016 Women's Hockey East Championship, March 5 and 6 on the campus of Merrimack College.
The 2015-16 Pro Ambitions All-Rookie Team consists of eight players and includes: goaltenders Brittany Bugalski (Boynton Beach, Fla.) from Northeastern and Samantha Ridgewell (Outlook, Sask.) from Merrimack, Northeastern defenseman Maddie Hartman (Deer Park, Ill.), Maine defenseman Alyson Matteau (Mirabel, Qué.), Boston University forward Sammy Davis (Pembroke, Mass.), Boston College forward Makenna Newkirk (Scottsdale, Ariz.), Providence forward Christina Putigna (Grimsby, Ont.), and Merrimack forward Paige Voight (St. Micheal, Minn.).
Also set to be recognized at Friday night's awards banquet will be Boston College sophomore Megan Keller (Farmington Hills, Mich.) as the Hockey East's best defenseman and UConn's Leah Buress (Windsor, Ont) as the league's best defensive forward. Additionally, Northeastern senior forward Kendall Coyne (Palos Heights, Ill.) will be awarded the Army ROTC Three Stars Award and recognized as the Women's Hockey East scoring champion, while New Hampshire senior forward Sara Carlson (Hutchinson, Minn.) will be honored with the conference's sportsmanship award. Further, Boston College sophomore netminder Katie Burt (Lynn, Mass.) will take home the title of Women's Hockey East Goaltending Champion for the second consecutive year, as the statistical leader among netminders in league play.
Several award winners can be seen in action this weekend at the 2016 Women's Hockey East semifinals and championship at Lawler Rink on the campus of Merrimack College. Semifinal games are set for Saturday (March 5) at 1:30 p.m. and 4:30 p.m. and can be streamed live on HockeyEastOnline.TV. The championship game will be aired live on American Sports Network Sunday (March 6) at 1:30 p.m. and can be seen locally on NESN on tape delay at 5 p.m.
2016 Pro Ambitions All-Rookie Team

Goalie
Brittany Bugalski
Northeastern

Goalie
Samantha Ridgewell
Merrimack

Defense
Maddie Hartman
Northeastern

Defense
Alyson Matteau
Maine

Forward
Sammy Davis*
Boston University

Forward
Makenna Newkirk*
Boston College

Forward
Christina Putigna
Providence

Forward
Paige Voight
Merrimack

* denotes unanimous selection
Pro Ambitions All-Rookie Team
G: Brittany Bugalski, NU
G: Samantha Ridgewell, MC
D: Maddie Hartman, NU
D: Alyson Matteau, ME
F: Sammy Davis, BU*
F: Makenna Newkirk, BC*
F: Christina Putigna, PC
F: Paige Voight, MC

* denotes unanimous selection