Northeastern's Kendall Coyne Wins 2016 Patty Kazmaier Award
Coyne is second consecutive Hockey East player to earn Kazmaier Award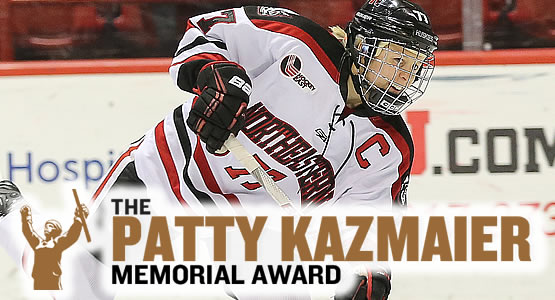 Northeastern's Kendall Coyne Wins 2016 Patty Kazmaier Award
NEW CASTLE, N.H. – Kendall Coyne (Palos Heights, Ill.), a senior forward from Northeastern University, was awarded the 2016 Patty Kazmaier Memorial Award here today at Wentworth By The Sea as part of the NCAA Women's Frozen Four weekend. The award, which is in its 19th year, is presented annually to the top player in NCAA Division I women's ice hockey by The USA Hockey Foundation.
Coyne was selected from a group of top-three finalists that included senior forward Alex Carpenter (North Reading, Mass./Boston College) and junior goaltender Ann-Renee Desbiens(La Malbaie, Que./University of Wisconsin).
"I have never coached and may never have the privilege of coaching another player as talented and committed as Kendall," said Northeastern University head coach Dave Flint. "What's so inspiring about Kendall is that she's equally impressive in the classroom and as a leader and role model in the community. Kendall has left a mark on Northeastern, Hockey East, the NCAA, and the community that will be felt for a very long time."
Coyne, who was named the Hockey East Player of the Year and a CCM First Team All-American, leads the NCAA in goals (50), goals per game (1.35), points per game (2.27), shorthanded goals (5) and hat tricks (5), and is second in the nation in points (84).
The Northeastern captain led the Huskies to their first-ever NCAA Tournament appearance this season, and she will graduate as the program's all-time career leader in points (248) and goals (140).
This season, Coyne rewrote the Hockey East record book by setting new standards for career points (167), career goals (91), single-season points (55), single-season goals (30), points per game (2.39) and goals per game (1.30). Her 167 career points surpassed the previous record by 39 points. Additionally, she is ranked second in league history in career assists (76) and third all-time in single-season assists (25). A WHEA First Team All-Star selection, Coyne also earned WHEA Player of the Week honors seven times and is a three-time WHEA Player of the Month.
Off the ice, Coyne volunteers her time with multiple charities including Make-A-Wish Foundation, Ronald McDonald House, Cradles to Crayons, Bonnie's Foundation, Julie Foundation, YMCA, Chicago Blackhawks Youth Hockey camps and Chicago area schools.
NOTES: Kendall Coyne is the second Northeastern University player to win the Patty Kazmaier Memorial Award, joining Brooke Whitney who captured the award in 2002 … Four-time OlympianAngela Ruggiero gave the keynote address at the 2016 Patty Kazmaier Memorial Award Ceremony, and two-time Olympian A.J. Mleczko served as master of ceremonies … The ceremony can be watched on demand at USAHockey.FASTHockey.com and PattyKaz.com … The 2016 Patty Kazmaier Memorial Award winner and the top-three finalists were chosen by a 13-person selection committee made up of NCAA Division I women's ice hockey coaches, representatives of print and broadcast media, an at-large member and a representative of USA Hockey, the national governing body for the sport of ice hockey in the United States. The independent accounting firm PricewaterhouseCoopers, LLP, tabulated the ballots.
About the Patty Kazmaier Award: An award of The USA Hockey Foundation, the Patty Kazmaier Memorial Award is annually presented to the top player in NCAA Division I women's ice hockey. Selection criteria includes outstanding individual and team skills, sportsmanship, performance in the clutch, personal character, competitiveness and a love of hockey. Consideration is also given to academic achievement and civic involvement.
About Patty Kazmaier: The Patty Kazmaier Memorial Award is named in honor of the late Patty Kazmaier, who was a four-year varsity letter-winner and All-Ivy League defenseman at Princeton University from 1981-86. An accomplished athlete who helped lead the Tigers to the Ivy League Championship in three consecutive seasons (1981-84), Patty Kazmaier-Sandt died Feb. 15, 1990, at the age of 28 following a long struggle with a rare blood disease.