Women's Hockey East Weekend Preview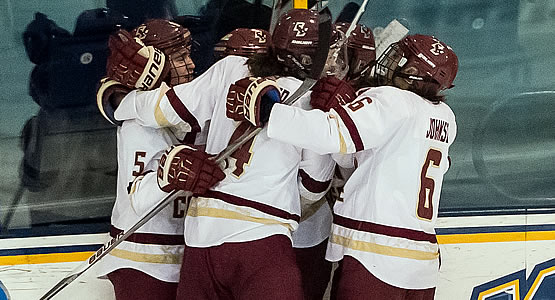 Boston College will take on Clarkson on Friday in the Women's Frozen Four
No. 1 Boston College vs. Clarkson - Fri. 3/18 at UNH (NCAA Frozen Four)
- Boston College upended Northeastern University in a 5-1 decision at Conte Forum in the NCAA Quarterfinal round last Saturday. The Eagles extended their win streak to 39 games and have the second most single-season wins in NCAA history behind 2012-13 Minnesota Golden Gophers (41-0-0).
- Warrior Hockey Player of the Week Haley Skarupa (Rockville, Md.) posted four points (1g, 3a) in the quarterfinal round, her second straight four-point outing. Skarupa extended her point streak to 15 games, the longest streak of the season for any Hockey East player.
- Senior Alex Carpenter (North Reading, Mass.) leads the NCAA in scoring after posting her 85th point of the season. She finished the game with three points (2g, 1a) and returns to the Frozen Four for the fourth time in her career. Carpenter is one of three finalists for the Patty Kazmaier Memorial Award this season and is joined by Northeastern's Kendall Coyne (Palos Heights, Ill.) and Wisconsin's Ann-Renée Desbiens. The recipient will be revealed on Saturday (March 19) in New Castle, New Hampshire.
- Sophomores Megan Keller (Farmington Hills, Mich.) (2a) and Tori Sullivan (Bloomfield, Mich.) (2g) each recorded multi-point games against Northeastern. Sullivan notched the game-winning mark and posted her second multi-goal game of the season and sixth of her career.
- Keller was named Hockey East Defensive Player of the Week after she tallied her 50th point of the season, becoming the first BC defenseman in history to reach the single-season milestone. The blueliner finished the outing with a plus-three rating and now leads the nation in plus/minus (+64).
- Pro Ambitions Rookie of the Week Grace Bizal (Minnetonka, Minn.) helped limit the Huskies to one goal and 22 shots. Bizal chipped in with an assist, her 11th of the season, and finished the contest with a plus-two rating.
- Eagles netminder Katie Burt (Lynn, Mass.) denied 21 of 22 shots for a 1.01 goals against average and .955 save percentage. Burt collected her 34th win of the season.
-
Championship Game - Sun. 3/20 at UNH (NCAA Frozen Four)
- The undefeated BC Eagles return to the NCAA Frozen Four for the second consecutive season. Boston College has appeared in the Frozen Four five times, but has never advanced to the championship game. Boston University is the only Hockey East team to have reached the championship game (2011 and 2013).
- Clarkson won the NCAA championship in 2014, the only team outside of the Western Collegiate Hockey Association (WCHA) to do so. Past winners include Minnesota Duluth (5 titles), Minnesota (5 titles), and Wisconsin (4 titles). Wisconsin and Minnesota will return to the 2016 Frozen Four in hopes of adding to their title count.