Women's Hockey East Weekend Preview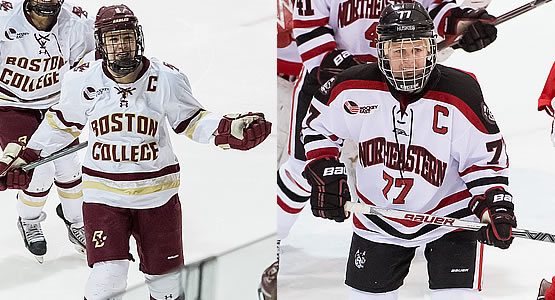 Boston College and Northeastern face-off in NCAA quarterfinal action this Saturday
No. 1 Boston College vs. Northeastern - Sat. 3/12 at BC
- Boston College extended its winning streak to 38 games after blanking Boston University, 5-0, in the Hockey East championship game Sunday at Merrimack College. The Eagles clinched their second title in program history and had three players named to the all-tournament team in forwards Alex Carpenter (North Reading, Mass.) and Haley Skarupa (Rockville, Md.) and defenseman Megan Keller (Farmington Hills, Mich.).
- Warrior Hockey Player of the Week Alex Carpenter netted three goals in two games and added two assists for a five-point weekend. Her offensive output included a game-winning goal, game-winning helper, and three power-play points. Carpenter was named tournament MVP and is a Top-3 Patty Kazmaier award finalist for the second consecutive season. Carpenter won the award in 2015. At the Women's Hockey East Banquet on Friday night, Carpenter was voted unanimously as a first team all-star, an honor she has captured all four seasons.
- Netminder and Hockey East Defensive Player of the Week Katie Burt (Lynn, Mass.) backboned the Eagles to victory with a 25-save shutout in the Hockey East championship game on Sunday. Burt was named Hockey East Goaltending Champion based on her top 1.16 GAA/.942 SV% statistics in league play. Burt set a new program record of 33 season wins, passing her own mark from last season.
- Pro Ambitions Rookie of the Week/Year Makenna Newkirk (Scottsdale, Ariz.) collected three power-play assists over the weekend, including two game-winning contributions. Newkirk led Hockey East freshmen this season with 23 points and 12 assists in league play and led rookies nationally with 21 goals.
- Saturday marks the sixth consecutive NCAA Quarterfinal appearance for Boston College and eighth overall. The Eagles were victorious in five of their seven previous quarterfinal match ups, and are still searching for their first national championship.
- The Northeastern University Huskies will play in their first NCAA Quarterfinal after capturing the best record in program history, 28-8-1.
- Top-3 Patty Kazmaier award finalist Kendall Coyne (Palos Heights, Ill.) led the Huskies all season racking up 83 points (49g, 34a). At the Hockey East Awards Banquet on Friday, Coyne was named Warrior Hockey East Player of the Year, recipient of the Army ROTC Three Stars Award, and recognized as Hockey East Scoring Champion and a first-team all star. Coyne posted one assist in the 4-3 loss to BU in the Hockey East semifinal round and put 13 shots on goal.
- The Pro Ambitions All Rookie Team consists of two Northeastern players: goaltender Brittany Bugalski (Boynton Beach, Fla.) and defenseman Maddie Hartman (Deer Park, Ill.). Bugalski was also named a second-team all star after finishing second among Hockey East goaltenders with a 1.54 goals against average and third with a .934 save percentage. Hartman picked up a plus-23 season rating and chipped in 15 points (3g, 12a).
- Northeastern and Boston College have faced off four times this season. BC collected wins in all four outings including a 7-0 decision in the Beanpot final to earn the sixth Beanpot title in school history.
- Hockey East is guaranteed a team in the 2016 Women's Frozen Four which will take place at the Whittemore Center in Durham, New Hampshire Friday, March 18 and Sunday, March 20. The winner of the Patty Kazmaier award will be announced during a brunch ceremony surrounding the Frozen Four, Saturday, March 19.