Weekly Release: Seven Haved Clinched Playoff Berth With Two Weeks Remaining
No. 1 Boston College, No. 5 Northeastern Set for a Pair, Including Beanpot Final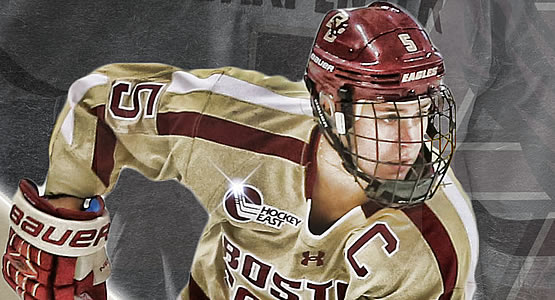 Warrior Hockey Player of the Week Alex Carpenter of Boston College
AROUND HOCKEY EAST: Seven teams have now clinched playoff berths in the 2016 Women's Hockey East Tournament. Boston College, Boston University and Northeastern have secured home ice in the quarterfinals while UConn, New Hampshire, Vermont and Maine have ensured an appearance in the playoffs. Providence can claim the final spot with wins over Merrimack this weekend with seeding to be determined in the final weekend of Hockey East play... No. 1 Boston College's Alex Carpenter (North Reading, Mass.) led Hockey East and the NCAA with a six point week (4g, 2a). With two assists in Saturday's 5-4 victory over UConn, Carpenter reached 131 career assists, more than any other Eagle, and passed Hobey Baker winner Mike Mottau '00 (130 assists). Carpenter broke another BC record when she notched her 25th career power-play goal. Defenseman Megan Keller (Farmington Hills, Mich.) extended her point streak to five games and her multi-point game streak to three games. Keller's two goals on the week came in the 8-0 shutout against Harvard in the Beanpot, BC's 11th shutout of the season. Forwards Makenna Newkirk (Scottsdale, Ariz.) (4a) and Haley Skarupa (Rockville, Md.) (2g, 2a) each had four points on the week...No. 5 Northeastern captain Kendall Coyne (Palos Heights, Ill.) scored two goals to lift the Huskies to a 3-2 victory over BU in the first round of the 38th Annual Women's Beanpot. Coyne added a goal and an assist in Saturday's 3-1 win against Providence, extending her multi-point game streak to four games. Coyne leads Hockey East all-time with 165 points and 88 goals. Netminder Brittany Bugalski (Boynton Beach, Fla.) picked up back-to-back wins as she denied 53 shots and picked up a .946 save percentage. Bugalski's 30-save Beanpot victory was the first for a Northeastern freshman netminder since Shannon Meyers in 1996...Boston University fell to No. 5 Northeastern in the first round of the Beanpot but saw strong performances from Alexis Crossley (1g, 1a) (Cole Harbour, N.S.) and Rebecca Leslie (Ottawa, Ont.) (2a) who tallied two points apiece...UConn played No. 1 Boston College tightly but ultimately suffered a 5-4 setback on Saturday. Four UConn players had multi-point weekends including Justine Fredette (Winnipeg, Man.) (1g, 1a), who had the game-winning mark in Sunday's 3-1 win over Providence. Netminder Elaine Chuli (Waterford, Ont.) rejected 62 shots in two games bringing her Hockey East career saves total to 2,072. Chuli is only 72 saves from breaking the Hockey East all-time record held by Vermont Catamount Roxanne Douville (2,143 saves)...Maine senior goaltender Meghann Treacy (Lake Peekskill, N.Y.) finished her Alfond Arena career with back-to-back shutouts, totaling nine shutouts in her career. Treacy finished the weekend with 50 saves. Junior Jess Vallotton (Glenboro, Man.) recorded her first collegiate hat trick in the 4-0 decision against Merrimack on Saturday...New Hampshire fell to Vermont in a two game series; both deficits were one goal differentials. Margo Lund (St. Paul, Minn.) led the Wildcats in scoring for the weekend with one goal and one assist and was named Army ROTC third star of the game in Sunday's 3-2 setback...Providence fell to No. 5 Northeastern and UConn by a score of 3-1 in both games. Freshman and Friars scoring leader Christina Putigna (Grimsby, Ont.) notched two goals for the Friars, both tallies came on the power-play. Putigna leads the Friars with 25 points (10g, 15a) and seven power-play marks. ...Vermont defenseman Taylor Willard (Naperville, Ill.) lifted the Catamounts to a weekend sweep against New Hampshire with back-to-back game winning goals and a game-tying assist. Saturday's game-winning tally was scored with 1:12 remaining in regulation. Goaltender Madison Litchfield (Williston, Vt.) backboned the Catamounts to two victories by making 58 saves and picking up a .950 save percentage. Litchfield is ranked fourth among Hockey East goaltenders with a 2.54 goals against average.
---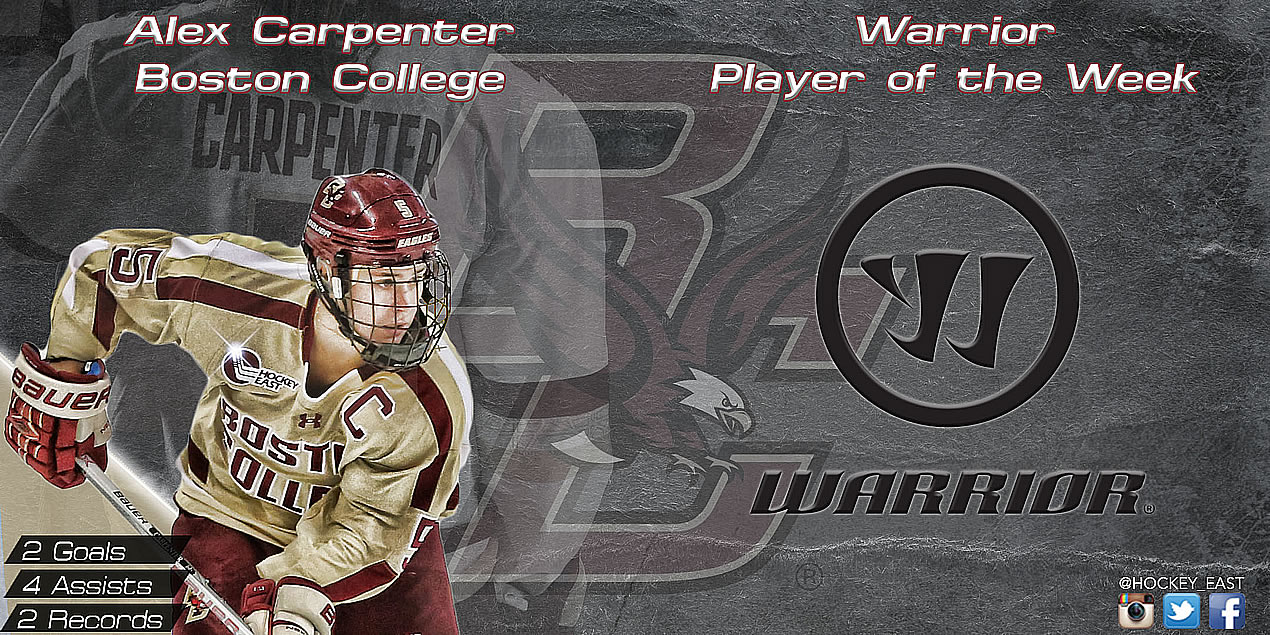 Alex Carpenter - Boston College

Alex Carpenter, BC (Sr., F; North Reading, Mass.) Tallied four goals and two assists in two games. Broke BC records by scoring the most assists of any Eagle (131), man or woman, and the most power-play goals of any Eagle (25).
---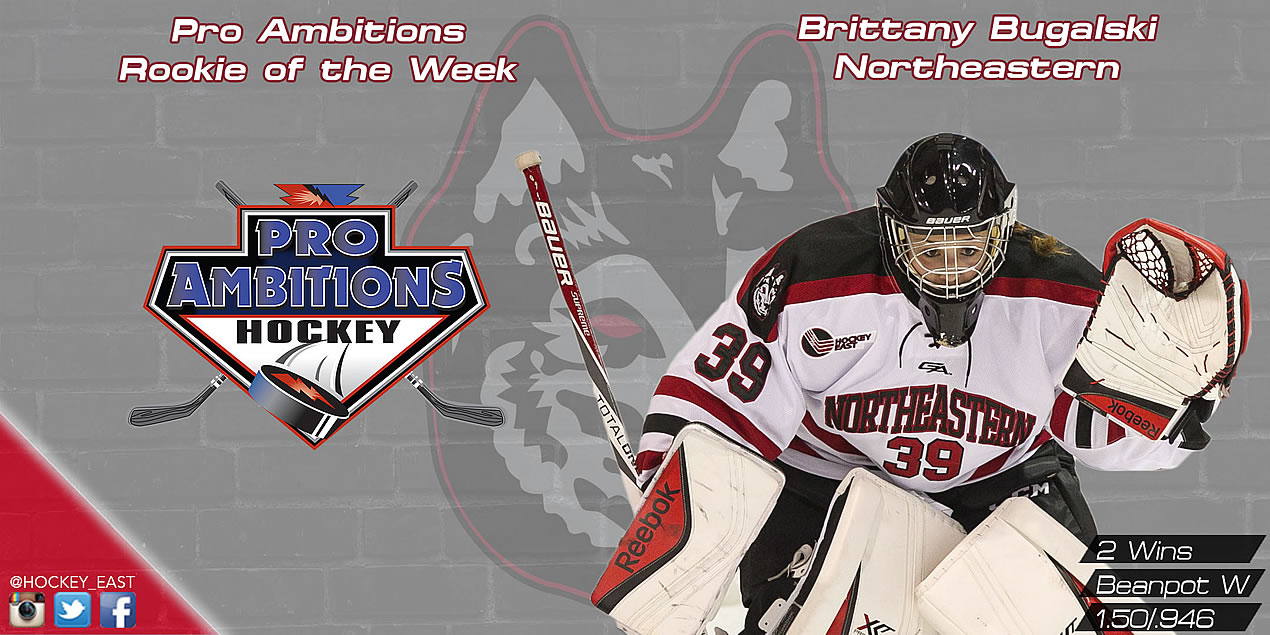 Brittany Bugalski - Northeastern

Brittany Bugalski (Fr., G; Boynton Beach, Fla.) Picked up a 2-0-0 record and posted a 1.50 GAA and a .946 SV% after making 53 saves. She also denied 30 of 32 BU Terrier shots to backbone the Huskies to a first round Beanpot victory. It was the first Beanpot win for a Northeastern rookie netminder since 1996.
---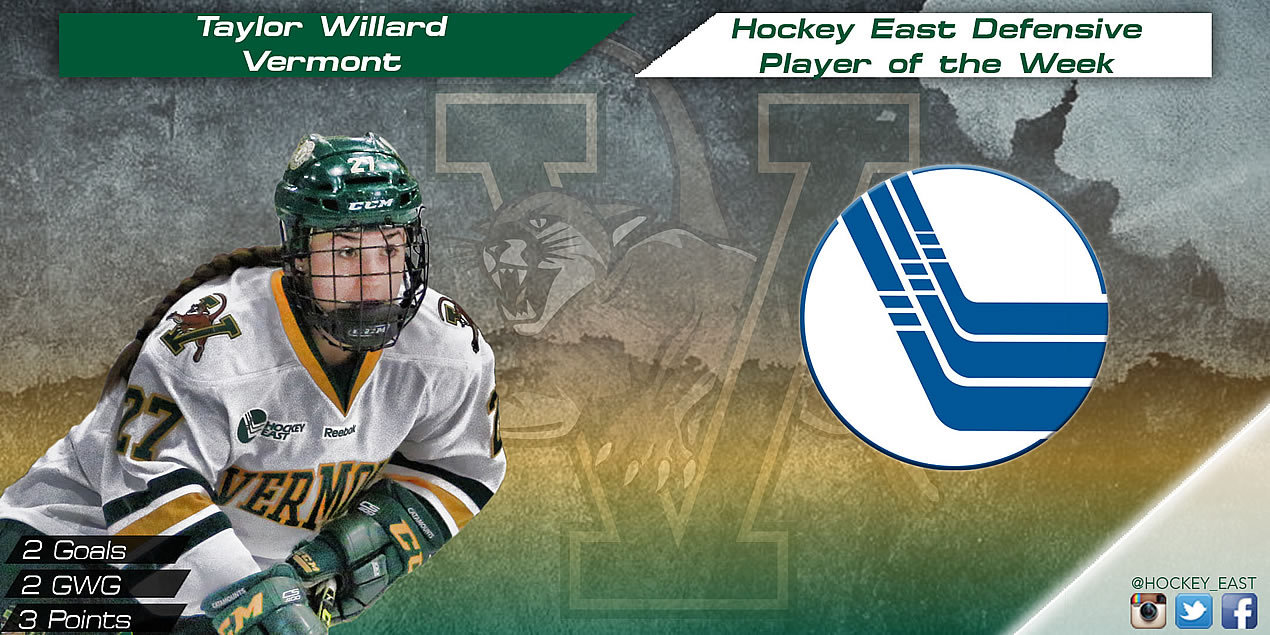 Taylor Willard - Vermont

Taylor Willard, UVM (So., D; Naperville, Ill.) Notched back-to-back game-winning marks in the weekend sweep over New Hampshire. Also chipped in with one assist for a three-point weekend for the Catamounts.
---
HOCKEY EAST WEEKLY TOP PERFORMERS
Makenna Newkirk, BC (Fr., F; Scottsdale, Ariz.) Scored the second-most assists in the NCAA last week by notching four helpers in two games, including three helpers in Tuesday's 8-0 Beanpot blanking of Harvard.
Megan Keller, BC (So., D; Farmington Hills, Mich.) Totaled five points (2g, 3a) in two games including a 2-1--3 performance in Tuesday's outing in the Beanpot semifinals.
Jess Vallotton, ME (Jr., F; Glenboro, Man.) Netted her first career hat trick and led Maine to a 4-0 decision against Merrimack
Meghann Treacy, ME (Sr., G; Lake Peekskill, N.Y.) Recorded back-to-back shutouts, the eighth and ninth of her career, and denied all 50 Merrimack shots in a pair of wins at Alfond Arena.
Kendall Coyne, NU (Sr., F; Palos Heights, Ill.) Tallied a game-winning goal and a game-winning helper; Totaled four points in two games (3g, 1a) and helped the Huskies to a 3-2 Beanpot semi-final win over BU.
Christina Putigna, PC (Fr., F; Grimsby, Ont.) Netted both goals on the weekend for the Friars, two power-play marks, in their 3-1 setbacks.
---