Thursday, February 4, 2016
Women's Hockey East Weekend Preview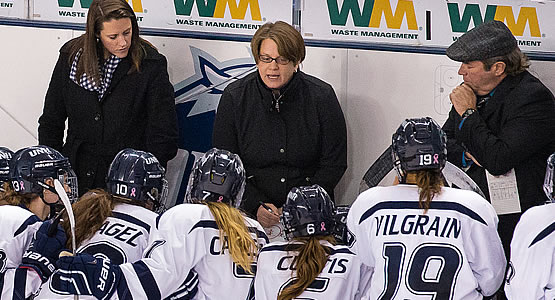 New Hampshire hosts Vermont for two games this weekend
No. 1 Boston College vs. UConn/vs. No. 5 Northeastern - Sat. 2/6 at UConn, Tues. 2/9 at BU
- No. 1 Boston College handled Harvard in the first round of the 38th Annual Women's Beanpot Tuesday night, 8-0. The shutout was the 10th of the season for Boston College netminder Katie Burt (Lynn, Mass.), tying the BC program record.
- Defenseman Megan Keller (Farmington Hills, Mich.) (2g, 1a) and freshman Makenna Newkirk (Scottsdale, Ariz.) (3a) led the Eagles in scoring with three points apiece.
- The Eagles seek their sixth Beanpot title. The last championship came in a 3-0 victory over Northeastern in 2014.
- Last time the Eagles clashed with UConn, Burt shut down the Husky offense in each outing. Both games ended in 4-0 decisions and Burt denied 26 shots in the two games.

No. 5 Northeastern vs. Providence/vs. No. 1 Boston College - Sat. 2/6 at PC, Tues. 2/9 at BU
- Warrior Hockey Player of the Month Kendall Coyne (Palos Heights, Ill.) has recorded four points in her last two games (3g, 1a), including two goals in the first round of the Beanpot to lift the No. 5 Huskies past Boston University, 3-2. Coyne clinched two Beanpot titles in 2012 and 2013. In the month of January, Coyne compiled 27 points in just 10 games and became Northeastern's all time leading scorer on January 10 when she reached 209 career points.
- Paige Savage (Johns Creek, Ga.) (3a) and Lauren Kelly (Watertown, Mass.) (2g, 1a) totaled three points apiece in the last two games. Kelly notched the game-winning goal in Friday's 5-2 win against New Hampshire.
- Hockey East Goaltender of the Month Brittany Bugalski (Boynton Beach, Fla.) picked up her first collegiate Beanpot win Tuesday evening after denying 30 Terrier shots. In the month of January, Bugalski posted a perfect 6-0-0 record and a .945 save percentage.
- No. 5 Northeastern has 49 victories and 16 titles in Beanpot history, more than any other team.

Boston University vs. Harvard - Tues. 2/9 at BU
- Boston University defenseman Alexis Crossley (Cole Harbour, N.S.) has notched four points (3g, 1a) in her last two outings, including the game-winning goal in a 6-2 victory over Merrimack Saturday afternoon. Crossley scored a power-play marker against Northeastern in Beanpot play, but her Terriers ultimately fell to the Huskies, 3-2.
- Victoria Bach (Milton, Ont.), Sarah Lefort (Ormstown, Qué.), and Kayla Tutino (Lorraine, Qué.) each had 1-2--3 performances in Saturday's outing against Merrimack.
- Pro Ambitions Rookie of the Week Sammy Davis (Pembroke, Mass.) tallied her 12th goal of the season on Saturday. Davis leads Hockey East freshmen with 10 goals, nine assists, and 65 shots on goal in 20 league games.
- BU has not faced Harvard since last year's first round Beanpot game. The Terriers fell, 9-2, in that contest with Boston University's goals coming from Bach and Lefort.

UConn vs. No. 1 Boston College/vs. Providence - Sat. 2/6 at PC, Sun. 2/7 at UConn
- UConn swept Vermont with the help of Warrior Hockey Player of the Week Leah Lum (Richmond, B.C.) and Hockey East Defensive Player of the Week Elaine Chuli (Waterford, Ont.). Lum netted three goals in two games and added a game-winning power-play helper in Saturday's 3-1 victory.
- In the sweep, Chuli stopped 55 Catamount shots to pick up a .935 save percentage. Chuli currently has 2,010 career saves in Hockey East regular season play, putting her just 134 saves away from breaking the all-time Hockey East record of 2,143 held by Vermont's Roxanne Douville.
- In the last two tilts with Providence on January 16 and January 17, UConn picked up a 1-0-1 record. Theresa Knutson (Onalaska, Wisc.) notched her first collegiate hat trick in the second game of the series to lift the Huskies to a 5-2 win over the Friars.
- The Providence Friars fell to Maine, 3-1, Saturday but came back and blanked the Black Bears Sunday in a 1-0 decision.
- The victory was the first collegiate shutout for Madison Myers (Colchester, Vt.). Myers kicked out all 20 Black Bear shots and was named Army ROTC second star of the game.
- The two Friar goals in the series came from Cassidy Carels (Bruxelles, Man.), her seventh and eighth tallies of the season. With the two tallies on the weekend, Carels is now tied with Christina Putigna (Grimsby, Ont.) at the top of the Friar leader board (23 points).

Maine vs. Merrimack - Sat. 2/6, Sun. 2/7 at Maine
- Sophomore Catherine Tufts (Church Point, N.S.) led Maine over the weekend with two power-play assists, including a game-winning helper that lifted the Black Bears to a 3-1 decision over Providence. Tufts also netted a goal in the last outing against Merrimack, a 2-1 win on October 18, 2015.
- Merrimack freshman and Pro Ambitions Rookie of the Month Katelyn Rae (Courtice, Ont.) enters the weekend with seven goals and eight assists. Rae recorded her first game-winning mark and an unprecedented Merrimack three-point game (2g, 1a) in a 4-1 win over Brown on January 19.
- Merrimack netminder Samantha Ridgewell (Outlook, Sask.) has also proven strong in her first collegiate season. Ridgewell has racked up 725 saves and a .911 save percentage this season. In Hockey East play, Ridgewell is ranked fourth among goaltenders with a .923 save percentage.

New Hampshire vs. Vermont - Fr. 2/5, Sat. 2/6 at UNH
- New Hampshire fell to No. 5 Northeastern Friday, 5-2, but saw multi-point performances from Amy Boucher (Edmonton, Alb.) (1g, 1a) and Amy Schlagel (Blaine, Minn.) (2a).
- Both goals were scored on the power-play, including Jonna Curtis's (Elk River, Mich.) 14th notch of the season. Curtis leads the Wildcats with 29 points (14g, 15a) with seven of those points coming with the man-advantage (2g, 5a).
- Since 2013, New Hampshire holds a 3-2-2 record against Vermont.
- The Vermont Catamounts fell twice to UConn last weekend, 2-1 and 3-1. Despite the setbacks, the Catamounts were able to "Pack the Gut" on Friday night, drawing 1,662 fans.
- Vermont scoring leader Dayna Colang (Fairbanks, Alaska) led the Catamounts with two points (1g, 1a) including a power-play assist. Of Colang's 24 points this season, 10 came on the power play (3g, 7a).