Thursday, February 25, 2016
Women's Hockey East Weekend Preview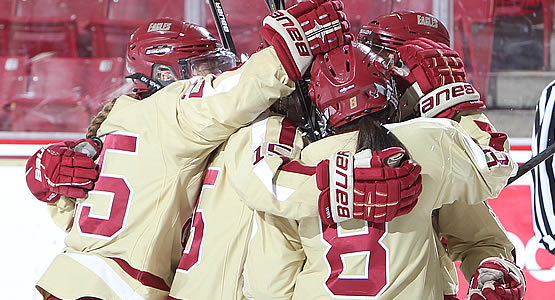 The 34-0-0 Boston College Eagles are just the second team in NCAA history to enter the post season with a perfect regular-season record, following the University of Minnesota in the 2012-13 season.
No. 1 Boston College vs. No. 8 Maine - Fri. 2/26, Sat. 2/27, Sun. 2/28 at BC
- The 34-0-0 Boston College Eagles are just the second team in NCAA history to enter the post season with a perfect regular-season record, following the University of Minnesota in the 2012-13 season.
- Warrior Hockey Player of the Week Dana Trivigno (Setauket, N.Y.) helped the Eagles to 7-1 and 9-1 wins over Providence this past weekend. Trivigno totaled six points (2g, 4a) in the two games including a four-point performance on Friday.
- Senior Haley Skarupa (Rockville, Md.) also recorded a six point weekend (3g, 3a) and finished the regular season ranked third in NCAA scoring (66 points). Junior Andie Anastos (Farmington Hills, Mich.) netted three goals of her own, her first career hat trick, and was named Army ROTC first star of the game on Saturday.
- Captain Alex Carpenter (North Reading, Mass.) led the Eagles throughout the season and is ranked first in the NCAA with 76 points and 38 assists. Carpenter holds the all-time Hockey East assists record (84). Entering the post season, Carpenter is riding a 10-game point streak, including six multi-point games.
- Hockey East Defensive Player of the Week Megan Keller (Farmington Hills, Mich.) picked up four assists and a plusfour weekend rating. Keller set the Hockey East single-season record for points (29) and assists (24) by a defenseman. Keller stands first among defenseman in the nation with 44 points and 32 assists overall.
- This season, BC swept Maine in all three contests and have not fallen to the Black Bears since October 30, 2011. Entering the weekend, the Eagles have the best offense in the NCAA averaging 5.44 goals per game.
- Maine looks to win the first post season game in program history.
- This season, the Black Bears offense was led by senior Audra Richards (Maplewood, Minn.) who collected 22 points (14g, 8a) including two game-winning goals and two game-winning assists.
- Senior netminder Meghann Treacy (Lake Peekskill, N.Y.) backboned the Black Bears into the post season with a .918 save percentage, fifth among Hockey East goaltenders. Treacy finished her career with 1,969 saves, fourth all-time in Hockey East.

No. 2 Northeastern vs. No. 7 Providence - Fri. 2/26, Sat. 2/27, Sun. 2/28 at NU
- All-time Hockey East points leader (167) and goals leader (91) Kendall Coyne (Palos Heights, Ill.) has steered Northeastern to the best record in program history at 26-7-1. Coyne holds the most points in Northeastern University history (240). This season alone, Coyne has scored 75 points (44g, 31a) in 33 games and has picked up 23 multi-point games. Coyne held a 13-game point streak from September 26, 2015 to November 21, 2015 which is the longest of anyone in Hockey East this season.
- In last weekend's split with Boston University, sophomore Denisa Krížová (Horní Cerekev, Czech.) picked up four points (2g, 2a). Krížová is the highest scoring sophomore in the NCAA and is ranked sixth overall in the NCAA (53 points).
- Friday marks the second meeting between Northeastern and Providence in the post season. The previous contest was a 2-0 Friars win in the 2012 WHEA semifinals. This season, Northeastern swept the Friars in all three contests.
- The Friars fell to No. 1 Boston College in the last weekend of the regular season but saw a multi-point weekend from defenseman Lexi Romanchuk (San Jose, Calif.) (1g,1a). Romanchuk leads Friars defenseman and seniors with 18 points (6g, 12a).
- Friar scoring leader and rookie standout Christina Putigna (Grimsby, Ont.) enters her first Hockey East quarterfinal game on Friday. Putigna leads Providence with 28 points (11g, 17a) and is tied for third in the NCAA with eight power-play tallies.

No. 3 Boston University vs. No. 6 Vermont - Fri. 2/26, Sat. 2/27, Sun. 2/28 at BU
- The Boston University Terriers split the weekend series against Northeastern. The Terriers are the only Hockey East team this season to defeat Northeastern other than the undefeated Boston College Eagles.
- Boston University sophomore Victoria Bach (Milton, Ont.) notched a game-winning tally and added three assists in the weekend split. Bach's four points lifted her to the top of the BU leader board with Rebecca Leslie (Ottawa, Ont.) at 43 points. Bach enters the post season riding a four-game point streak.
- Senior captain Kayla Tutino (Lorraine, Qué.) enters the weekend with an impressive post season resume. Tutino leads Hockey East with most points in a single tournament (8, 2015). She also has the most goals in one playoff game (4) and is ranked second for career playoff points (15).
- This season, BU went 2-0-1 against Vermont and have not fallen to the Catamounts since January 24, 2015. The Terriers and the Catamounts found themselves in the same position in last season's quarterfinals as BU defeated UVM by scores of 8-1 and 7-2 at Walter Brown Arena. The Terriers went on to hoist their fourth consecutive Bertagna Trophy.
- The Vermont Catamounts finished regular season play with a 1-0-1 weekend record against Merrimack, finishing 6-15-3 in league play and 8-23-3 overall.
- Seven different players contributed on Vermont's four goals of the weekend including Catamount scoring leader Dayna Colang (Fairbanks, Alaska) and defenseman Taylor Willard (Naperville, Ill.). Colang finished the season with 27 points (12g, 15a) while Willard led Vermont defensemen and was second to Colang with 18 points (9g, 9a).
- The Catamounts prepares to face a tough BU squad for the second quarterfinal series in a row, looking to advance to the Women's Hockey East semifinals for the first time since 2014.

No. 4 UConn vs. No. 5 New Hampshire - Fri. 2/26, Sat. 2/27, Sun. 2/28 at UConn
- This is the second consecutive weekend the UConn Huskies and the UNH Wildcats have competed against each other. Last weekend saw a split result in two close match ups, with both tilts ending in 2-1 scores.
- UConn sophomore Theresa Knutson (Onalaska, Wisc.) netted both goals in Sunday's game, including the game-winning overtime marker. It was Knutson's ninth multipoint outing and sixth game-winning tally.
- Netminder Elaine Chuli (Waterford, Ont.) finished a historic season as she backboned the Huskies to fourth place in Hockey East. Chuli kicked out 58 Wildcat shots on the weekend and picked up a .950 save percentage. Ending her regular season career with 2,202 saves, Chuli holds the Hockey East all-time saves record. In post season play, Chuli ranks second among goalkeepers with the most saves in one tournament, stopping 122 shots in 2015.
- Friday marks the third meeting between UConn and New Hampshire in the Hockey East postseason. The previous match ups both came in semifinal play (2005, 2007) with each team taking a victory.
- Sophomore Carlee Toews (Grand Prairie, Alb.) came up clutch for the Wildcats in Saturday's victory over UConn, netting a third period game-winning power-play goal. The strike came with just 2:42 remaining in regulation, and was Toews' second game-winning tally of the season.
- Jonna Curtis (Elk River, Mich.) led the Wildcats all season and totaled 33 points (16g, 17a). Curtis was named one of Army ROTC stars of the game nine times this season. Curtis looks to lead the Wildcats to their fifth Hockey East Championship. The last UNH title came in 2009.