Monday, February 22, 2016
Weekly Release: Women's Hockey East Quarterfinals Set For This Weekend
Eight Teams Square Off in 14th Annual WHEA Tournament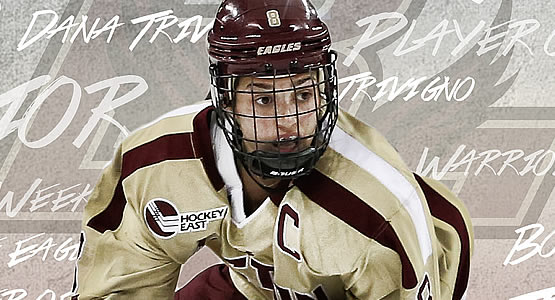 Warrior Hockey Player of the Week Dana Trivigno of Boston College
AROUND HOCKEY EAST: The 2016 Women's Hockey East playoff field was set last weekend, with quarterfinal play to begin Friday (Feb. 26). First seed Boston College will host eighth seed Maine, No. 2 Northeastern will welcome No. 7 Providence, No. 3 Boston University will skate against No. 6 Vermont and No. 4 UConn hosts No. 5 New Hampshire to begin the postseason. The winners of the best-of-three series will move on to play in the 14th annual Women's Hockey East championship weekend, held at Merrimack College March 5-6. For more information, visit HockeyEastOnline.com/ HEAChamps ... No. 1 Boston College finished the regular season with a perfect 34-0-0 record, only the second team in NCAA history to enter the playoffs with a perfect season. BC upended Providence by scores of 7-1 and 9-1 with help from Dana Trivigno (Setauket, N.Y.) (2g, 4a), Haley Skarupa (Rockville, Md.) (3g, 3a), and Andie Anastos (Farmington Hills, Mich.) (3g, 2a). Trivigno notched back-to-back multi-point games and picked up a plus-seven rating. Anastos netted her first career hat trick and added a power-play helper in Saturday's 9-1 victory and Skarupa extended her point streak to ten games. Seniors Alex Carpenter (North Reading, Mass.) (160 pts., 76 goals) and Skarupa (141 pts., 73 goals) finished their careers as the number two and number three all-time scorers in Hockey East, respectively. Carpenter is the Hockey East all-time assists leader (84 assists) and is ranked fifth in the NCAA in career scoring (266 pts.). She also set a new Hockey East single-season assists record with 32 helpers on the year ... No. 6 Northeastern's Kendall Coyne (Palos Heights, Ill.) finished her career as the all-time Hockey East points leader (172 pts.) and goals leader (93 goals). Coyne holds the scoring record for Northeastern University with 240 career points. Coyne finished the weekend with four points including a 2-1--3 performance in Saturday's 6-2 decision over BU. The season's fourth-ranked scoring leader in Hockey East Denisa Krížová (Horní Cerekev, Czech) recorded two goals and two assists in the weekend split against the Terriers. Krížová finished the season with 53 points overall (19g, 34a) ... Boston University upset No. 6 Northeastern on Friday by a score of 3-2, the only Hockey East team to defeat the Huskies besides Boston College. Sophomore Victoria Bach (Milton, Ont.) netted the game-winning tally and added three assists on the weekend for a four point total. Bach finished the season tied for first with Rebecca Leslie (Ottawa, Ont.) at the top of the Terrier leader board. Bach totaled 43 points (20g, 23a) and Leslie scored 11 goals and 32 assists. Bach is tied for 10th in the NCAA with 20 goals and Leslie is tied for sixth in the NCAA with 32 assists ... The UConn Huskies split a weekend series against the UNH Wildcats and will face the Wildcats once again next weekend in the Hockey East Quarterfinals. Sophomore Theresa Knutson (Onalaska, Wisc.) tallied both goals for the Huskies in Sunday's 2-1 overtime win and was named Army ROTC first star of the game. Netminder Elaine Chuli (Waterford, Ont.) denied 58 Wildcat shots in two games and finished the weekend with a .950 save percentage. Chuli finished her career as the Hockey East all-time saves leader with 2,202 saves ... UNH sophomore Carlee Toews (Grand Prairie, Alb.) had one goal and one assist against UConn. Her goal was Saturday's game-winning power-play notch coming with only 2:42 remaining in regulation ... Merrimack finished its inaugural season with a three-point weekend over Vermont. The Warriors defeated the Catamounts Friday, 2-2, and scored three unanswered goals the following afternoon to force a tie after trailing Vermont, 3-0, in the first period. Defenseman Dominique Kremer (West Fargo, N.D.) led the Warriors with three power-play points (1g, 2a) including a game-winning helper. Netminder Samantha Ridgewell (Outlook, Sask.) finished her first collegiate season with 916 saves, more than any other Hockey East goalie. Ridgewell registered her eighth 40-plus save performance in Sunday's 3-3 tie when she denied 42 Catamount shots ... Seven UVM Catamounts contributed on the four goals of the weekend including a goal from Catamount scoring leader Dayna Colang (Fairbanks, Alaska). Colang finished the season with 27 points (12g, 15a). Providence fell to No. 1 Boston College, but saw a strong effort from senior captain Lexi Romanchuk (San Jose, Calif.) (1g, 1a) who contributed on both Friars goals of the weekend.
---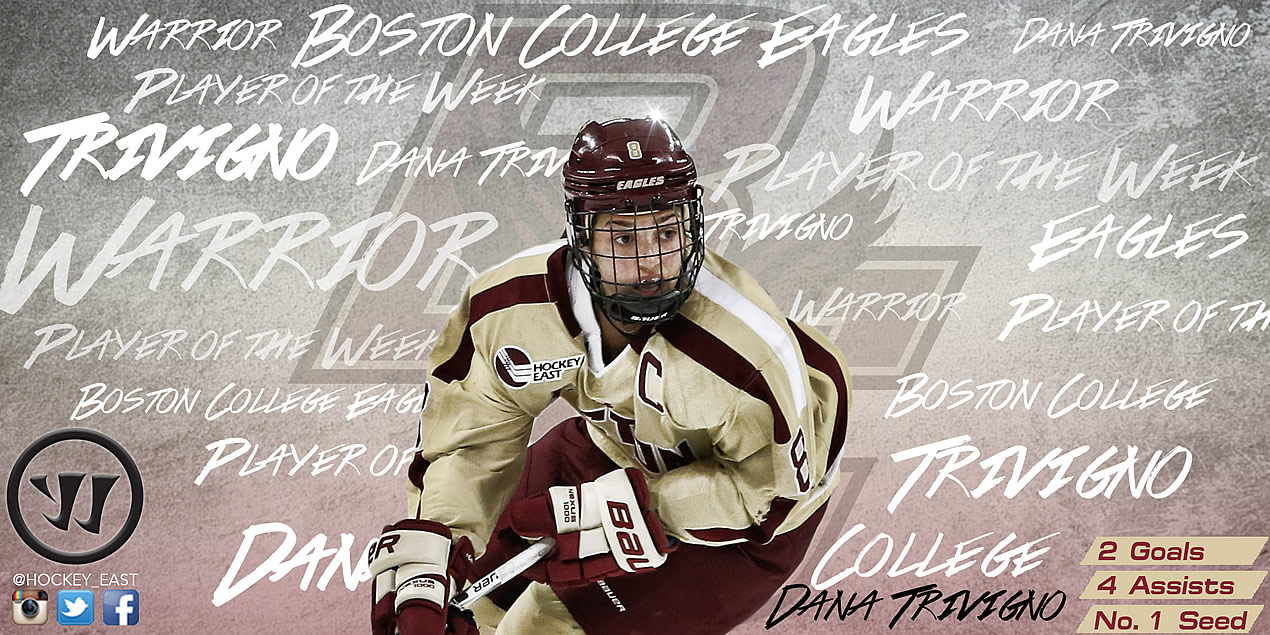 DANA TRIVIGNO - BOSTON COLLEGE

Dana Trivigno, BC (Sr., F; Setauket, N.Y.) notched six points (2g, 4a) in the sweep against Providence including a 2-2--4 performance in Friday's 7-1 victory.
---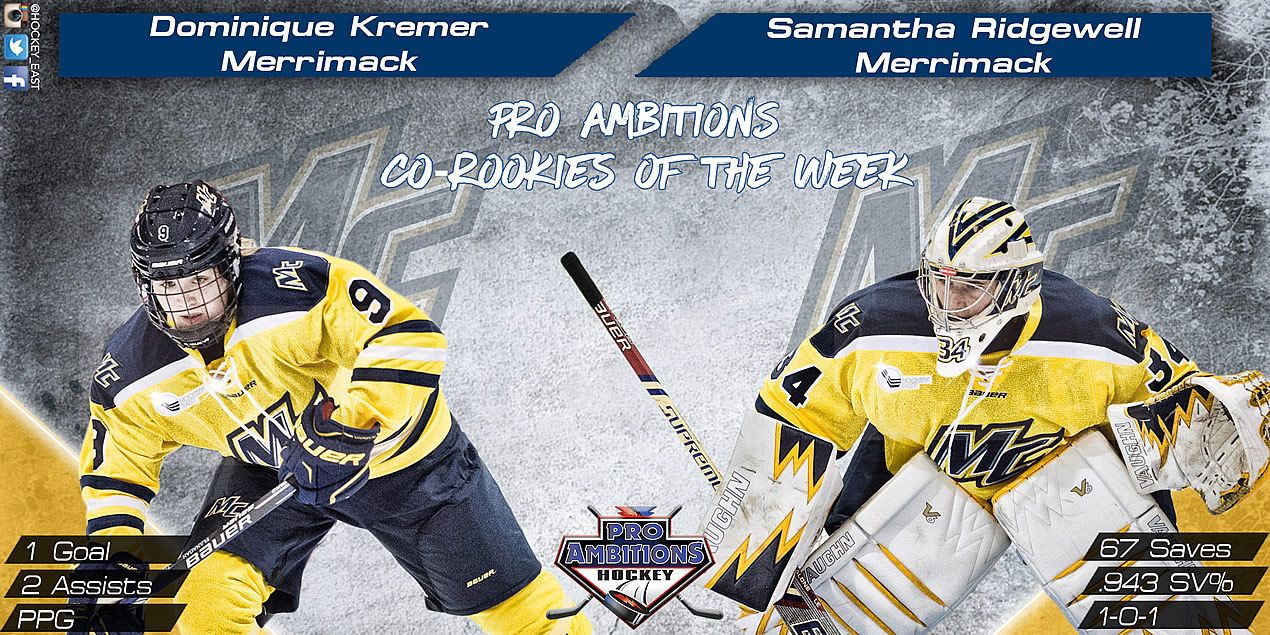 SAM RIDGEWELL AND DOMINIQUE KREMER - MERRIMACK

Sam Ridgewell, MC (Fr., G; Outlook, Sask.) registered her eighth 40-plus save performance of the season and backboned the Warriors to a 1-0-1 record over UVM.

Dominique Kremer, MC (Fr., D; West Fargo, N.D.) picked up three power-play points (1g, 2a) and jump started a Merrimack comeback in a 3-3 tie to Vermont after trailing, 3-0, in the first period.
---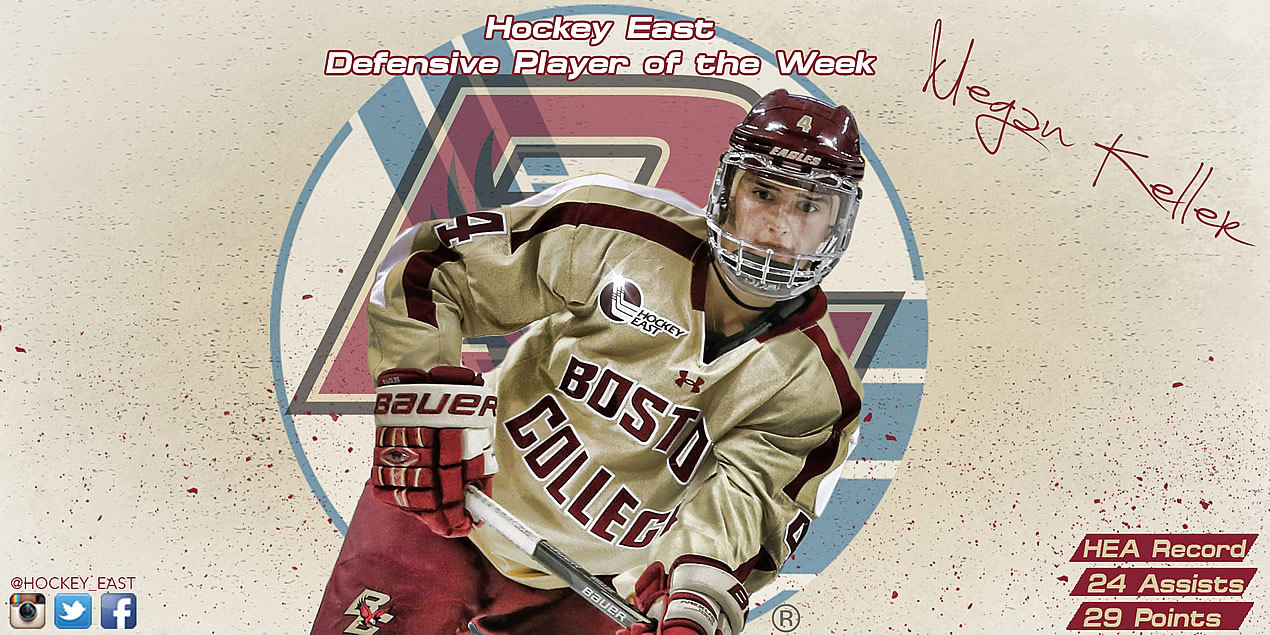 MEGAN KELLER - BOSTON COLLEGE

Megan Keller, BC (So., D; Farmington Hills, Mich.) reached single-game high of three assists; picked up a plus-four rating and limited Providence to one goal per game. Over the weekend, she set Hockey East single-season records for points (29) and assists (24).
---
HOCKEY EAST WEEKLY TOP PERFORMERS
Victoria Bach, BU (So., F; Milton, Ont.) Recorded back-to-back multi-point outings for a weekend total of four points (1g, 3a); Picked up a game-winning mark in Friday's 3-2 victory over Northeastern.
Kendall Coyne, NU (Sr., F; Palos Heights, Ill.) Scored three goals and added an assist to finish the regular season as the Women's Hockey East scoring champion with 35 goals and 55 points in league play, both the highest single-season totals in league history.
---