Weekly Release: Chuli Wins Twice, Nears Hockey East All-Time Saves Mark
BU Trio Leads NCAA With 3.00 PPG Weekends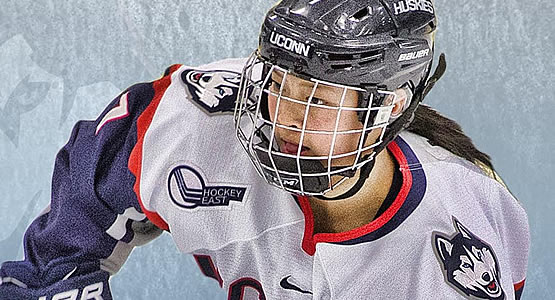 Warrior Hockey Player of the Week Leah Lum of UConn
AROUND HOCKEY EAST: UConn swept the Catamounts by 2-1 and 3-1 decisions, respectfully. Leah Lum (Richmond, B.C.) totaled four points in two games (3g, 1a) including a game-winning, power-play helper. Netminder Elaine Chuli (Waterford, Ont.) denied 55 Catamount shots and shut down 11 of 12 power plays. Chuli lies 134 saves away from breaking the Hockey East all-time save record currently held by former Vermont Catamount Roxanne Douville (2143 saves) ... Boston University also picked up a win over Merrimack this week. Defenseman Alexis Crossley (Cole Harbour, N.S.) notched two goals in the outing to lift the Terriers to a 6-2 decision. Victoria Bach (Milton, Ont.), Sarah Lefort (Ormstown, Qué), and Kayla Tutino (Lorraine, Qué) led the NCAA with three points per game during the week as they each recorded three points (1g, 2a) in Saturday's matchup ... No. 1 Boston College added another win to its now 27-0-0 record. In the 4-1 victory over Merrimack on Tuesday, freshman Makenna Newkirk (Scottsdale, Ariz.) tallied a goal and an assist, extending her point streak to three games. Newkirk was also named Army ROTC first star of the game ... Maine split a weekend series with Providence, picking up a 3-1 win on Saturday and falling 1-0 to the Friars on Sunday. Maine junior Morgan Sakundiak (Calgary, Alb.) notched the game-winning, power-play marker for the Black Bears and Catherine Tufts (Church Point, N.S.) picked up two power-play assists ... Merrimack's Felila Manu (Anchorage, Alaska) notched the lone goal against No. 1 Boston College on Tuesday. Manu is the only player in program history to score against the Eagles. Freshman Annie Boeckers (Ostego, Minn.) netted her first collegiate goal in the 6-2 setback to BU ... In a 5-2 setback to No. 5/6 Northeastern, the New Hampshire Wildcats had two players with multi-point games; Amy Boucher (Edmonton, Alb.) (1g, 1a) and Amy Schlagel (Blaine, Minn.) (2a). Both Wildcat goals came on the power play ... No. 5/6 Northeastern extended its record to 24-3-1 in its annual Skating Strides Against Breast Cancer game. McKenna Brand (Nevis, Minn.) netted two goals, her third consecutive multi-point outing. Four other Huskies had multi-point games, including NCAA scoring leader Kendall Coyne (Palos Heights, Ill.) (1g, 1a). Coyne leads the nation with 64 points and 36 goals ... Providence picked up a 1-1-0 weekend against Maine. The win was the first collegiate shutout for freshman goalkeeper Madison Myers (Colchester, Vt.) who denied all 20 Black Bear shots Sunday afternoon. Cassidy Carels (Bruxelles, Man.) tallied the game-winning mark, her second game-winning notch of the season ... Vermont fell to conference foe UConn this weekend, but successfully "Packed the Gut" on Friday night when 1,662 fans came to support the Catamounts. Vermont scoring leader Dayna Colang (Fairbanks, Alaska) led the Catamounts over the weekend with one goal and one power-play helper. Colang leads Vermont with 24 points (11g, 13a).
---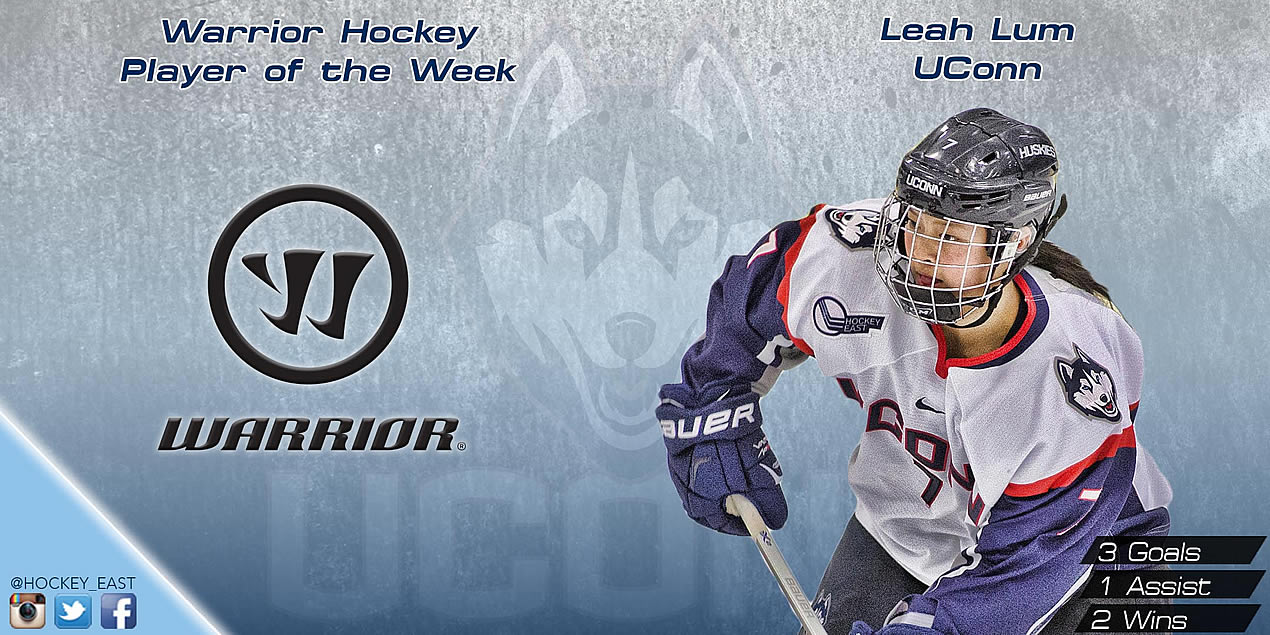 Leah Lum - UConn

Leah Lum, UConn (So., F; Richmond, B.C.) netted a career-best two goals Saturday en route to a four-point (3g, 1a) weekend at Vermont. The Huskies vaulted into fourth place in the Hockey East standings after the two wins.
---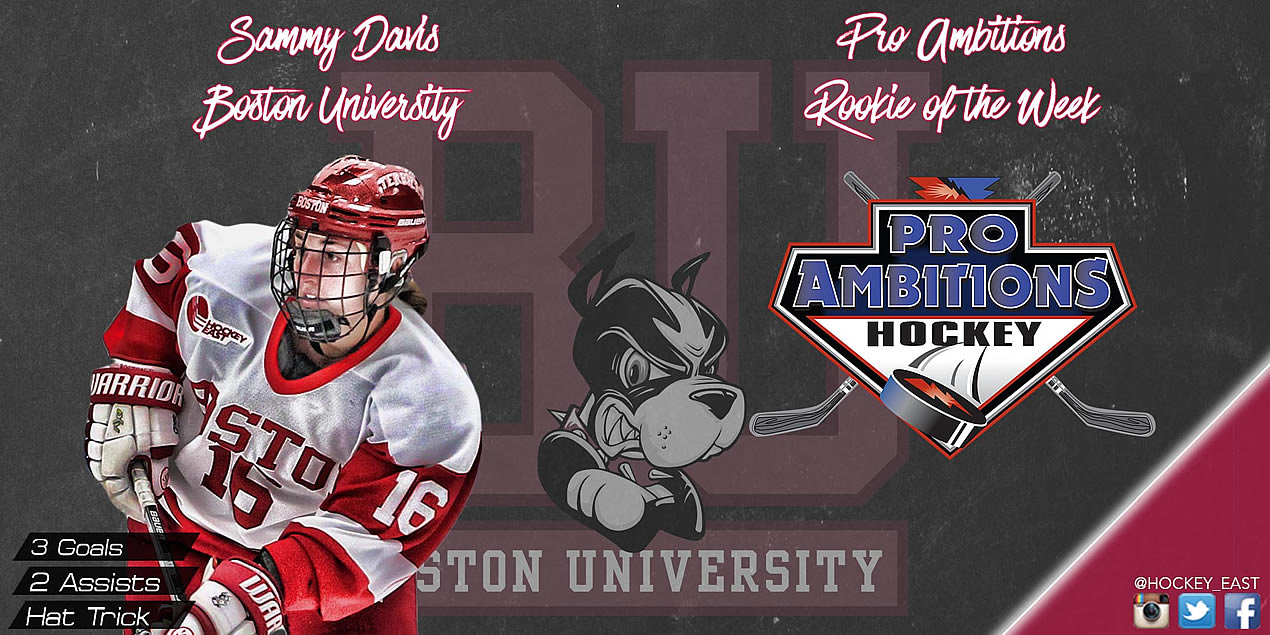 Sammy Davis - Boston University

Sammy Davis, BU (Fr., F; Pembroke, Mass.) scored her 12th goal of the year en route to lifting Boston University over Merrimack, 6-2. She currently leads all Hockey East freshmen with 10 goals and nine assists in 20 league games played. Her 65 shots on goal also leads league freshmen.
---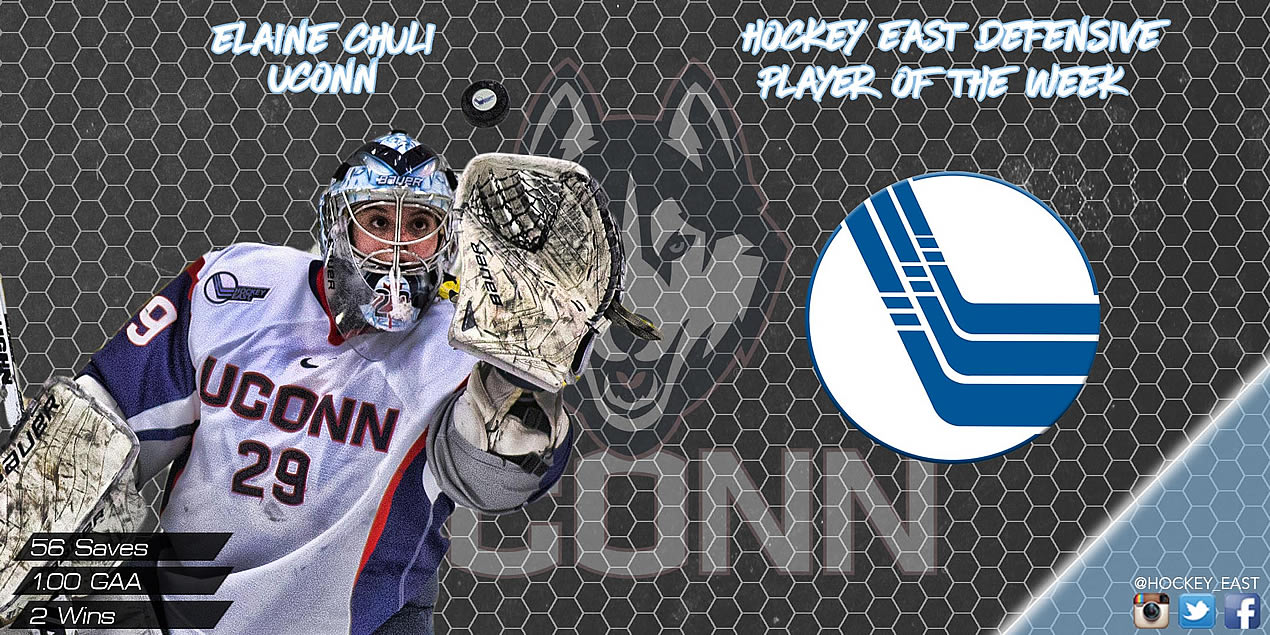 Elaine Chuli - UConn

Elaine Chuli, UConn (Sr., G; Waterford, Ont.) stopped 56 shots and allowed just two goals in two starts for the Huskies at Vermont. Chuli collected two wins on the weekend and sits third in Hockey East in goals against average (2.40) and save percentage (.938). Chuli currently has 2,010 saves in Hockey East regular season play, putting her just 134 saves away from breaking the all-time Hockey East record of 2,143 held by Vermont's Roxanne Douville.
---
HOCKEY EAST WEEKLY TOP PERFORMERS
Kayla Tutino, BU (Sr., F; Lorraine, Que.) Contributed one goal and two assists in the Terriers' 6-2 win over Merrimack Saturday afternoon and tied the NCAA-lead with a plus-five rating on the weekend.
Alexis Crossley, BU (Jr., D: Cole Harbour, N.S.) Netted two goals, including the game-winner, in the 6-2 victory Saturday to finish plus-four.
Caitlin Hewes, UConn (Sr., D; Stillwater, Minn.) Registered two assists in two wins at Vermont, dishing out a helper on each game's first strike.
Amy Boucher, UNH (So., F; Edmonton, Alta.) Pushed her point streak to six games at No. 6/5 Northeastern, including a power-play goal and power-play assist while winning 13 of 24 faceoffs.
Amy Schlagel, UNH (So., D; Blaine, Minn.) Picked up her first multi-assist game, helping out on each Wildcat goal at NU Friday.
---