Thursday, February 18, 2016
Women's Hockey East Weekend Preview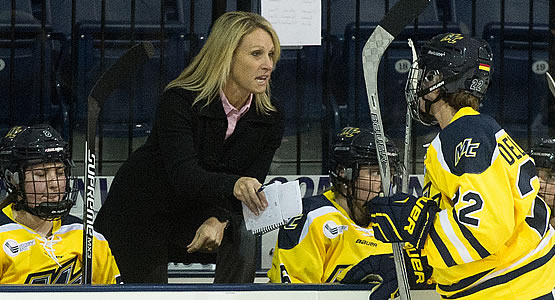 Merrimack will host Vermont in the final Skating Strides game of the season on Friday
No. 1 Boston College vs. Providence - Fri. 2/19 at BC, Sat. 2/20 at PC
- In the final weekend of Hockey East regular season play, the 32-0-0 Eagles will be presented with the women's Hockey East regular season trophy on Friday as they matchup against Providence. The last outing against the Friars was a 9-1 decision where senior Haley Skarupa (Rockville, Md.) netted her fifth of sixth career hat trick.
- Pro Ambitions Rookie of the Week Makenna Newkirk (Scottsdale, Ariz.) led the NCAA with seven points (3g, 4a) in a three-game set last week. Newkirk extended her point streak to eight games, picked up two game-winning assists, and helped the Eagles to their sixth Beanpot title.
- Netminder Katie Burt (Lynn, Mass.) had a stellar week as she picked up two shutouts and a 3-0-0 record. As a sophomore, Burt recorded her 22nd career shutout, surpassing two-time Olympic silver medalist Molly Schaus' 21 shutouts for a new BC program record.
- In her final weekend of regular season Hockey East play, Alex Carpenter (North Reading, Mass.) looks to extend her Hockey East all-time assists record. Her current total stands at 81 helpers. Carpenter leads the NCAA with 72 points (37g, 35a) and is followed closely by Northeastern's Kendall Coyne (Palos Heights, Ill.) with 71 points (41g, 30a). Carpenter is just one assist away from tying the Hockey East single-season assists total (30).
- Providence picked up a 1-0-1 record against Merrimack last weekend. In the last meeting with BC, Cassidy Carels (Bruxelles, Man.) scored the lone goal for the Friars.
- This past weekend, Carels picked up three assists while Friars' scoring leader Christina Putigna (Grimsby, Ont.) had a three-point game (1g, 2a) in Saturday's 4-1 victory over Merrimack. Her goal came on the power-play, her eighth power-play strike of the season.

No. 6 Northeastern vs. Boston University - Fri. 2/19 at BU, Sat. 2/20 at NU
- The 25-6-1 Northeastern Huskies fell twice to No. 1 Boston College this past week by scores of 7-0 and 5-3. The Huskies face Boston University in their final two contests of the season. This series will determine the No. 2 and No. 3 seeds entering the Hockey East playoffs.
- The Huskies last defeated the Terriers, 3-2, in the first round of the Beanpot February 2. Northeastern captain Coyne notched two goals in the game.
- Despite the loss to BC Friday, Coyne turned in a 2-1--3 performance. Coyne has recorded at least three points in 12 games this season. She holds the Hockey East all-time record for points (168) and goals (90) and holds the Northeastern all-time scoring record of 236 points. She is also Hockey East's single season point and goal scoring record holder with 51 points and 27 tallies.
- The Boston University Terriers are coming off of a 12-goal weekend and a 2-0-0 record against New Hampshire.
- Warrior Hockey Player of the Week Maddie Elia (Lewiston, N.Y.) shared the NCAA scoring lead with seven points (3g, 4a) after three multi-point performances last week. Elia's points included two power-play assists and a game-winning helper.
- Freshman Sammy Davis (Pembroke, Mass.) racked up four goals in three games, including two marks in Sunday's 6-2 win.
- Sophomore Victoria Bach (Milton, Ont.) recorded two goals and one assist in Sunday's game. Rebecca Russo (Westport, Conn.) extended her point streak to seven games, and Rebecca Leslie (Ottawa, Ont.) netted two game-winning marks.

UConn vs. New Hampshire - Sat. 2/20, Sun. 2/21 at UNH
- UConn picked up a 2-0-0 record against Maine this past weekend including a dramatic 2-1 overtime win to secure the fourth seed in the Hockey East standings.
- Senior Leah Buress (Windsor, Ont.) notched the overtime tally to give the Huskies the win and added two assists the following day, including a game-winning power-play helper in the third period.
- Hockey East Defensive Player of the Week Elaine Chuli (Waterford, Ont.) made history as she broke the Hockey East all-time saves record. Chuli now has 2,144 career Hockey East saves as she surpassed the former record of 2,143 stops. Chuli finished the weekend with 72 saves and a .947 save percentage.
- In the past three seasons, New Hampshire has a 4-2-1 record against UConn. One win came this season, a 2-1 decision on November 8, 2015. Amy Schlagel (Blaine, Minn.) scored the game-winning power-play notch for the Wildcats.
- This past weekend, Schlagel scored a goal and two assists in the setbacks to BU and was named Army ROTC third star of the game in Sunday's 6-2 decision. Teammates Amy Boucher (Edmonton, Alb.) and Jonna Curtis (Elk River, Mich.) also contributed a goal and two assists apiece in the series.
- Junior forward Cassandra Vilgrain (Calgary, Alta.) netted three goals in two games and matched her career high of two goals in a single outing on Saturday. The two tallies came in the first period putting the Wildcats on top of the Terriers, 2-0, only five minutes into the first period. Vilgrain was named Army ROTC second star of the game.

Merrimack vs. Vermont - Fri. 2/19, Sat. 2/20 at MC
- Merrimack will host the final Skating Strides game of the season on Friday and will have the Bertagna Trophy present at Lawler Rink on Saturday to promote the Women's Hockey East Championship March 5 and 6. The last time Merrimack played Vermont, the Warriors took a 2-1 win, one of four Merrimack victories this season.
- The Warriors picked up a point against Providence Sunday in a 2-2 tie, the first point against the Friars in program history. Paige Sorensen (Plymouth, Minn.) contributed on both goals for the Warriors with two assists. Sorensen leads Merrimack defensemen with 16 points (6g, 10a).
- Netminder Samantha Ridgewell (Outlook, Sask.) denied 72 shots in two outings including a 40-save performance in Sunday's 2-2 stalemate. Ridgewell is ranked fourth among Hockey East goaltenders with a .923 save percentage. Ridgewell has 849 total saves in 25 games for an average of 33.96 saves per game.
- Vermont fell to No. 1 Boston College, 3-0, in the last home game of the season on Sunday afternoon.
- Despite the loss, Catamount goaltender Madison Litchfield (Williston, Vt.) was named Army ROTC third star of the game after denying 39 Eagle attempts for a .929 save percentage. Litchfield is ranked fourth among Hockey East goaltenders with a 2.57 goals against average.