Monday, February 15, 2016
Weekly Release: Final Weekend of Season To Determine Quarterfinal Pairings
Boston College Wins Regular Season; BU, NU to Fight for No. 2 Seed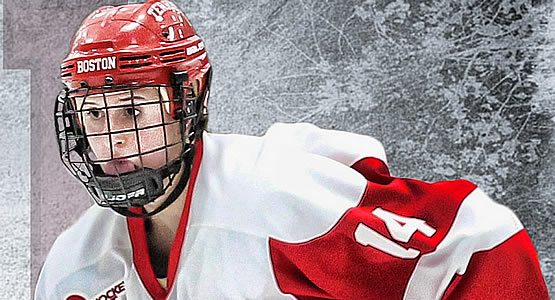 Warrior Hockey Player of the Week Maddie Elia of Boston University
AROUND HOCKEY EAST: With one weekend remaining in Women's Hockey East play, quarterfinal pairings begin to take shape. Boston College has locked in the No. 1 seed while Maine has ensured a trip to Conte Forum in the first round, securing the No. 8 seed last weekend. Boston University and Northeastern will clash to decide seeds No. 2 and No. 3, while UConn awaits the winner of the No. 5 seed. ... No. 1 Boston College clinched the 38th Annual Women's Beanpot in a 7-0 win over No. 6 Northeastern. Netminder Katie Burt (Lynn, Mass.) earned the Bertagna Award presented to the best Beanpot goaltender. Burt added another shutout Sunday against Vermont, bringing her career total to 22 shutouts. The sophomore claimed a new BC career record after surpassing Molly Schaus (21 shutouts). Teammate Dana Trivigno (Setauket, N.Y.) was named the Beanpot's Most Valuable Player after a four point performance in the championship game including her second career hat trick. BC freshman Makenna Newkirk (Scottsdale, Ariz.) led the NCAA with seven points in three games (3g, 4a) including two game-winning helpers and two three-point performances. Senior leaders Alex Carpenter (North Reading, Mass.) and Haley Skarupa (Rockville, Md.) extended their point streaks to eight games as they each picked up five points...UConn netminder Elaine Chuli (Waterford, Ont.) set a new Hockey East record as she now holds 2,144 all-time career saves. Her record setting weekend included two wins, 72 saves, and a .947 save percentage. Brittany Berisoff (Kelowna, B.C.) (2g, 1a) and Leah Burress (Windsor, Ont.) (1g, 2a) enjoyed three point weekends. Buress's goal was the game-winning over-time mark in Friday's 2-1 win against Maine...Boston University picked up a pair of wins against UNH as Maddie Elia (Lewiston, N.Y.) shared the NCAA lead of seven points. Elia tallied multiple points in all three games this week including a 2-1--3 performance in the Beanpot consolation game. Freshman Sammy Davis (Pembroke, Mass.) led the NCAA with four goals, including a pair in the 6-2 victory over UNH on Sunday. Rebecca Leslie (Ottawa, Ont.) (2g, 1a) and Rebecca Russo (Westport, Conn.) (2g, 3a) had five tallies in three games. Leslie notched two game-winning goals and Russo extended her point streak to seven games...Maine fell to UConn in a 2-1 overtime decision and a 4-3 decision in the final two regular season matchups. Despite the losses, Maine saw multi-point weekends from senior Audra Richards (Maplewood, Minn.) (1g, 1a) and freshman Allyson Matteau (Mirabel, Qué) (1g, 1a)...Merrimack suffered a 4-1 loss to Providence on Saturday, but salvaged a point in a 2-2 tie the following afternoon. The game-tying goal came from freshman Madison Morey (Fairbanks, Alaska) halfway through the third period. Defenseman Paige Sorensen (Plymouth, Minn.) contributed on both of Sunday's goals with two assists, and netminder Samantha Ridgewell (Outlook, Sask.) denied 72 shots in two games for a .935 save percentage...New Hampshire senior Cassandra Vilgrain (Calgary, Alb.) netted three goals in the two setbacks to Boston University. Amy Boucher (Edmonton, Alb.), Jonna Curtis (Elk River, Mich.) and Amy Schlagel (Blaine, Minn.) notched a goal and two assists apiece...Providence saw three point performances from three Friars including Christina Putigna (Grimsby, Ont.) who had a 1-2--3 performance in Saturday's 4-1 victory. Cassidy Carels (Bruxelles, Man.) and Cassidy MacPherson (Oakville, Ont.) contributed three assists apiece...Vermont was blanked 3-0 by No. 1 Boston College in the only Catamount game this weekend. Goaltender Madison Litchfield (Williston, Vt.) stopped 39 Eagle attempts for a .929 save percentage.
---

MADDIE ELIA - BOSTON UNIVERSITY

Maddie Elia, BU (Jr., F; Lewiston, N.Y.) tallied an NCAA-leading seven points (3g, 4a) in three games for the Terriers last week. Elia racked up three consecutive multi-point performances en route to a 2-1-0 week for her Boston University squad. Her four assists also tied for the NCAA lead.
---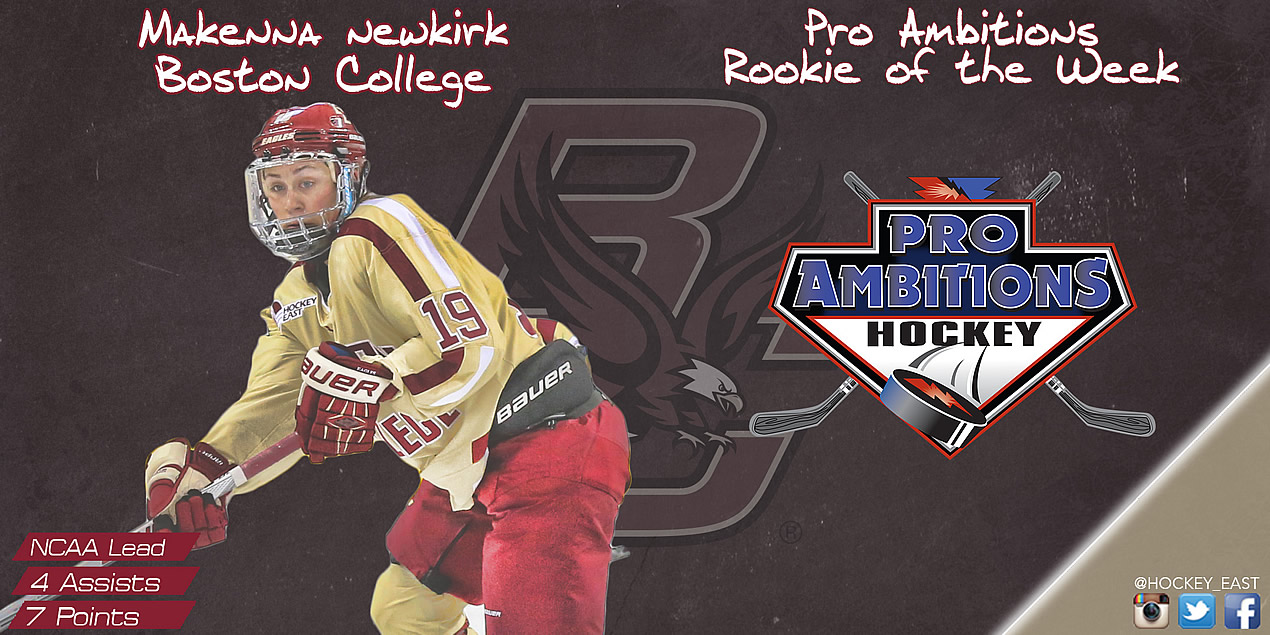 MAKENNA NEWKIRK - BOSTON COLLEGE

Makenna Newkirk, BC (Fr., F; Scottsdale, Ariz.) shared the nation lead on the weekend with seven points in three games (3g, 4a). The freshman extended her point streak to eight games and picked up two game-winning helpers for the top-ranked Eagles, helping them to a Beanpot victory.
---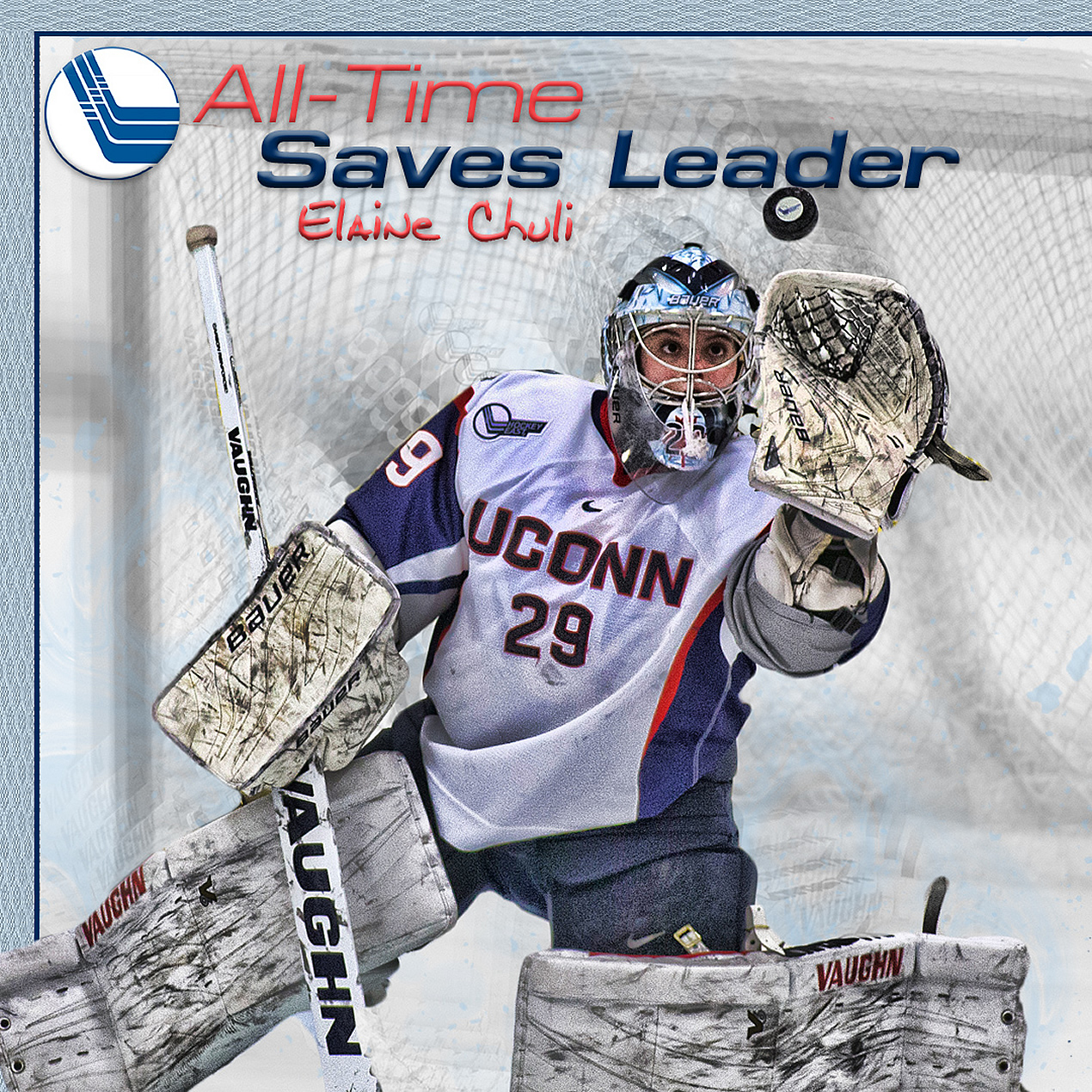 ELAINE CHULI - UCONN

Elaine Chuli, UConn (Sr., G; Waterford, Ont.) denied 72 shots in the sweep against Maine putting her at 2,144 saves, a new Hockey East all-time saves record. Her record-setting weekend included two wins, 72 saves, and a .947 save percentage
---
HOCKEY EAST WEEKLY TOP PERFORMERS
Dana Trivigno, BC (Sr., F; Setauket, N.Y.) Notched a hat trick in the Beanpot championship game and was named MVP of the 38th Annual Women's Beanpot; Finished the week with five points (3g, 2a) and a .709 faceoff winning percentage (55 faceoffs).
Katie Burt, BC (So., G; Lynn, Mass.) Received the Bertagna Award for best goaltender of the Beanpot; Picked up two shut outs in three games, putting her at 22 career shut outs, a new BC record
Sammy Davis, BU (Fr., F; Pembroke, Mass.) Notched four goals in three games including two marks in Sunday's 6-2 win over UNH
Madison Morey, MC (Fr., F; Fairbanks, Alaska) Scored the game-tying power-play goal in the 2-2 tie against Providence on Sunday
Samantha Ridgewell, MC (Fr., G; Outlook, Sask.) Stopped 72 Friar shots including a 40 save performance in Sunday's 2-2 tie.
Cassandra Vilgrain, UNH (Jr., F; Calgary, Alb.) Netted three goals in the two setbacks against BU; matched career high two goals in one game on Saturday
Amy Schlagel, UNH (So., D; Blaine, Minn.) Notched a goal and two assists in two games including a power-play mark and a power-play helper
---