Thursday, February 11, 2016
Women's Hockey East Weekend Preview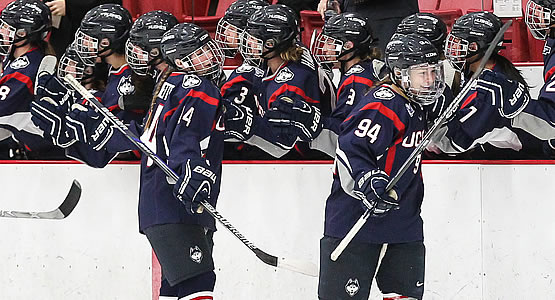 UConn hosts Maine for a pair of game starting on Friday night
No. 1 Boston College vs. No. 6 Northeastern/vs. Vermont - Fri. 2/12 at BC, Sun. 2/14 at UVM
- The No. 1 Boston College Eagles clinched the 2016 Beanpot Championship, their sixth all time, Tuesday evening after blanking Harvard, 8-0, in the first round and No. 6 Northeastern, 7-0, in the championship game.
- Captain and Beanpot Most Valuable Player Dana Trivigno (Setauket, N.Y.) led the Eagles to the 7-0 win with a hat trick and an assist in the title game. Trivigno's trio of goals was the second of her career and first of the season. Her last hat trick came her freshman year on December 1, 2012 in a 10-0 decision against Maine.
- Netminder Katie Burt (Lynn, Mass.) received the Bertagna Award, presented annually to the most outstanding goaltender in the Beanpot as voted by the media. Burt had back-to-back Beanpot shutouts and totaled 34 saves in the two games.
- Defenseman Megan Keller (Farmington Hills, Mich.) has contributed eight points (3g, 5a) for the Eagles in her last three games including six points (3g, 3a) in Beanpot action. Keller is riding a six-game point streak, five of which were multi-point performances.
- Warrior Hockey Player of the Week Alex Carpenter (North Reading, Mass.) won her first career Beanpot championship Tuesday evening. The Eagles won the title in 2014, but Carpenter took time off from collegiate play to compete in the 2014 Sochi Olympics with the U.S. Women's Olympic Hockey Team. Carpenter extended her point streak to six games, including a four-point outing against UConn Saturday when she notched two goals and two assists. Carpenter is tied with No. 6 Northeastern's Kendall Coyne (Palos Heights, Ill.) for most points in the NCAA this season (68 points). Carpenter has 36 goals and 32 assists while Coyne has 39 goals and 29 assists.
- No. 6 Northeastern looks for redemption Friday as they face No. 1 Boston College for the second time this week. Coyne netted three goals and added an assist in last week's 3-2 and 3-1 victories over BU and Providence, respectively. Coyne's tallies included a game-winning notch in the Beanpot and a game-winning helper against Providence.
- Pro Ambitions Rookie of the Week Brittany Bugalski (Boynton Beach, Fla.) denied 53 shots in two games against BU and Providence. Bugalski posted a 1.50 goals against average and a .946 save percentage. Thirty of Bugalski's saves came in the 3-2 victory over BU in the Beanpot. The win was the first for a Northeastern rookie netminder in the Beanpot since 1996.
- The Vermont Catamounts are currently tied for fifth with New Hampshire in Hockey East after taking four points in a sweep against the Wildcats on the road last weekend.
- Hockey East Defensive Player of the Week Taylor Willard (Naperville, Ill.) netted two game-winning goals, both in the third period, to lead the Catamounts to 2-1 and 3-2 wins against UNH. The sophomore defenseman also chipped in a game-tying helper on Friday and her game-winning strike the same night came with just 1:12 remaining in regulation.
- Goalkeeper Madison Litchfield (Williston, Vt.) kicked out 58 saves for the Catamounts and picked up back-to-back wins and a .950 weekend save percentage.
- The last time Vermont faced No. 1 Boston College, they fell 6-2 and 6-1 on January 22 and 23, 2016. Willard scored a goal and an assist in the two outings.

Boston University vs. New Hampshire - Sat. 2/13 at BU, Sun. 2/14 at UNH
- The last two games for the Boston University Terriers were Beanpot setbacks to Northeastern, 3-2, and Harvard, 5-3. The Harvard loss came after four unanswered Crimson goals in the second and third periods.
- Despite the losses, four Terriers posted multiple points in the two games. Maddie Elia (Lewiston, N.Y.) netted two goals and added an assist on Tuesday for a 2-1--3 performance and teammate Rebecca Leslie (Ottawa, Ont.) collected three assists in the Beanpot tournament.
- BU has only seen New Hampshire once this season, a 5-3 win for the Terriers on November 1, 2015. The Terriers have a 7-0-0 record against UNH in the last three seasons.
- New Hampshire fell to Vermont by one goal differentials in both games, but saw a strong performance from senior forward Margo Lund (St. Paul, Minn.), who collected two points on the weekend (1g, 1a).
- It is a Skating Strides Against Breast Cancer weekend for both BU and UNH in the home-and-home series. Skating Strides has raised over $300,000 over the past nine seasons for various Breast Cancer organizations across New England. February 19 at Merrimack will be the final Skating Strides game of 2016.

UConn vs. Maine - Fr. 2/12, Sat. 2/13 at UConn
- The UConn Huskies finished the weekend with a 1-1-0 record as they fell to No. 1 Boston College by a 5-4 decision before they defeated Providence, 3-1. The Huskies are only one of three teams to hold a lead at any point over Boston College; the other two teams are Boston University and Northeastern University.
- Elaine Chuli (Waterford, Ont.) collected 62 conference saves on the weekend, climbing to 2072 career saves in Hockey East. The senior netminder is only 72 saves from breaking the Hockey East all-time saves record (2143 saves). Chuli was named Army ROTC third star of the game in both outings over the weekend.
- Four UConn players picked up multi-point weekends, including Justine Fredette (Winnipeg, Man.) (1g, 1a) who had the game-winning tally against Providence.
- Maine picked up back-to-back wins in the final home series of the season with help from senior netminder Meghann Treacy (Lake Peekskill, N.Y.). Treacy denied 50 Merrimack shots in two games and was named Army ROTC first star of the game in Sunday's 1-0 victory. Treacy's two shutouts were her eighth and ninth career shutouts. One of Treacy's nine shutouts came November 22, 2015, the last time Maine and UConn faced off.
- Junior Jess Vallotton (Glenboro, Man.) netted her first career hat trick in Saturday's 4-0 decision to lead the Black Bears to victory.
- Sophomore Brooke Stacey (Kahnawake, Qué.) had a multi-point performance in Saturday's victory with one goal and one assist while Victoria Hummel (Tull, Austria) notched the lone goal early in the third period of Sunday's 1-0 triumph.

Merrimack vs. Providence - Sat. 2/13 at MC, Sun. 2/14 at PC
- Samantha Ridgewell (Outlook, Sask.) denied 52 shots this past weekend against Maine, but the Merrimack Warriors ultimately fell short and were blanked by the Black Bears. Ridgewell is ranked fifth among Hockey East goaltenders with a .922 save percentage.
- Pro Ambitions Rookie of the Month Katelyn Rae (Courtice, Ont.) totaled eight points in the month of January (4g, 4a), including a 2-1--3 performance in a 4-1 victory over Brown on January 19.
- The last time Merrimack and Providence met, Warriors scoring leader Paige Voight (St. Michael, Minn.) notched two goals, including a short-handed tally, in a 4-3 setback to the Friars. Friar captain Lexi Romanchuk (San Jose, Calif.) and senior Brittney Thunstrom (Coon Rapids, Minn.) tallied two goals apiece in the outing.
- Providence suffered two losses this past weekend, each by a score of 3-1, to Northeastern and UConn.
- Freshman Christina Putigna (Grimsby, Ont.) scored both goals for the Friars and was assisted by Cassidy MacPherson (Oakville, Ont.) each time. The two goals came on the power play, Putigna's sixth and seventh power-play marks of the season.