Thursday, January 7, 2016
Women's Hockey East Weekend Preview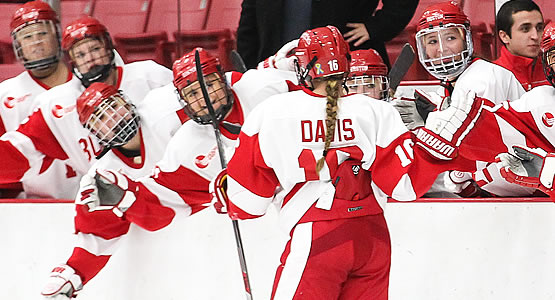 Boston University hosts Boston College on Saturday
No. 1 Boston College vs. Boston University - Sat. 1/9 at BU
- No. 1 Boston College Eagles commence Hockey East play after winter break against rival Boston University. The Eagles have an undefeated 20-0-0 record entering 2016. Boston University is the only team that has forced the Eagles into overtime this season in a 4-3 decision on Nov. 10, 2015.
- The BC offensive charge is led by seniors Alex Carpenter (North Reading, Mass.) and Haley Skarupa (Rockville, Md.). In 20 games, Warrior Hockey Player of the Month Carpenter has 49 points (27g, 22a) and Skarupa has 39 points (14g, 25a). Carpenter and Skarupa are the top two Hockey East scoring leaders, respectively.
- The backbones of the BC defense are sophomores Megan Keller (Farmington Hills, Mich.) and Katie Burt (Lynn, Mass.). Keller leads defensemen in scoring with 24 points (7g, 17a). Burt is ranked first among Hockey East goaltenders with a .969 save percentage and a 0.68 goals against average. Burt was the October and November Hockey East Goaltender of the Month.
- Boston University finished first half of 2015-16 with a 13-7-1 overall record and a 10-3-1 Hockey East record.
- 2015 Pro Ambitions Rookie of the Year winner Victoria Bach (Milton, Ont.) (13g, 14a) and defenseman Rebecca Leslie (Ottawa, Ont.) (5g, 22a) lead the Terriers with 27 points apiece.
- In Hockey East conference play this season, Bach is ranked fourth among scoring leaders (10-9--19) and senior Sarah Lefort (Ormstown, Qué) shares the fifth rank (7-10--17) with Northeastern's Denisa Krížová (Horni Cerekev, Czech.) (3-14--17).

No. 8 Northeastern vs. New Hampshire - Sat. 1/9 at NU, Sun. 1/10 at UNH
- In her first two games of 2016, Northeastern senior Kendall Coyne (Palos Heights, Ill.) tallied five points (3g, 2a) including the game-winning strike in a 5-1 victory over UConn Jan. 5. Coyne is tied with Carpenter for the most career points in Hockey East (136 pts.). Coyne has 75 goals and 61 assists and Carpenter has 67 goals and 69 assists.
- Husky forward Paige Savage (Johns Creek, Ga.) netted one goal and two assists against UConn.
- Krížová picked up four points in two games (1g, 3a) including a game-winning score against Dartmouth and a game-winning helper against UConn. Krížová finished the weekend with a plus-five rating.
- Netminders Sarah Foss (North Reading, Mass.) and Brittany Bugalski (Boynton Beach, Fla.) each picked up a win in the Huskies' first two tilts. Foss was named Hockey East Goaltender of the Month for December 2015 and Bugalski's start against UConn was her first November 24, 2015.
- New Hampshire netminder Kyra Smith (Littleton, Colo.) was named the December Pro Ambitions Rookie of the Month. Smith started in five games, earned four wins, and backboned the Wildcats with a .905 save percentage and 95 saves.
- Junior forward Jonna Curtis (Elk River, Mich.) led the Wildcats in the first half of the season with 22 points (10g, 12a) while Amy Schlagel (Blaine, Minn.) topped defensemen in scoring with 12 points (6g, 6a).

UConn vs. Merrimack - Sat. 1/9 at Merrimack, Sun. 1/10 at UConn
- UConn junior Kelly Harris (Canton, Mich.) scored the lone goal against Northeastern on Tuesday evening. It was Harris's first goal of the season.
- The Huskies beat Merrimack earlier this season in a tight 1-0 matchup Nov. 7. It was one of three shutouts this season for UConn senior Elaine Chuli (Waterford, Ont.), who is ranked second in Hockey East with a .945 save percentage and ranked third with a 2.34 GAA .
- Merrimack is 1-1-0 in 2016. The win came Jan. 4 in overtime against Vermont on a score by Warriors' scoring leader Paige Voight (St. Michael, Minn.) who was named Army ROTC first star of the game. Voight added an assist in the loss to St. Lawrence Jan. 6 and is riding a four-game point streak with three goals and two assists in that span.
- Forward Jackie Pieper (Edina, Minn.) set up both goals in the 2-1 victory at Vermont. Katelyn Rae (Courtice, Ont.) tallied both markers in the loss two evenings later. Rae finished the game at St. Lawrence with four shots on goal and a plus-one rating.

Maine vs. Vermont - Sat. 1/9, Sun. 1/10 at Maine
- Maine hosts the first Skating Strides Against Breast Cancer game of 2016 on Sunday. In nine seasons, the Skating Strides games have raised nearly $300,000 for the fight against breast cancer.
- The Black Bears look to even the season series after falling to Vermont, 4-2, Nov. 1, 2015. Five of the six goals in that contest were scored on the power play.
- Senior Audra Richards (Maplewood, Minn.) tops the Maine roster with 14 points (9g, 5a). Richards has 68 shots on goal and a plus-two season rating.
- Allyson Motteau (Mirabel, Qué.) sits atop the leader board for both defensive and freshmen scoring on Maine's squad with seven points (4g, 3a).
- Vermont won its first game of 2016 as eight different Catamounts tallied a point in Jan. 2's 4-2 win over Union, including Sarah Kelly (Vestal, N.Y.) who notched the game-winner.
- Catamount scoring leader Dayna Colang (Fairbanks, Alaska) finished the week with two goals, including the only marker in a 2-1 overtime loss to Merrimack Jan. 4.
- Goaltender Madison Litchfield (Williston, Vt.) recorded her first win of 2016 in the 4-2 victory over Union. Litchfield denied 24 shots in her first win since Nov. 1 over Maine.

Providence vs. RIT - Fri. 1/8, Sat. 1/9 at Providence
- Providence scoring leader rookie Christina Putigna (Grimsby, Ont.) and Cassidy Carels (Bruxelles, Man.) each tallied a goal and an assist in the series against Robert Morris this past weekend.
- Since 2013, Providence has a 3-1-1 record against RIT.