Thursday, January 28, 2016
Women's Hockey East Weekend Preview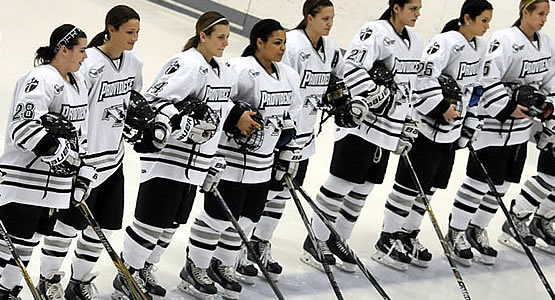 Providence hosts Maine for a pair of league games this weekend
No. 1 Boston College vs. Harvard - Tues. 2/2 at BU (Beanpot)
- Boston College extended its win streak to 27 games after defeating Vermont twice over the weekend and Merrimack on Tuesday evening. It is the second longest winning streak in NCAA history, behind Minnesota's 62-game stretch.
- In three games, Alex Carpenter (North Reading, Mass.) notched six points (4g, 2a) including her 250th point. Carpenter is the only Hockey East player to reach this milestone and the eighth woman in NCAA history. Carpenter passed Kendall Coyne (Palos Heights, Ill.) and now holds the Hockey East all-time assist mark (76 assists).
- In her last three games, freshman Makenna Newkirk (Scottsdale, Ariz.) tallied four points (2g, 2a) and was named Army ROTC first star of the game in Tuesday's 4-1 victory over Merrimack. She leads all freshmen nationally with 15 goals. Teammate Dana Trivigno (Setauket, N.Y.) racked up six points (2g, 4a) in three games including the game-winning helper in Friday's 6-2 decision to Vermont.
- The Eagles face Harvard on Tuesday to commence the 38th Annual Women's Beanpot, held at Boston University's Walter Brown Arena Feb. 2 and Feb. 9. BC blanked the Crimson, 2-0, in their last meeting Tuesday, Jan. 19. In the 2015 Beanpot Championship, Harvard clinched the title in a 3-2 decision over the Eagles. Overall, BC has a 8-16-0 record against Harvard in the Beanpot.

No. 5/6 Northeastern vs. UNH/vs. Boston University - Fri. 1/29 at NU, Tues. 2/2 at BU (Beanpot)
- Northeastern continues to climb in the rankings powered by Coyne, who leads the NCAA with 62 points. She also leads Hockey East with 161 career points and 86 career assists.
- Sophomore McKenna Brand (Nevis, Minn.) notched five points (2g, 3a) in last weekend's sweep of UConn, including the game-winning mark Sunday. All three of Brand's assists came on the power play.
- Defenseman Jordan Krause (Kelowna, B.C.) continues a successful senior season as she totaled three points in two games (1g, 2a), all on the power play. Krause leads Northeastern defensemen with 25 points (4g, 21a).
- Hockey East Defensive Player of the Week Brittany Bugalski (Boynton Beach, Fla.) was perfect in her 100 minutes of play against the Huskies. Bugalski picked up a 15 save shutout Friday and shut down UConn offense again in 40 minutes of relief in a 7-3 victory Saturday.
- The Huskies look for redemption Tuesday night in the first round of the Women's Beanpot. Last year, Northeastern and BU competed in the third-place game, with the Terriers topping Northeastern, 3-1. Overall, Northeastern has a 16-5-1 record against BU in the Beanpot.
- UNH heads to Northeastern for a Skating Strides Against Breast Cancer game, the third meeting between the two conference teams this season. Northeastern won the first two games 4-2 (Jan. 9) and 5-2 (Jan. 10), respectively.
- Pro Ambitions Rookie of the Week Kyra Smith (Littleton, Colo.) recorded her first collegiate shutout over the weekend and picked up a 2-0-0 record against Maine. Smith allowed only one goal in two games and denied 53 shots.
- Carlee Toews (Grand Prairie, Alb.) recorded the game-winning mark in a 3-0 victory over Maine on Sunday. Toews added two assists for three points in the sweep to go along with a plus-three rating.
- Along with Toews, two other Wildcats had three point weekends: Amy Boucher (Edmonton, Alb.) (1g, 2a) and Jonna Curtis (Elk River, Mich.) (1g, 2a). One of Curtis' assists was a game-winning helper.

Boston University vs. Merrimack/vs. Northeastern - Sat. 1/30 at BU, Tues. 2/2 at BU (Beanpot)
- Warrior Hockey Player of the Week Rebecca Leslie (Ottawa, Ont.) dominated over the weekend picking up six points (2g, 4a) in three games. Leslie registered back-to-back multi-point games for the Terriers and extended her point streak to seven games. She leads BU with 36 points (8g, 28a).
- Freshman Mary Grace Kelley (Natick, Mass.) notched her first collegiate goal, the game-winner, in Sunday's 4-2 come from behind victory over Providence.
- BU faces Northeastern for the 23rd time in Beanpot play. BU has played in five Beanpot championships and has won one Beanpot championship in 1981, prior to becoming a varsity program in 2000.
- Merrimack fell to No. 1 Boston College on Tuesday night by a score of 4-1. The lone Warriors goal was the first goal against Boston College in Merrimack program history and was scored on the power play by Felila Manu (Anchorage, Alaska) and assisted by Jessica Bonfe (Woodbury, Minn.).
- Despite the loss, Merrimack netminder Samantha Ridgewell (Outlook, Sask.) denied 52 Eagle attempts and was named Army ROTC third star of the game.

UConn vs. Vermont - Fri. 1/29, Sat. 1/30 at Vermont
- UConn faced a tough schedule this past week and fell to No. 5/6 Northeastern and No. 9 Princeton.
- Brittany Berisoff (Kelowna, B.C.) picked up two points in the 7-3 defeat to Northeastern including a power-play helper.
- Goalkeeper Elaine Chuli (Waterford, Ont.) denied 89 shots in the two games against Northeastern including a 53- save performance Friday evening on the road.
- Vermont hosts its annual Pack The Gutt game Friday (Jan. 29) at 7 p.m. against conference foe UConn.
- The Catamounts fell to Boston University last weekend, but received strong performances from scoring leaders Dayna Colang (Fairbanks, Alaska) (2a) and Taylor Willard (Naperville, Ill.) (1g, 1a). Colang and Willard lead the Catamounts with 22 points and 14 points, respectively.
- Vermont was tripped up by UConn earlier this season, 3-2, on November 20, 2015. Six different Catamounts tallied points in that outing.

Maine vs. Providence - Sat. 1/30, Sun. 1/31 at Providence
- Maine defeated Providence, 2-1, in overtime in the last meeting of the two teams on October 30, 2015. The decisive tally was scored by Allyson Matteau (Mirabel, Qué).
- Maine fell to New Hampshire this past weekend, solving UNH netminder Kyra Smith just one in the two games. The lone Black Bears goal was scored by senior Audra Richards (Maplewood, Minn.), her team-leading 12th goal and 18th point on the year (12g, 6a).
- Providence also dropped two games this past weekend to Boston University. Sophomore Blair Parent (Blaine, Minn.) netted back-to-back goals Sunday's 4-2 loss to the Terriers and was named Army ROTC first star of the game for her efforts.
- Friar scoring leader Christina Putigna (Grimsby, Ont.) also recorded a multi-point weekend (1g, 1a), including the lone goal in Saturday's 5-1 setback. Putigna leads the Friars with 23 points (8g, 15a).