Thursday, January 21, 2016
Women's Hockey East Weekend Preview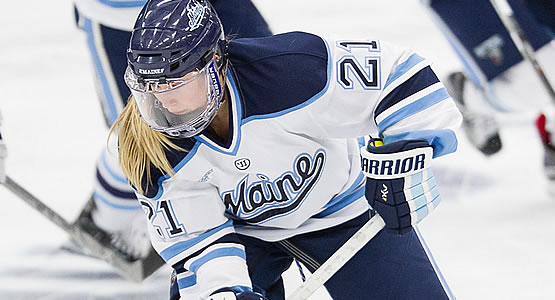 Maine hosts new Hampshire for a two-game set at Alfond Arena
No. 1 Boston College vs. Vermont/vs. Merrimack - Fri. 1/22, Sat. 1/23 at Vermont, Tues. 1/26 at Merrimack
- No. 1 Boston College faces the Vermont Catamounts for the first time this year. In the last two seasons, the Eagles have a 7-0-0 record against the Catamounts, including a 3-1 decision in the 2014 Hockey East Quarterfinals. Four of the seven wins were shutouts.
- Alex Carpenter (North Reading, Mass.) and Haley Skarupa (Rockville, Md.) had strong showings for the Eagles. Skarupa tallied her 100th career goal in Saturday's 6-0 win against Merrimack and finished the game with two goals and two assists. Carpenter recorded five points in two games (1g, 4a) and became Hockey East's all-time assists leader (74 assists).
- In Tuesday's 2-0 victory at Harvard, senior Meghan Grieves (Cary, N.C.) netted both goals for the Eagles; it was Grieves' first multi-point outing of the season.
- Netminder Katie Burt (Lynn, Mass.) picked up a pair of shutouts against Merrimack and Harvard, stopping 39 shots in two games. Burt leads Hockey East goaltenders with a 0.81 goals against average and a .961 save percentage.
- Merrimack fell to No. 1 Boston College this past weekend, but picked up a win against non-conference opponent Brown in a 4-1 decision. The Warriors face the Eagles once again this Tuesday.
- Hockey East Defensive Player of the Week Samantha Ridgewell (Outlook, Sask.) denied 127 shots in just three games. Ridgewell kicked out 101 saves alone in the series against BC. Until BC's 2-0 victory over Harvard Tuesday night, Ridgewell and the Warriors were the only team to hold the Eagles to under three goals all season. In three games, Ridgewell picked up a .939 save percentage.
- Warriors forward Katelyn Rae (Courtice, Ont.) tallied two goals and one assist in the 4-1 victory over Brown. Rae picked up a power-play goal, a power-play helper, and the game-winning strike.
- Vermont tied 3-3 and lost 6-2 to conference foe Boston University last weekend.
- Sophomore defenseman Taylor Willard (Naperville, Ill.) notched two power-play goals, including the game-tying goal, in Saturday's outing. Willard leads Catamount defenders with 12 points (6g, 6a).
- Freshman Alyssa Gorecki (Monee, Ill.) assisted on all three Catamounts goals Saturday and Kourtney Menches (Greer, S.C.) potted her first collegiate goal Sunday.

No. 6 Northeastern vs. UConn - Fri. 1/22 at NU, Sat. 1/23 at UConn
- NCAA scoring leader and Warrior Hockey Player of the Week Kendall Coyne (Palos Heights, Ill.) continues to lead the No. 6 Huskies up the rankings ladder. In three conference games last week, Coyne racked up 12 points (4g, 8a) including two five-point outings. Coyne is currently the all-time Hockey East Leader in both points (157) and goals (84).
- Coyne and linemates Denisa Krížová (Horní Cerekev, Czech Republic) and Hayley Scamurra (Williamsville, N.Y.) totaled 31 points in the last three games (12g, 19a). Krížová contributed ten of those points (5g, 5a) and tallied her second career hat trick while Scamurra picked up nine points (3g, 6a) including a game-winning assist and two power-play goals.
- UConn and Northeastern last met Jan. 5, a 5-1 win for Northeastern that saw five different skaters score goals.
- UConn picked up three points in league play last weekend in a 1-1 tie and a 5-2 decision with Providence. The Huskies have not faced No. 9 Princeton since a 1-0 overtime loss on Jan. 3, 2014.
- Forward Theresa Knutson (Onalaska, Wisc.) recorded her first career hat trick, including the game-winning mark against PC. The previous day, Knutson tallied the only Husky goal in the 1-1 draw.
- UConn scoring leader Justine Fredette (Winnipeg, Man.) assisted on three goals in two games, lifting her point total to 21 (6g, 15a) while netminder Elaine Chuli (Waterford, Ont.) picked up back-to-back wins. Chuli denied 52 Friar shots for a weekend .947 save percentage.

Boston University vs. Providence - Sat. 1/23 at BU, Sun. 1/24 at Providence
- Pro Ambitions Rookie of the Week Sammy Davis (Pembroke, Mass.) led the Boston University Terriers to a three-point weekend at Vermont. Davis recorded her first career hat trick in Sunday's 6-2 win and added two assists.
- Samantha Sutherland (Cochrane Alb.) also racked up four points (2g, 2a), including the game-winner on Sunday.
- Wednesday, the Terriers fell to No. 4 Quinnipiac in a 6-1 decision. The lone goal came on the power play from Jordan Juron (Latham, N.Y.), her first power-play tally of the season. Juron scored the game-winning mark in BU's last meeting with Providence on December 9, 2015 in a 6-0 victory for the Terriers.
- Providence freshman Christina Putigna (Grimsby, Ont.) tallied the tying goal in Saturday's matchup against UConn to give the Friars a crucial Hockey East point. Putigna leads the Friars with 21 points (7g, 14a).
- Second on the leader board is Cassidy Carels (Bruxelles, Man.) with 20 points (6g, 14a). Carels tallied four points in three games (1g, 3a) last week including two power-play helpers.

Maine vs. New Hampshire - Sat. 1/23, Sun. 1/24 at Maine
- Audra Richards (Maplewood, Minn.) (3g) and Victoria Hummel (Tull, Austria) (1g, 1a) recorded multi-point weekends, for Maine, but the Black Bears were twice tripped up by then-No. 7 Northeastern. Coincidentally, New Hampshire returns to conference play this weekend after a bye week last weekend; their last two outings also resulted in defeats at the hands of Northeastern on January 9 and 10.
- The Black Bears have not faced UNH since they blanked the Wildcats, 4-0, in the first game of the season on October 2, 2015. Richards netted a hat trick, including a power-play tally, in that initial matchup.
- UNH scoring leader Jonna Curtis (Elk River, Mich.) (12-13--25) tallied two goals and an assist in Wildcats' series against Northeastern.