Weekly Release: Boston College, Northeastern, Boston Univ. Clinch Playoff Berths
Ridgewell Stops 101 Shots; Davis Records First Hat Trick as a Terrier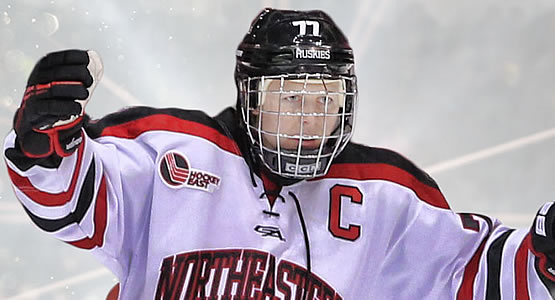 Warrior Hockey Player of the Week Kendall Coyne of Northeastern
AROUND HOCKEY EAST: The 2016 Women's Hockey East playoff picture began to come into focus over the weekend as Boston College and Northeastern clinched home ice in the quarterfinal round. Boston University also secured a playoff berth ... The No. 1 Boston College Eagles extend their 2015-16 record to 23-0-0 with a pair of wins over league rival Merrimack last weekend. Senior Haley Skarupa (Rockville, Md.) reached the 100 career goal milestone in Saturday's 6-0 decision over the Warriors. Skarupa tallied two goals and two assists in the tilt including a power-play notch. Senior Alex Carpenter (North Reading, Mass.) recorded one goal and four assists in two games, including a short-handed tally. Carpenter leads the nation with 17 power-play points and 10 power-play assists. Carpenter holds the Hockey East All-Time Career Assists record (74), a record formerly held by New Hampshire Wildcat Sam Faber (73 career assists) ... No. 7 Northeastern Captain Kendall Coyne (Palos Heights, Ill.) tied Faber's assist total on Sunday's 5-2 win over Maine. Coyne tallied 12 points (4g, 8a) and a plus-nine rating in three games, including a game-winning mark and a game-winning helper. Coyne leads Hockey East all-time with 157 career points and 84 career goals. Coyne currently leads the NCAA with 33 goals and 58 points. Teammate Denisa Krížová (Horní Cerekev, Czech.) is ranked fifth nationally in scoring after tallying her second career hat trick in Saturday's 8-1 victory. Krížová finished the week with five goals and five assists ... Boston University freshman Sammy Davis (Pembroke, Mass.) netted her first career hat trick and added two assists on the weekend. Samantha Sutherland (Cochrane, Alb.) extended her point streak to four games as she enjoyed a four point weekend (2g, 2a) including a game-winning goal in Sunday's 6-2 victory at Vermont ... UConn picked up three points in league play last weekend against Providence. Sophomore Theresa Knutson (Onalaska, Wisc.) netted her first career hat trick to lift the Huskies to a 5-2 victory and she recorded the only Husky goal the night before in the 1-1 tie with the Friars ... Maine fell to No. 7 Northeastern twice, despite multi-point weekends from Audra Richards (Maplewood, Minn.) (2g) and Victoria Hummel (Tull, Austria) (1g, 1a). Hummel's goal was her first of the season ... Merrimack was blanked by No. 1 Boston College, 2-0, and, 6-0, respectively in the first two meetings in the programs' history. The Merrimack Warriors are the only team this season to contain the Eagles to less than three goals. Netminder Samantha Ridgewell (Outlook, Sask.) denied 101 shots in two outings and finished the weekend with a .927 save percentage ... Cassidy Carels (Bruxelles, Man.) led the Providence Friars in scoring with a weekend total of four points (1g, 3a). Christina Putigna (Grimsby, Ont.) potted the game-tying goal in the third period of Saturday's 1-1 decision to UConn. Putigna is the sixth-highest freshman scoring leader in the NCAA with 21 points (7g, 14a) ... Vermont skated even with Boston University in Saturday's 3-3 tilt. Sophomore defenseman Taylor Willard (Naperville, Ill.) scored two of the three Catamount goals, both coming on the power play.
---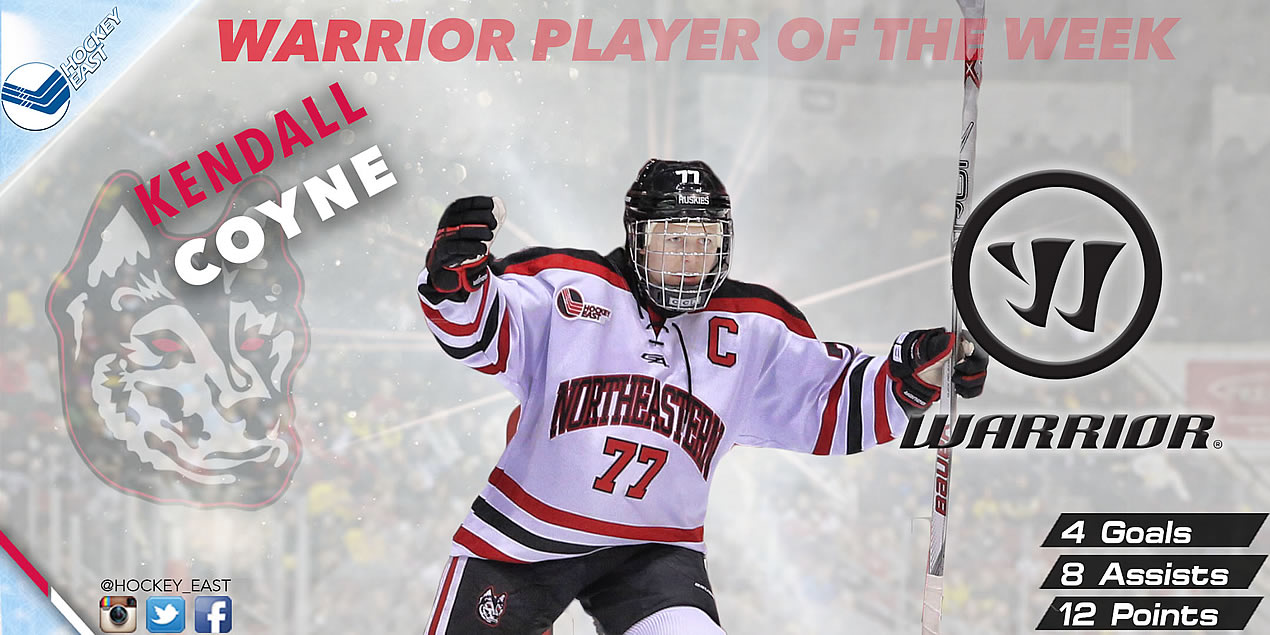 Kendall Coyne - Northeastern
Kendall Coyne, NU - (Sr., F; Palos Heights, Ill.) Northeastern's all-time leading scorer racked up another 12 points (4g, 8a) and finished plus-nine in three games last week, including a game-winning goal in Sunday's contest against Maine.
---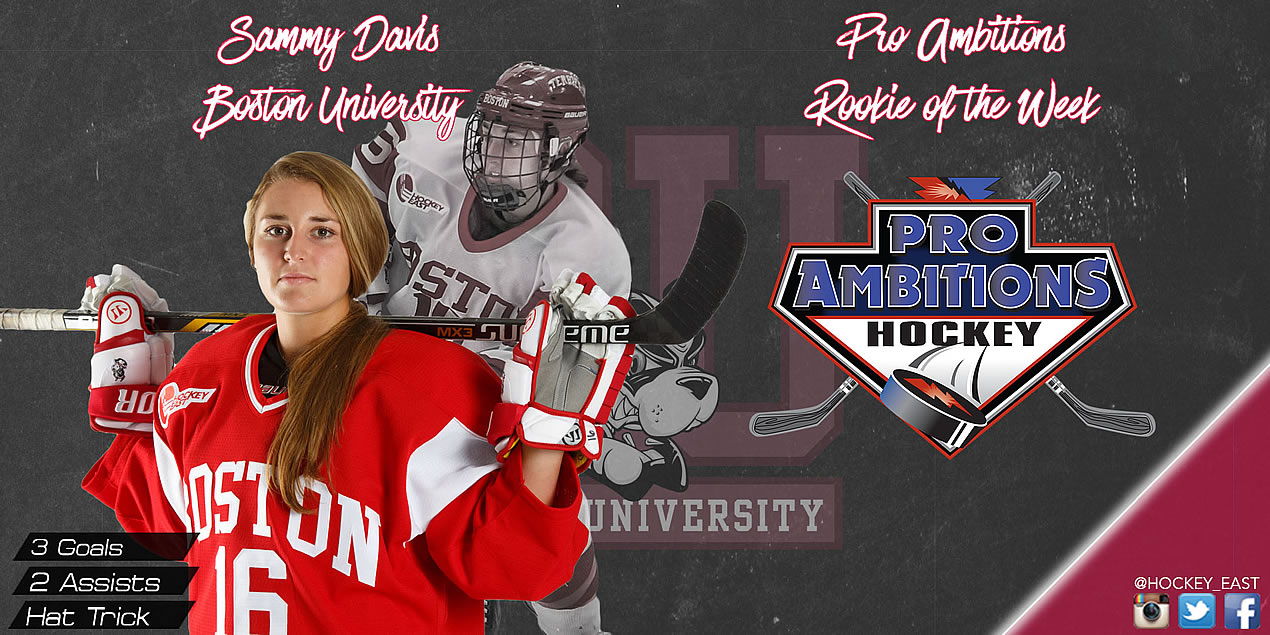 Sammy Davis - Boston University

Sammy Davis, BU (Fr., F; Pembroke, Mass.) Recorded her first collegiate hat trick and chipped in an assist in Sunday's 6-2 win at Vermont. The Terrier freshman also added an assist in Saturday's outing. On the season, 18 of Davis's 20 points have come in Hockey East play.
---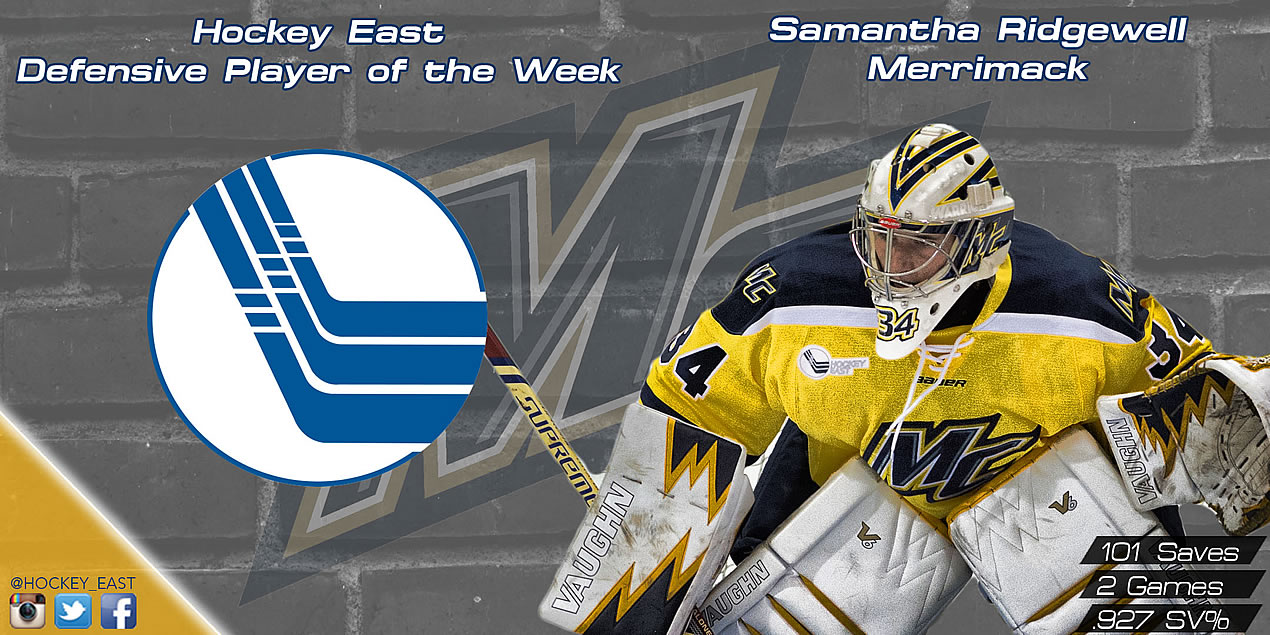 Samantha Ridgewell - Merrimack

Samantha Ridgewell, MC (Fr., G; Outlook, Sask.) Made 101 saves in two games against No. 1 Boston College, picking up a .927 save percentage on the weekend. Ridgewell made 52 saves in Friday's 2-0 setback, becoming the first goalie to prevent BC from scoring at least three goals all year.
---
HOCKEY EAST WEEKLY TOP PERFORMERS
Alex Carpenter, BC (Sr., F; North Reading, Mass.) Registered points in both Eagles' wins over Merrimack, picking up five points (1g, 4a) in the two outings.
Haley Skarupa, BC (Sr., F; Rockville, Md.) Enjoyed a four-point game Saturday, including registering her 100th career goal as an Eagle.
Makenna Newkirk, BC (Fr., F; Scottsdale, Ariz.) Scored two goals, bringing her NCAA freshman-leading total to 13 on the year.
Megan Keller, BC (So., D; Farmington Hill, Mich.) Recorded two points (1g, 1a) to become the fastest defenseman to reach 50 points in BC program history, reaching the milestone in just 60 career games.
Samantha Sutherland, BU (Jr., F; Cochrane, Alta.) Collected four points (2g, 2a) at Vermont in a 1-0-1 weekend for the Terriers, including the decisive tally Sunday.
Lillian Ribeirinha-Braga, BU (Sr., D; Winchester, Mass.) Registered two assists and finished plus-one in Sunday's 6-2 win.
Theresa Knutson, UConn (So., F; Onalaska, Wis.) Scored her first career hat trick, including the decisive strike, Sunday against Providence, after notching the only Husky goal in a 1-1 stalemate the day prior.
---