Thursday, January 14, 2016
Women's Hockey East Weekend Preview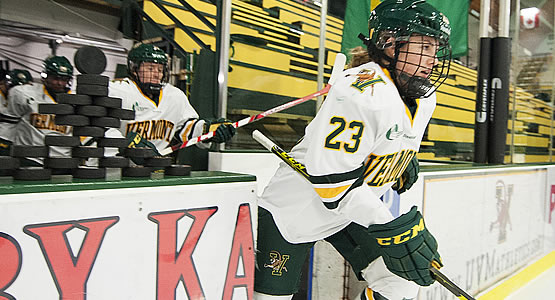 Vermont hosts Boston University for a pair of games this weekend
No. 1 Boston College vs. Merrimack - Fri. 1/15 at Merrimack, Sun. 1/16 at BC
- No. 1 Boston College competes against Merrimack College for the first time in program history this weekend. Saturday's tilt is Boston College's turn to host a Skating Strides Against Breast Cancer game, the first of two such contests this weekend. The second Skating Strides game will take place at Vermont's Gutterson Fieldhouse on Sunday.
- The Eagles are coming off of a 4-3 win over rival Boston University last Saturday. Warrior Hockey Co-Player of the Week Haley Skarupa (Rockville, Md.) netted all four of the Eagles' goals for her second hat trick of the season and sixth of her career. Skarupa is one of two Hockey East players to score four goals in one game this season. She is joined by teammate Alex Carpenter (North Reading, Mass.) who tallied four goals in a 7-2 decision over Syracuse on December 10, 2015.
- Captain Dana Trivigno (Setauket, N.Y.) (3a) and Kristyn Capizzano (Oakville, Ont.) (2a) helped on the game-winning mark, and goalkeeper Katie Burt (Lynn, Mass.) picked up her 18th win of the season.
- The scoring touch of Paige Voight (St. Michael, Minn.) lifted the Warriors to a 2-1 overtime win against Vermont last Monday, January 4. Voight leads the Warriors with 17 points (9g, 8a) and 72 shots on goal.
- The Warriors skated to a tie 4-3 loss and a 2-2 tie against UConn last week. Merrimack earned the first stalemate with UConn in program history with help from Katelyn Rae (Courtice, Ont.) and Paige Sorensen (Plymouth, Minn.) who recorded one goal and one assist apiece in the two tilts. Rae is currently riding a four game point streak (2g, 3a).

No. 7 Northeastern vs. Maine - Sat. 1/16, Sun. 1/17 at NU
- Warrior Hockey Co-Player of the Week Kendall Coyne (Palos Heights, Ill.) had a record-setting weekend and a stellar performance in last night's 5-1 decision over Providence. In four games, Coyne broke Hilary Witt's Northeastern University record for most career points, tallied her 11th career hat trick, and totaled 11 points (6g, 5a). Coyne now has 216 career points; the former Northeastern record was 208 points. Coyne leads the NCAA with 31 goals and 51 points.
- Denisa Krížová (Horní Cerekev, Czech.) netted two goals, including the game-winning tally, and picked up an assist in last night's tilt. Krížová finished the week with four points (2g, 2a) and is second on the Husky leader board with 35 points (10g, 25a).
- Hockey East Defensive Player of the Week Jordan Krause (Kelowna, B.C.) tallied an impressive one goal, four assists, and a plus-13 rating in only four games.
- The Maine Black Bears last faced Northeastern on November 16, 2015, a 3-1 loss for the Black Bears.
- Maine skated to a 3-3 tie against Vermont and suffered a 4-1 setback in the second contest of last weekend's series.
- Sophomore Brooke Stacey (Kahnawake, Qué.) netted a goal and added an assist in the draw and is now tied for first with Audra Richards (Maplewood, Minn.) at the top of the Black Bear leader board (15 points).
- Netminder Meghann Treacy (Lake Peekskill , N.Y.) also had an impressive performance in Saturday's game. Treacy made 41 saves, her third 40-plus save outing this season.

Boston University vs. Vermont - Sat. 1/16, Sun. 1/17 at Vermont
- Boston University last faced Vermont on October 25, 2015, a tilt that ended in a 5-2 victory for the Terriers. During regular season play last season, BU recorded a 2-1-0 record against the Catamounts and took two straight victories in the 2015 Hockey East Quarterfinals by a combined score of 15-3.
- In the 4-3 loss to BC on Saturday, Sarah Lefort (Ormstown, Qué.) recorded a multi-point game for the Terriers, her eighth of the season. With two assists, Lefort extended her point streak to 10 games and earned Army ROTC second star of the game.
- Terriers captain Kayla Tutino (Lorraine, Qué.) tallied a goal and extended her point streak to three games while netminder Erin O'Neil (Minnetonka, Minn.) denied 26 shots including all 11 Eagle attempts in the third period.
- Vermont picked up a 1-0-1 record against Maine last weekend, as the Catamounts rallied for a 3-3 tie after trailing Maine 2-0 at the end of the first period.
- Dayna Colang (Fairbanks, Alaska) totaled four points (2g, 2a) in two games while Bridget Baker (Los Gatos, Calif.) recorded a three point weekend (2g, 1a), including a game-winning helper on Sunday's 4-1 decision.
- Pro Ambitions Rookie of the Week Daria O'Neill (Cochrane, Alb.) had an impressive three-point weekend, chalking up her first collegiate goal and her first multi-point game. O'Neill's goal came short-handed on Saturday and both of her helpers Sunday were registered on the power play.

UConn vs. Providence - Sat. 1/16 at Providence, Sun. 1/17 at UConn
- The UConn Huskies compete against conference foe Providence for the first time this season. Last year, the Huskies and the Friars had a 1-1-1 record against one another.
- UConn forward Justine Fredette (Winnipeg, Man.) notched two goals, including a power-play tally, and added a game-winning assist in a 4-3 victory over Merrimack on Saturday. Fredette finished the weekend with a plus-two rating and leads UConn with 18 points (6g, 12a).
- Six Huskies tallied at least two points in the series against Merrimack and UConn netminder Annie Belanger (Sherbrooke, Ont. ) denied 53 shots in two games.
- Providence swept RIT last weekend in 5-1 and 3-1 decisions. Captain Lexi Romanchuk (San Jose, Calif.) and Friars' scoring leader Christina Putigna (Grimsby, Ont.) each recorded a goal and an assist in the series.
- Brooke Boquist (Thunder Bay, Ont.) put the Friars on the board in last night's 5-1 loss to No. 7 Northeastern. The goal came on the power play with one second remaining in regulation. Boquist has recorded three points (2g, 1a) in her last three games.