Thursday, December 3, 2015
Women's Hockey East Weekend Preview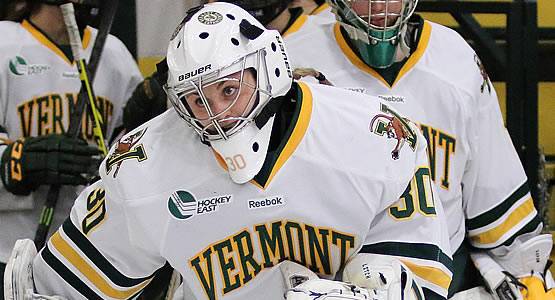 Vermont hosts Northeastern for a pair of games at Gutterson Field House
No. 2 Boston College vs. Maine - Sat. 12/5, Sun. 12/6 at Maine
- Boston College captain and Warrior Hockey Player of the Month Alex Carpenter (North Reading, Mass.) recorded seven points (2g, 5a) in two games last week. Two of Carpenter's points were game-winning assists against Providence and then-No. 4 Northeastern. Carpenter sits three points back of the all-time Hockey East career point-scoring record held by Kelli Stack (Brooklyn Heights, Ohio) (133pts). Currently, Carpenter has 65 goals and 65 assists for 130 points. Northeastern's Kendall Coyne (Palos Heights, Ill.) is also within striking distance of the record; Coyne has 131 career points on 72 goals and 59 assists.
- Assistant captain Haley Skarupa (Rockville, Md.) turned in a productive week with six points in two games (3g, 3a). All three goals came against Providence, resulting in Skarupa's fifth career hat trick.
- Hockey East Defensive Player of the Week Megan Keller (Farmington Hills, Mich.) picked up four assists last weekend. Keller leads Hockey East defensemen with 13 points and she leads all of Hockey East with a plus-22 rating.
- Eagle sophomore forward Kenzie Kent (Norwell, Mass.) netted two goals against then-No. 4 Northeastern in a 6-1 Boston College win. Kent ended the week with five points (3g, 2a) and reached the 50 career point milestone.
- The Eagles have not seen Syracuse since October 4, 2014, a 10-2 Eagle win. BC and Maine have already met once this season Oct. 17. Boston College took that tilt, 4-0, behind two Skarupa goals.
- The lone goal for Maine in the series against Robert Morris last weekend came unassisted off the stick of junior Morgan Sakundiak (Calgary, Alb.). Sakundiak's short-handed goal was her second goal of the season.
- The Maine Black Bears are part of a five-way tie for fourth place in Hockey East standings; each team has six points.

No. 7/8 Northeastern vs. Vermont - Fri. 12/4, Sat. 12/5 at Vermont
- Northeastern's only goal last weekend came on the power play from junior forward Paige Savage (Johns Creek, Ga.). The Huskies' top scorers in 2015-16 assisted on the goal: Coyne (34 points) and Denisa Krížová (Horni Cerekev, Czech.) (26 points).
- Vermont hosted the Windjammer Classic last weekend and the Catamounts host No. 7/8 Northeastern this weekend. The Catamounts look to even the score after they suffered a 5-2 setback to the Huskies Nov. 21.
- UVM's top two scoring leaders each picked up a goal against Ohio State in the Windjammer Classic. Dayna Colang (Fairbanks, Alaska) (6g, 6a) and Taylor Willard (Naperville, Ill.) (3g, 5a) each found the back of the net in the inaugural weekend series. Colang added an assist on Willard's goal for her second multi-point game of the season.

Boston University vs. UConn/vs. Providence - Sat. 12/5 at UConn, Sun. 12/6 at BU, Wed. 12/9 at Providence
- Sophomore Victoria Bach (Milton, Ont.) led the scoring charge for the Terriers last weekend at the Windjammer classic, tallying four points (2g, 2a) in the 5-3 victory over Ohio State including the game-winning goal.
- Both Sarah Lefort (Ormstown, Qué.) and Rebecca Leslie (Ottawa, Ont.) recorded three points the two games at the Windjammer Classic. Lefort netted two goals and one assist while Leslie provided helpers on two goals and scored one of her own. Leslie is now tied for third in the nation for assists alongside Skarupa and Krížová. All three have 19 assists.
- UConn forward Theresa Knutson (Onalaska, Wis.) led the Huskies to their sixth consecutive third-place finish at the Nutmeg Classic. Knutson put away two goals against Merrimack, one of which was the game-winning power-play goal.
- Winnipeg, Manitoba natives Justine Fredette and Kayla Mee registered two assists apiece for UConn in the thirdplace game. Both had helpers on Knutson's game-winning tally.
- UConn Netminder Elaine Chuli (Waterford, Ont.) denied 31 of 32 shots for a .970 save percentage in the 1-0 loss to then No. 5 Quinnipiac. Chuli is second among Hockey East goaltending leaders with a .954 conference save percentage.
- Pro Ambitions Rookie of the Month Christina Putigna (Grimsby, Ont.) helped the Providence Friars win the Mayor's Cup Saturday, defeating Brown, 6-1. In her last three games, Putigna recorded six points (2g, 4a). Putigna extended her point streak to eight games with a goal and assist in Tuesday night's 4-1 win over Union.
- Three Friars with productive performances last week were Brooke Boquist (Thunder Bay, Ont.) (1g, 4a), Cassidy Carels (Bruxelles, Man.) (3g, 2a), Lexi Romanchuk (San Jose, Calif.) (1g, 3a).

Merrimack vs. New Hampshire - Fri. 12/4 at UNH, Sat. 12/5 at Merrimack
- Merrimack competed in the Nutmeg Classic at Yale for the first time in program history last weekend. The Warriors scored two goals in two games, falling to Yale and league foe UConn.
- Five different Merrimack skaters recorded points at the Nutmeg Classic, including squad leader Paige Sorensen (Plymouth, Minn.). Sorensen leads Merrimack with seven points (2g, 5a).
- Merrimack will face UNH for the second time this season. The Warriors defeated UNH, 2-1, Oct. 17 in the first matchup. That win remains Merrimack's only conference victory, incidentally in the first Hockey East game in which they appeared.

New Hampshire vs. Merrimack/vs. Dartmouth - Fri. 12/4, Tues, 12/8 at UNH, Sat. 12/5 at Merrimack
- Six UNH Wildcats recorded mutli-point weekends, leading their squad to a 1-0-1 record against RPI.
- Sophomore Amy Boucher (Edmonton, Alb.) registered two assists in the 3-3 overtime draw. She then netted both crucial goals in the 2-1 victory on Saturday. Her game-winning goal came on the power play.
- Freshman Netminder Kyra Smith (Littleton, Colo.) recorded a two-game total of 38 saves, good for a 1.92 goals against, and a .905 save percentage.
- Since 2010, UNH has a 3-3-0 record against Dartmouth College.