Thursday, December 31, 2015
Women's Hockey East Preview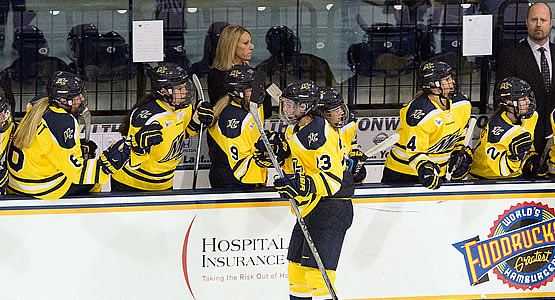 Merrimack faces Vermont on Monday and and St. Lawrence on Wednesday
No. 7/8 Northeastern vs. Dartmouth/vs. UConn - Sat. 1/2; Tues. 1/5 at NU
- Hockey East play resumes from the winter break as No. 7/8 Northeastern takes on league rival UConn and non-conference foe Dartmouth. Since 2011, Northeastern has a 2-2-0 record against Dartmouth. Last season, Northeastern picked up one win and two ties against UConn.
- Captain Kendall Coyne (Palos Heights, Ill.) become the most prolific goal-scorer in Northeastern history in 2015 (114 goals). She is also the all-time leading goal-scorer in Hockey East play (74 goals). Coyne lies two points from tying the Hockey East scoring record which was broken at the end of 2015 by Boston College Eagle and Olympic teammate Alex Carpenter (North Reading, Mass.). Carpenter currently has 136 points (67g, 69a) while Coyne has 134 (74g, 60a).
- Northeastern freshman netminder Brittany Bugalski (Boynton Beach, Fla.) has made appearances in 14 games this season. Bugalski is third in Hockey East with a .939 season save percentage and ranks second with a 1.38 goals against average.
- UConn goaltender Elaine Chuli (Waterford, Ont.) has had a stellar senior season, as she is ranked second in Hockey East with a .945 save percentage and ranked third with a 2.34 GAA.
- UConn's offense has been paced by a potent young roster. The top three point-getters for the Huskies are sophomore Justine Fredette (Winnipeg, Man.) (4g, 10a), sophomore Theresa Knutson (Onalaska, Wisc.) (7g, 6a), and freshman Jordy Zacharias (Winnipeg, Man.) (6g, 6a).

Merrimack vs. Vermont/vs. St. Lawrence - Mon. 1/4 at UVM; Wed. 1/6 at SLU
- The Merrimack Warriors' scoring leader Paige Voight (St. Michael, Minn.) is the reigning Pro Ambitions Rookie of the Week. Voight netted two goals in the Merrimack's final game of 2015 (Dec. 11 at Providence). Voight has 14 points this season (7g, 7a).
- Merrimack's defensive corps is led by Paige Sorensen (Plymouth, Minn.) who has tallied nine points this season (3g, 6a).
- The Merrimack squad returns to the ice in 2016, traveling to face Hockey East rival Vermont and non-conference opponent St. Lawrence for its first time in program history.

Providence vs. Robert Morris - Sat. 1/2, Sun. 1/3 at RMU
- Providence opens 2016 on the road with two non-conference tilts against Robert Morris. The Friars last faced the Colonials in a split series four years ago. The Friars took the first victory, 3-1, and fell in the second contest, 3-2.
- In the final game of 2015 against Merrimack, a 4-3 win, Friars captain Lexi Romanchuk (San Jose, Calif.) netted two goals, including the power-play, game-winning strike. Brittney Thundstrom (Coon Rapids, Minn.) also recorded two goals in the tilt.
- The November Pro Ambitions Rookie of the Month Christina Putigna (Grimsby, Ont.) enters 2016 as the Friars' scoring leader, tallying 16 points in her first season thus far (4g, 12a).

Vermont vs. Union/vs. Merrimack - Sat. 1/2 at Union, Mon. 1/4 at UVM
- In the final game of 2015, Vermont picked up a 3-2 victory over Dartmouth. Victoria Andreakos (Aurora, Ont.) tallied the game-winning goal and Mackenzie MacNeil (Richmond Hill, Ont.) added a goal and an assist for the Catamounts.
- Senior forward Dayna Colang (Fairbanks, Alaska.) is at the top of the Vermont leader board with 13 points (6g, 7a), followed by sophomore defenseman Taylor Willard (Naperville, Ill.) with eight points (3g, 5a).
- Last season, the Catamounts blanked Union twice by a 4-0 score in both tilts.