Monday, December 14, 2015
Weekly Release: Milestones Abound in Hockey East Entering Winter Break
BC Trio Reaches Career Markers; O'Neil Pitches First Shutout for BU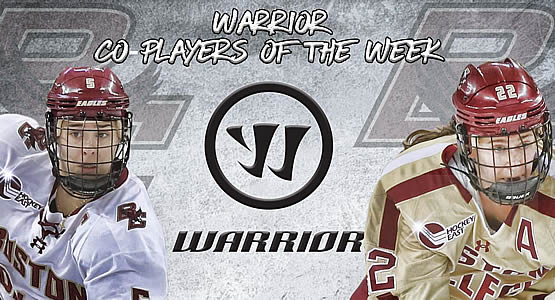 Warrior Hockey Co-Players of the Week Alex Carpenter and Haley Skarupa of Boston College
AROUND HOCKEY EAST: Another record-setting weekend in Hockey East saw a trio of Boston College Eagles reach milestones and continue to rewrite the record books on the Heights. Alex Carpenter (North Reading, Mass.) scored four goals in a 7-2 win at Syracuse to set the all-time mark for goals scored as an Eagle. Her 117 tallies now stand alone at the top of the record ledger. In the same contest, Haley Skarupa (Rockville, Md.) dished out five helpers to reach the 200-point plateau in her career. In the victory, head coach Katie Crowley picked up her 200th career win behind the bench for Boston College ... Boston University sophomore netminder Erin O'Neil (Minnetonka, Minn.) registered the first shutout of her career as a Terrier Wednesday night in a 6-0 win. She stopped 27 shots to pick up the first blank sheet. Victoria Bach (Milton, Ont.) scored two goals and assisted on a third in the win while senior forward Sarah Lefort (Ormstown, Que.) extended her point streak to nine games (9g, 10a) with two goals in the tilt ... Merrimack got the first twogoal game in program history in a 4-3 overtime setback to Providence. Paige Voight (St. Michael, Minn.) found the back of the net twice in the second period for the Warriors, increasing her team-leading totals to seven goals, seven assists and 14 points ... The Maine Black Bears went 1-0-1 in the last series of 2015 in a non-conference set with Union. Senior goalie Meghann Treacy (Lake Peekskill, N.Y.) made 47 saves on the weekend, including a shutout win Friday night ... Vermont got 31 saves from sophomore netminder Molly Depew (Marblehead, Mass.) to down Dartmouth, 3-2, Saturday afternoon. Mackenize MacNeil (Richmond Hill, Ont.) had a goal and an assist to push the Catamounts to the victory ... New Hampshire extended its home winning streak to three games with wins over Dartmouth, 3-2, and Yale, 5-2. Prior to a 6-0 setback to Quinnipiac Tuesday, New Hampshire was riding a five-game unbeaten streak, including a four-game winning streak, the longest such stretch since 2010-11. Jonna Curtis (Elk River, Minn.) has recorded at least a point in four of the last five games and is currently leading the Wildcats in goals (10), assists (12) and points (22) ... Women's Hockey East programs will now enter the winter break period before resuming play January 2, 2016, and finishing with a league-play heavy schedule January 9.
---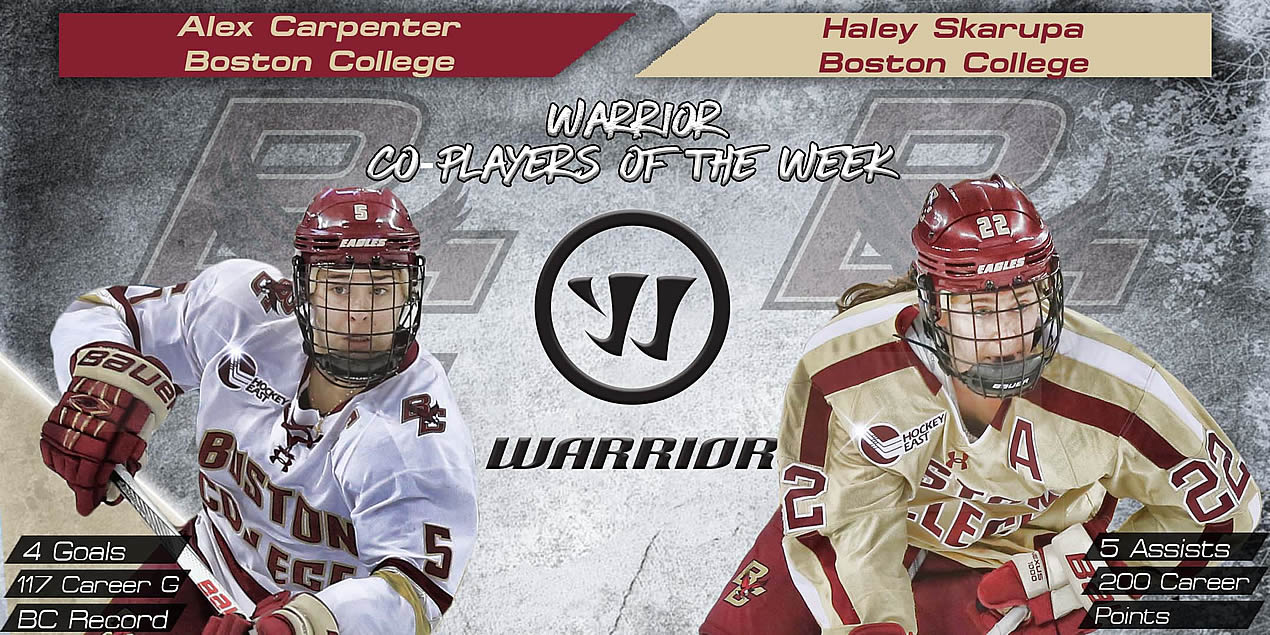 Alex Carpenter and Haley Skarupa Boston College

A record-setting weekend saw Alex Carpenter net her BC-best 117th career goal in the same game in which Haley Skarupa recorded her 200th career point and head coach Katie Crowley picked up her 200th career win behind the bench. Carpenter netted four goals while Skarupa dished out five assists in a 7-2 win over Syracuse.
---

Paige Voight - Merrimack

Voight earned Pro Ambitions Rookie of the Week accolades after collecting the first twogoal game of her career, and in Merrimack program history, in a 4-3 overtime loss to Hockey East rival Providence. The freshman currently leads all Warrior skaters with seven goals, seven assists and 14 points.
---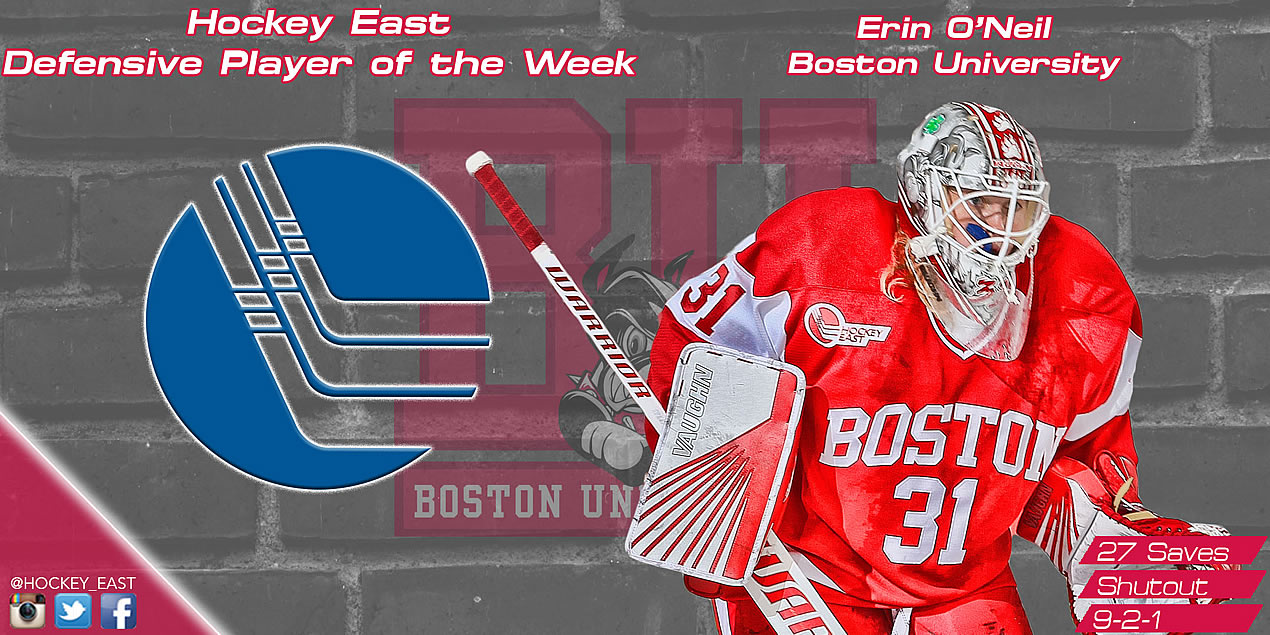 Erin O'Neil - Boston University

O'Neil recorded the first shutout of her career with Boston University in a 6-0 win at Providence Wednesday night. The sophomore netminder kicked out 27 saves in the contest, including 15 in the second period alone, to backstop the Terriers to two points in Hockey East play. With the win, she improved to 9-2-1 on the year.
---
HOCKEY EAST WEEKLY TOP PERFORMERS
Victoria Bach, BU (So., F; Milton, Ont.) Netted two goals and one assist in the 6-0 victory against Providence, including a power-play goal.
Sarah Lefort, BU (Sr., F; Ormstown, Qué) Picked up two goals in one game including a power-play tally.
Nicole Arnold, ME (Fr., F; St. Louis, Mo.) Tallied the game-winning goal, the first of her career, in the 1-0 tilt against Union
Meghann Treacy, ME (Sr., G; Lake Peekskill, N.Y.) Picked up her third shutout of the season, a 1-0-1 weekend record, and a .959 weekend save percentage.
Devan Taylor, UNH (Fr. F; North Billerica, Mass.) Notched the game winning goal in the 3-2 win over Dartmouth
Margo Lund, UNH (Sr., F; St. Paul, Minn.) Picked up two goals and one helper in two wins over Dartmouth and Yale
Lexi Romanchuk, PC (Sr., D; San Jose, Calif.) Netted two goals, including the game-winning power-play punch in the 4-3 win over conference foe Merrimack.
Brittney Thunstrom, PC (Sr., F; Coon Rapids, Minn.) Netted two of four goals in the 4-3 victory over Merrimack
Mackenzie MacNeil, PC (So., F; Richmond Hill, Ont.) Scored a goal and an assist in the 3-2 win over Dartmouth
---