Thursday, December 10, 2015
Women's Hockey East Weekend Preview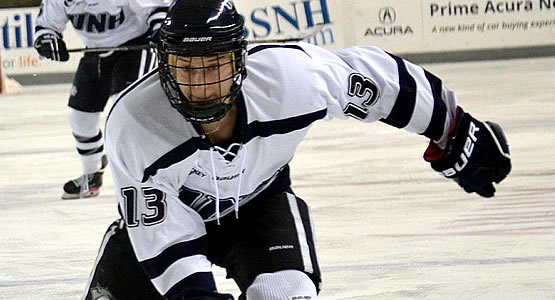 New Hampshire battles Quinnipiac and Yale this weekend
No. 2 Boston College vs. Syracuse - Thurs. 12/10 at Syracuse
- The No. 2 Boston College Eagles look to extend their win streak this afternoon to 20 games at Syracuse. The last time the Eagles faced Syracuse (Oct. 4, 2014), they won, 10-2, behind defenseman Lexi Bender's (Snohomish, Wash.) hat trick. No other Hockey East defenseman has scored a hat trick since Bender's.
- History was made this past weekend as both Warrior Hockey Player of the Month Alex Carpenter (North Reading, Mass.) and No. 6/7 Northeastern's Kendall Coyne (Palos Heights, Ill.) surpassed the Hockey East All-Time Career Points record (133 points). Carpenter is now the leading point scorer with 136 conference points (67g, 69a), while Coyne sits second with 134 (74g, 60a).
- In Saturday's 5-0 win at Maine, BC defenseman Kali Flanagan (Burlington, Mass.) recorded three points (2g, 1a) including the game-winning goal while defenseman Megan Keller (Farmington Hills, Mich.) netted two goals of her own in Sunday's 7-2 victory.
- Two Eagle forwards, Andie Anastos (Farmington Hills, Mich.) and Kenzie Kent (Norwell, Mass.), recorded one goal and three assists apiece.

New Hampshire vs. No. 4 Quinnipiac/vs. Yale - Fri. 12/11 at Quinnipiac, Sun. 12/13 at UNH
- New Hampshire extended its unbeaten streak to five games (4-0-1) with a 3-2 win against Dartmouth on Tuesday evening.
- Pro Ambitions Rookie of the Week Kyra Smith (Littleton, Colo.) has made 67 saves in the last three games, allowing only four goals against in that span. Smith had a weekend save percentage of .949 in the two wins against Hockey East foe Merrimack.
- UNH scoring leader Jonna Curtis (Elk River, Minn.) recorded four points in three games, including a game-winning goal and a game-winning assist. Curtis has a season total of 21 points (9g, 12a).
- Freshman Taylor Wenczkowski (Rochester, N.H.) picked up her first collegiate goal in Friday's 4-1 victory over Merrimack. She followed with a second goal in the same game and added a game-winning assist on Tuesday.
- UNH has not played Yale since they defeated the Bulldogs, 5-3, on October 25, 2008. Since 2009, UNH has a 2-2-1 record against Quinnipiac.

Maine vs. Union - Fri. 12/11, Sat. 12/12 at Maine
- Maine dropped two decisions in last weekend's home series against No. 2 Boston College, falling 5-0 Friday and 7-2 Saturday. Morgan Sakundiak (Calgary, Alta.) and Audra Richards (Maplewood, Minn.) netted goals for the Black Bears, while Mikayla Rogers (St. Paul, Minn.) (2a) and Brooke Stacey (Kahnawake, Qué.) (2a) assisted on both Maine goals.
- The two-game home set against Union marks the Black Bears' final non-conference games of 2015-16, with 12 league tilts left on the schedule. Since 2011, Maine has a 2-4-2 record against Union.

Merrimack vs. Providence - Fri. 12/11
- Merrimack netminder Samantha Ridgewell (Outlook, Sask.) returned to the lineup against UNH Dec. 4 after missing six games. She stopped 88 shots in two outings, including a 55 stops in Saturday's 2-1 overtime loss. Ridgewell picked up .946 weekend save percentage.
- Paige Sorensen (Plymouth, Mich.) netted two points (1g, 1a) in the pair of contests for the Warriors; her lone tally came on the power play.
- The Warriors will face Providence on Friday for the first time in program history.
- In a 4-1 Providence victory over Union last Tuesday night, Pro Ambitions Rookie of the Month Christina Putigna (Grimsby, Ont.) picked up a power-play goal and an assist. Putigna was named Army ROTC first star of the game and she currently leads the Friars with sixteen points (4g, 12a).
- Also recording a two-point night against Union was Madison Sansone (Lockport, N.Y.). Sansone picked up two helpers for her fourth multi-point game of the season for the Friars.

Vermont vs. Dartmouth - Sat. 12/12 at Dartmouth
- Vermont fell to then-No. 7/8 Northeastern in last weekend's two-game series. Three Catamounts picked up points: Alyssa Gorecki (Monee, Ill.) (1g), Casey Leveille (Delanson, N.Y.) (1g) and Bella Webster (Bensenville, Ill.) (1a).
- Catamount goaltender Madison Litchfield (Williston, V.T.) denied 52 Northeastern shots in two games and earned Army ROTC third star of the game in Saturday's 2-1 setback.
- Since becoming a Division 1 program in 2005, Vermont has only defeated Dartmouth once, a 1-0 overtime win on December 11, 2013.