Thursday, November 5, 2015
Women's Hockey East Weekend Preview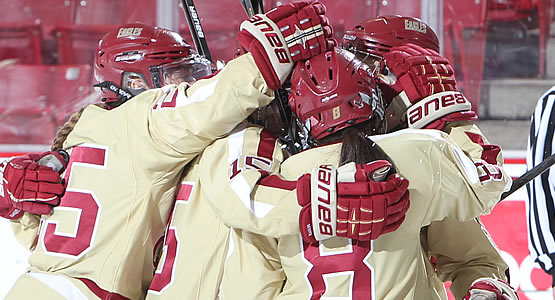 Boston College and Boston University meet up for a paur of games this weekend
No. 2 Boston College vs. Boston University - Sat. 11/7 at BU, Tues. 11/10 at BC
- Boston College improved to a program-best 10-0-0 after two victories last week over league rival UConn. The BC Eagles now look ahead to the Battle of Comm. Ave in a two-game set with Boston University.
- Eagles' senior assistant captain Hayley Skarupa (Rockville, Md.) recorded four points (2g, 2a) against UConn. Skarupa earned ARMY ROTC second star of the game on Friday and third star on Saturday.
- Sophomore defensemen Megan Keller (Farmington Hills, Mich.) and Kali Flanagan (Burlington, Mass.) each recorded three point games on Saturday with a goal and an assist each, while netminder Katie Burt (Lynn, Mass.) recorded back to back shutouts. Burt has a 1.000 conference save percentage through four games and was named Hockey East Goaltender of the Month for October.
- This weekend marks the first time Boston University has played BC since they defeated the Eagles, 3-2, in the 2015 WHEA Championship to win the Bertagna Trophy. It was the fourth consecutive Hockey East tournament title for the Terriers.
- Four BU forwards recorded four points in last weekend's victories over Vermont and New Hampshire: Maddie Elia (Lewiston, N.Y.) (3g, 1a); Victoria Bach (Milton, Ontario) (2g, 2a); Sammy Davis (Pembroke, Mass.) (2g, 2a); and Kayla Tutino (Lorraine, Qué.) (1g, 3a).
- The Terriers had a dominant 7-1 victory over Yale Tuesday night. Elia netted her first career hat trick and ended the night with four points (3g, 1a). Sophomore forward Rebecca Russo (Westport, Conn.) (5a) and senior forward Rebecca Leslie (Ottawa, Ont.) (2g, 3a) each recorded five points against Yale. Goaltender Erin O'Neil (Minnetonka, Minn.) denied 29 of 30 shots.

No. 8 Northeastern vs. Maine - Fri. 11/6 at Maine
- The Northeastern Huskies continue to climb the ladder in the national polls and are now ranked eighth in the country after defeating conference foe Merrimack last weekend, 5-1.
- Three of Northeastern's goals came from senior captain Kendall Coyne (Palos Heights, Ill.). Coyne recorded her ninth career hat trick and added an assist for a four point game against the Warriors. Coyne was named Warrior Player of the Week for her second consecutive week for her efforts and claimed Warrior Player of the Month after leading the NCAA with 15 goals and 25 points in September and October. She will represent Team USA this week at the Four Nations Cup in Sundsvall, Sweden.

UConn vs. Merrimack/vs. New Hampshire - Sat. 11/7, Sun. 11/8 at UConn
- Elaine Chuli (Waterford, Ontario) recorded a historic performance in two games last weekend. Chuli had a record- setting outing, stopping a UConn record 59 shots Friday night and before turning aside 41 Saturday for a two game total of 100 stops. Chuli was named Hockey East Defensive Player of the Week.
- This weekend, the Huskies take on Merrimack for the first time in program history before squaring off with long time opponent UNH. UConn carries a 2-3-1 record against UNH in the past two seasons.
- The lone Merrimack goal last weekend came of the stick of freshman forward Paige Voight (St. Michael, Minn.). Voight was assisted by freshman defender Paige Sorensen (Plymouth, Minn.). Voight leads the Warrior squad with nine points (4g, 5a) and 30 shots on goal.
- Merrimack will be without the services of two coaches this weekend, as Kacey Bellamy and Zoe Hickel will skate for the U.S. Women's National Team at the Four Nations Cup alongside Coyne.

Maine vs. No. 8 Northeastern/vs. Dartmouth- Fri. 11/6 at Maine, Tues. 11/10 at Dartmouth
- Maine freshman defenseman Alyson Matteau (Mirabel, Qué.) netted the overtime game-winning goal against Providence in a 2-1 Black Bears win last Friday. Matteau finished the weekend with three points (1g, 2a) and earned her first career Hockey East honor as she was named Pro Ambitions Rookie of the Week.
- Forwards Audra Richards (Maplewood, Minn.) and Brooke Stacey (Kahnawake, Qué.) recorded two points each over the weekend, helping Maine to a two-game split with Providence and Vermont. Richards assisted on two goals, including Matteau's game-winning goal in overtime Friday.
- Head coach Richard Reichenbach and the Maine Black Bears take on No. 8 Northeastern at home before hitting the road to face ECAC foe Dartmouth. Maine had a 2-1-0 record against Northeastern last season, but has not faced Dartmouth since December 9, 2012.

New Hampshire vs. Providence/vs. UConn - Sat. 11/7 at Providence, Sun. 11/8 at UConn
- Head coach Hilary Witt and the New Hampshire Wildcats earned their first victory of the season last weekend, a 4-0 shutout against Hockey East opponent Vermont.
- Senior goaltender Vilma Vaattovaara (Veikkola, Finland) stopped all 18 shots and earned ARMY ROTC first star of the game. The second star went to sophomore forward Cassandra Vilgrain (Calgary, Alberta) who assisted twice. Jonna Curtis (Elk River, Mich.) led the Wildcats in points for the weekend; she had a three point game (1g, 2a) at BU.
- All four goals in Friday's victory came from different Wildcats: Kaylee Forester (Zimmerman, Minn.), Carlee Toews (Grand Prairie, Alberta), Sara Carlson (Hutchinson, Minn.), and Devan Taylor (North Billerica, Mass.).
- The Providence Friars pushed league rival Maine to overtime last Friday, ultimately suffering a 2-1 setback.
- Junior forward Cassidy Carels (Bruxelles, Manitoba) scored for the Friars and was assisted by junior defenseman Kendra Goodrich (Apple Valley, Minn.). It was Goodrich's first point of the season and Carels's first goal of the season.