Weekly Release: Coyne Nets Ninth Career Hat Trick; BC Continues Streak
Maine Downs PC in Overtime; Vermont Splits Weekend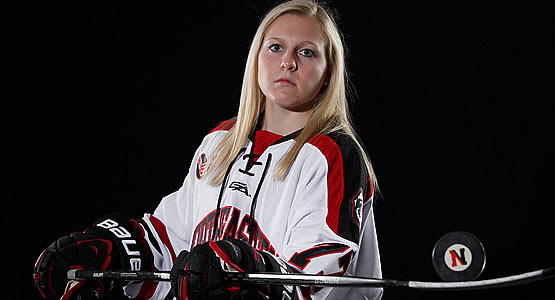 Warrior Hockey Player of the Week Kendall Coyne of Northeastern
AROUND HOCKEY EAST: No. 2 Boston College continued its hot start with two league wins over UConn. The Eagles have not yet allowed a goal in Hockey East play this season, thanks in large part to the play of sophomore netminder Katie Burt (Lynn, Mass.), who is riding a three-game shutout streak. Boston College is now 10-0-0 overall, it's best start in program history. In that two-game series with BC, UConn senior goaltender Elaine Chuli (Waterford, Ont.) stopped 100 total shots from the Eagles' attack. She made 59 saves Friday, breaking a UConn program record that she set herself last season. She followed that performance with 41 saves Saturday for her fourth 40+ save performance of the year ... No. 9 Northeastern won its lone game of the weekend, downing league foe Merrimack, 5-1. Led by senior forward Kendall Coyne (Palos Heights, Ill.), who scored four points (3g, 1a) in the contest, the Huskies improved to 7-1-1 on the year and remained unbeaten in league play ... New Hampshire junior forward Jonna Curtis (Elk River, Minn.) continued her impressive start, registering four points (1g, 3a) in two games against Vermont and Boston University. Curtis is riding a four-game point streak for the Wildcats. Senior goaltender Vilma Vaattovaara (Veikkola, Finland) secured her first shutout of the year in Friday's 4-0 win over Vermont, while three Wildcats scored their first career goals in that game: Kaylee Foster (Zimmerman, Minn.), Carlee Toews (Grand Prairie, Ab.), and Devan Taylor (North Billerica, Mass.) ... Maine scored an OT win over Providence Friday by way of rookie defenseman Alyson Matteau (Mirabel, Que.) and her game-winning strike. She added two assists on the weekend, setting up both Black Bears' goals Sunday ... Boston University tacked on a Hockey East win over New Hampshire after erasing a 3-2 deficit to record a 5-3 win Sunday. Sophomore forward Victoria Bach (Milton, Ont.) matched a career high three points (1g, 2a) and scored the game-winning strike. Freshman forward Sammy Davis (Pembroke, Mass.) potted two goals in the game while senior defenseman Lillian Ribeirinha-Braga (Winchester, Mass.) picked up a career high three assists to help lead the Terriers to the win.
---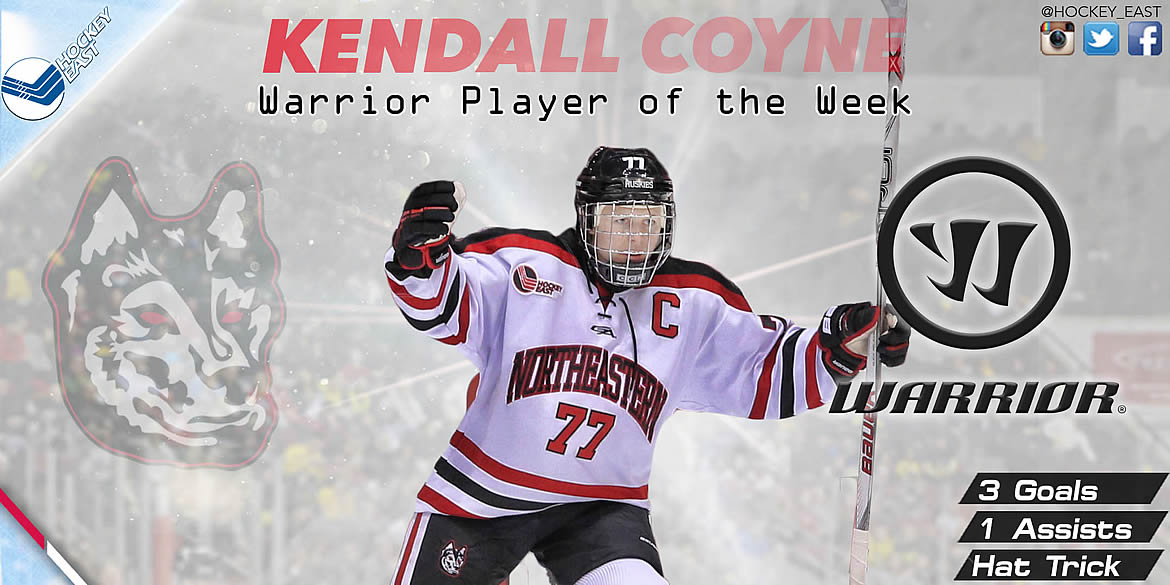 Kendall Coyne - Northeastern

Coyne picked up the ninth hat trick of her career and the seventh multi-point outing of the season in a 5-1 win over Merrimack Friday. Coyne currently leads the nation in goals (15) and points (24) while firing an NCAA-high 77 shots on net in nine games played. She is currently skating with Team USA at the Four Nations Cup.
---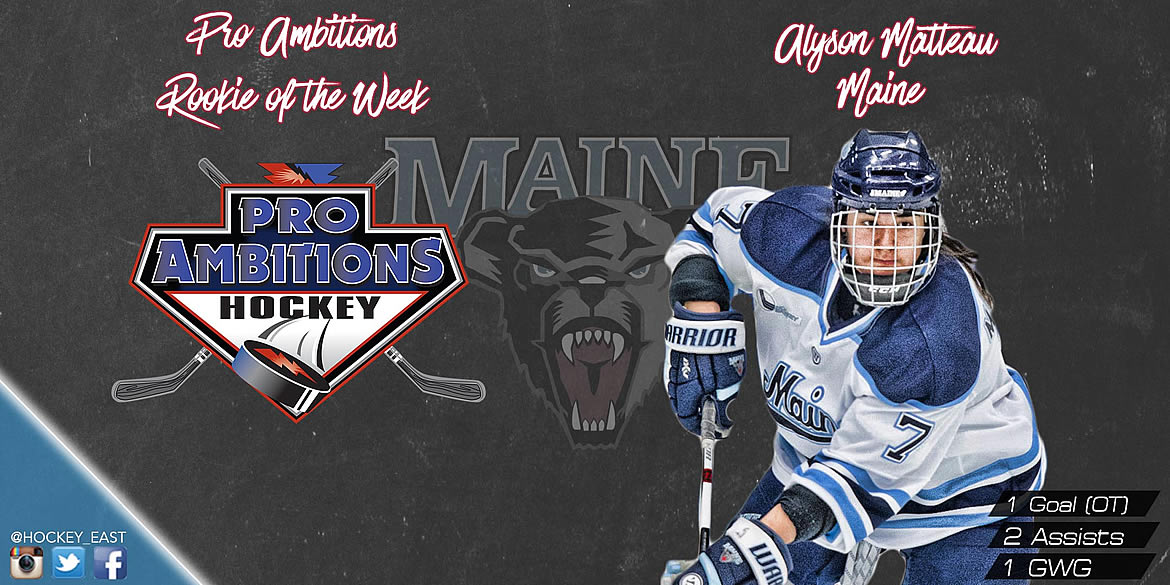 Alyson Matteau - Maine

Matteau registered three points (1g, 2a) in a weekend that saw Maine take two out of four league points from conference foes. Her game-winning strike captured the overtime win for the Black Bears Friday against Providence while she assisted on each of Maine's tallies Sunday at Vermont.
---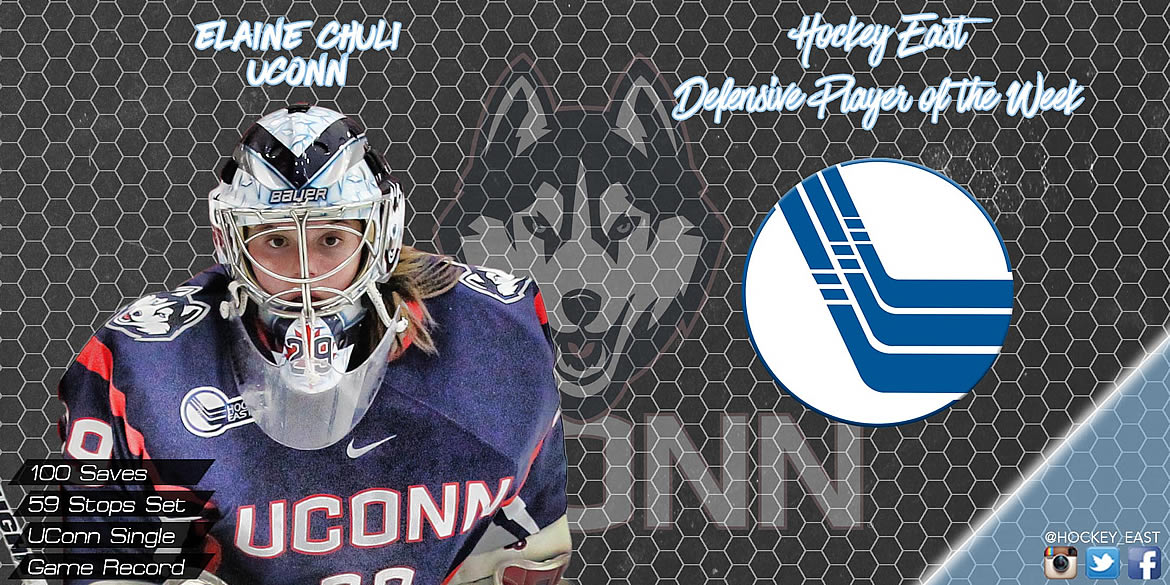 Elaine Chuli - UConn

Chuli turned in a record-setting performance at No. 2 Boston College Friday and Saturday, kicking out a total of 100 shots for the Huskies. Friday's contest saw Chuli turn aside 59 shots to set a UConn program record before she followed up with 41 saves Saturday for her fourth 40+ save performance of the year.
---
HOCKEY EAST WEEKLY TOP PERFORMERS
Haley Skarupa, BC (Sr., F; Rockville, Md.) Registered four points (2g, 2a) with a goal and assist in each of two wins over UConn.
Makenna Newkirk, BC (Fr., F; Scottsdale, Ariz.) Scored the game-winning strike on the power play in Friday's 4-0 victory.
Katie Burt, BC (So., G; Lynn, Mass.) Posted back-to-back shutouts in a home-and-home series with UConn, stopping 26 shots.
Victoria Bach, BU (So., F; Milton, Ont.) Matched her career high three points (1g ,2a) and scored the game-winner in a 5-3 win Sunday.
Sammy Davis, BU (Fr., F; Pembroke, Mass.) Scored two goals during a three-goal rally to down UNH, 5-3, on the road Sunday.
Lillian Ribeirinha-Braga, BU (Sr., D; Winchester, Mass.) Tallied three assists Sunday to help the Terriers past UNH, 5-3.
Meghann Treacy, ME (Sr., G; Lake Peekskill, N.Y.) Picked up her fifth win of the year at PC, stopping 28 of 29 shots, and 59 on the weekend.
Jonna Curtis, UNH (Jr., F; Elk River, Minn.) Scored a goal and chipped in three assists in two games to extend her point streak to four games.
Brittany Bugalski, NU (Fr., G; Boynton Beach, Fla.) Stopped 21 of 22 shots at MC and has now won each of her last five starts.
---