Thursday, November 26, 2015
Women's Hockey East Weekend Preview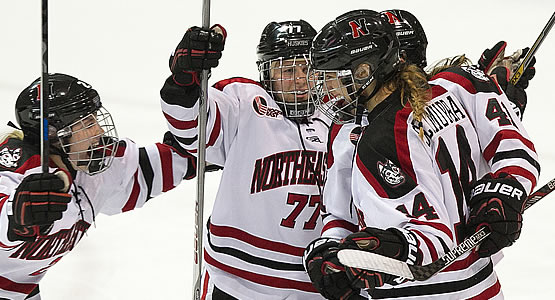 #4 Northeastern hosts Second-Ranked Boston College on Saturday at Matthews Arena
No. 2 Boston College vs. No. 4 Northeastern - Sat. 11/28 at NU
- Boston College sophomore Tori Sullivan (West Bloomfield, Mich.) and Hockey East Defensive Player of the Week Kaliya Johnson (Chandler, Ariz.) led the Eagles to a 4-2 victory over then-No. 5 Northeastern. Sullivan tallied three points (2g, 1a) while Johnson netted the game-winning goal and helped limit the Huskies to 24 shots on goal.
- In Wednesday's commanding 9-1 victory over Providence, ARMY ROTC Three Stars were awarded to Haley Skarupa (Rockville, Md.) (3g, 2a), Alex Carpenter (North Reading, Mass.) (1g, 3a), and Kenzie Kent (Norwell, Mass.) (1g, 2a).
- Skarupa recorded her fifth career hat trick and Kent reached the 50 career-point milestone in the game against Providence.
- Northeastern captain Kendall Coyne (Palos Heights, Ill.) became Hockey East's leading career goal scorer with her 72nd career strike in Saturday's 5-2 victory over Vermont. Coyne is in striking distance of the all-time Hockey East points record. She lies three points away from tying and four points away from breaking former BC Eagle Kelli Stack's record of 133 points.
- Three Huskies tallied three points this week: Coyne (3g), Shelby Herrington (Bow, NH) (1g, 2a), and Denisa Krížová (Horni Cerekev, Czech.) (3a).

Boston University vs. Cornell/vs. Ohio State - Sat. 11/28, Sun. 11/29 at Vermont (Windjammer Classic)
- Warrior Hockey East Co-Players of the Week Victoria Bach (Milton, Ont.) and Sarah Lefort (Ormstown, Qué.) led the Boston University Terriers to their fourth consecutive win last weekend. Bach recorded her first career hat trick, including the game-winning goal, in Friday's 5-1 victory over Merrimack. Lefort tallied six assists in two games, three helpers in each tilt.
- Senior forward Kayla Tutino (Lorraine, Qué.) had four points (1g, 3a) in the two games over Merrimack. Tutino recorded the game-winning assist on both Friday and Saturday.
- BU has not faced Ohio State since October 2009. In the series six years ago, the Terriers tied the Buckeyes 1-1 and 4-4.

UConn vs. No. 5 Quinnipiac/vs. TBD - Fri. 11/27, Sat. 11/28 at Yale (Nutmeg Classic)
- The UConn Huskies picked up two wins against conference foes Vermont and Maine. UConn now sits in a five-way tie for fourth in the Hockey East standings after improving to a 3-4-0 record in conference play.
- Goaltender Elaine Chuli (Waterford, Ont.) stopped all 38 shots and recorded her third shut out of the season in Saturday's 2-0 victory against Maine. Chuli has a .954 conference save percentage, good for second in the league.
- Sophomores Leah Lum (Richmond, B.C.) and Justine Fredette (Winnipeg, Man.) recorded three points apiece in two games (2g, 1a). Fredette scored the game-winning goal on Friday before Lum followed on Sunday with the game-winning assist.
- UConn has placed third at the Nutmeg Classic for the past five years and last won the tournament six years ago in 2009.

Merrimack vs. Yale/vs. TBD - Fri. 11/27, Sat. 11/28 at Yale (Nutmeg Classic)
- Merrimack Warrior defenseman Paige Sorenson (Plymouth, Minn.) led her squad in points with a weekend total of two assists in a pair of contests against Boston University last weekend.
- ARMY ROTC third star of the game Kate Kowalchuk (Chestermere, Alb.) stopped 45 shots from Boston University on Friday, but was ultimately edged out, 5-1.
- This weekend marks the first time participating in the Nutmeg Classic for the Warriors and the first time they compete against Yale in program history.

Maine vs. Robert Morris - Fri. 11/27, Sat. 11/28 at Robert Morris
- Maine leaves conference play for a pair of games at Robert Morris. Since 2010, Maine has a 2-2-1 record against RMU.
- Senior forward Audra Richards (Maplewood, Minn.) leads the Black Bears with 12 points (8g, 4a) while rookie Allyson Matteau (Mirabel, Que.) paces the Black Bear freshmen and defensemen with six points (3g, 3a).

New Hampshire vs. RPI - Fri. 11/27, Sat. 11/28 at RPI
- New Hampshire is coming off a weekend split with Providence, capturing a 3-2 victory before dropping a 4-1 decision at New Hampshire.
- Senior Sara Carlson (Hutchinson, Minn.) tallied two assists on Saturday while sophomore Amy Boucher (Edmonton, Alb.) netted up two goals in the same game. Boucher was named ARMY ROTC first star of the game.
- The Wildcats have seen RPI twice in the last five years and have won both games by one-goal margins. On October 15, 2010 UNH won, 4-3, and on October 17, 2014 UNH claimed a 2-1 victory.

Providence vs. Brown (Mayor's Cup)/vs. Union - Sat. 11/28, Tues. 12/1 at Providence
- Pro Ambitions Rookie of the Week Christina Putigna (Grimsby, Ont.) recorded three points (1g, 2a) in two games for the Friars, including her second goal of the season. In Sunday's 4-1 victory, Putigna earned ARMY ROTC first star of the game. She then added an assist against No. 2 BC on Wednesday on the only Providence goal of the contest.
- Brooke Boquist (Thunder Bay, Ont.) netted both goals in Saturday's 3-2 loss at UNH and finishing the week with four points (3g, 1a) in three games. Boquist leads the Friars with 11 points on the year (8g, 3a).
- Three Friars recorded two points in as many games last weekend: Kate Friesen (Altona, Man.) (1g, 1a), Danielle Hardy (Nananamo, B.C.) (2a), and Madison Sanasone (Lockport, N.Y.) (1g, 1a). Friesen scored the game-winning goal on Sunday.

Vermont vs. Ohio State/vs. Cornell - Sat. 11/28, Sun. 11/29 at Vermont (Windjammer Classic)
- Senior forward Dayna Colang (Fairbanks, Alaska) leads Vermont in scoring with five goals and give assists, including nine points in eight Hockey East tilts.
- The Catamounts host the inaugural Windjammer Classic this weekend. They have a not faced Cornell since 2008 and hold an all-time record of 1-11-1 against the Big Red. Vermont has never faced Ohio State since the program moved into Div. 1 in 2005-06.