Thursday, November 19, 2015
Women's Hockey East Weekend Preview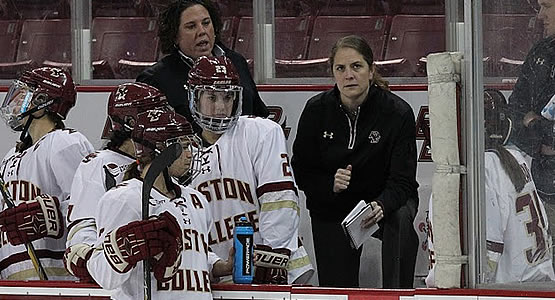 Boston College hosts Northeastern in a Top-Five matchup on Friday at Kelley Rink
No. 2 Boston College vs. No. 5 Northeastern/vs. Providence - Fri. 11/20, Wed. 11/25 at BC
- Hockey East Defensive Player of the Week Katie Burt (Lynn, Mass.) picked up her sixth shutout of the season in a 3-0 victory against New Hampshire. Burt leads Hockey East goaltenders with four goals against, a 0.57 GAA, and a .973 save percentage.
- Alex Carpenter (North Reading, Mass.) is in reach of three Hockey East scoring records. She needs nine goals, 16 assists, and 11 points to bypass Jenn Wakefield, Sam Faber, and Kelli Stack respectively.
- Haley Skarupa (Rockville, Md.) and Dana Trivigno (Setauket, NY.) reached milestones last weekend. Trivigno reached 100 career points in Tuesday's 4-3 overtime win against BU. In the same game, Skarupa tallied her 100th career assist. Skarupa scored four points (3g, 1a) in the sweep against UNH including the game-winning goal on Friday.
- The Eagles and Huskies have a combined record of 24-1-1. BC has not lost to Providence since February 4, 2012.

No. 5 Northeastern vs. No. 2 BC/vs. Vermont/vs. No. T8/9 Harvard - Fri. 11/20 at BC, Sat. 11/21 at NU, Tues. 11/24 at Harvard
- Forward Kasidy Anderson (Shaker Heights, Ohio) was named Pro Ambitions Rookie of the Week after she scored three points (2g, 1a) in a sweep against Merrimack.
- Kendall Coyne (Palos Heights, Ill.) continues to shine for the Huskies, as she picked up her 10th career hat trick on Friday. She extended her scoring streak to 11 games and she now stands only three goals, 16 assists, and seven points from breaking each of the all-time Hockey East career scoring records.
- Netminder Brittany Bugalski (Boynton Beach, Fla.) and forward Haley Scamurra (Williamsville, N.Y.) stood out for the Huskies. Bugalski picked up her second shutout of the season, extending her win streak to eight games, and Scamurra assisted on four goals in two games.

Boston University vs. Merrimack - Fri. 11/20 at Merrimack, Sat. 11/21 at BU
- BU sophomore Maddie Elia (Lewiston, N.Y.) scored the game-winning goal in Saturday's 5-3 victory and solidified the victory with an empty net goal. Sunday's 3-2 game-winning goal was scored by Sarah Lefort (Ormstown, Qué.) who had a three-goal weekend.
- Rebecca Leslie (Ottawa, Ont.) assisted on Lefort's game-winning goal and she also had the game-winning helper on Saturday. Leslie leads the Terriers with 20 points and is tied for second in the NCAA with 16 assists.
- Goaltenders Victoria Hanson (Stoughton, Mass.) and Erin O'Neil (Minnetonka, Minn.) split games against Maine and each picked up a win. Hanson had 30 saves and a .909 save percentage while O'Neil had 29 saves and a .935 save percentage.
- Merrimack freshmen Baye Flanagan (Billerica, Mass.) and Allison Sexton (Stonewall, Man.) scored their first career goals in Friday's 8-3 deficit. Sexton picked up an assist in the same evening and was named Army ROTC third star of the game.

UConn vs. Vermont/vs. Maine - Fri. 11/20 at UConn, Sun. 11/22 at Maine
- The UConn Huskies played No. 4 Clarkson tightly last weekend, but fell short in both games with scores of 3-1 and 3-2. Freshman forward Jordy Zacharias (Winnipeg, Man.) contributed to all three goals for the Huskies (2g, 1a)
- Senior goaltender Elaine Chuli (Waterford, Ont.) denied 95 of 101 Clarkson shots in two games. Chuli is ranked third amongst Hockey East goaltenders with a .944 save percentage.
- In the last two seasons, UConn has a 3-3-0 record against Vermont and a 4-2-2 record against Maine.
- Maine senior forward Audra Richards (Maplewood, Minn.) was named Warrior Player of the Week for the second time this season. She scored five points (4g, 1a) in three games, including the game-winning goal against Dartmouth Tuesday night. Richards now has a three-game point streak and leads the Black Bear squad with 12 points (8g, 4a) and 50 shots on goal.
- Junior goaltender Mariah Fujimagari (Markham, Ont.) picked up her second win of the season in the 4-1 victory against Dartmouth. Fujimagari denied 26 of 27 shots.

Providence vs. New Hampshire/vs. No. 2 Boston College - Sat. 11/21, Sun. 11/22 at UNH, Wed. 11/25 at BC
- Providence forward Madison Sansone (Lockport, N.Y.) picked up two goals in each game of a weekend split with Vermont. Sansone leads the Friars with seven goals on the season. Goaltender Alanna Serviss (Chicago, Ill.) picked up her first victory of the season and made 22 saves in Friday's 4-1 win.
- Three Friar forwards scored three points in two games: Brooke Boquist (Thunder Bay, Ont.) (2g, 1a), Cassidy Carels (Bruxelles, Man.) (3a), and Christina Putigna (Grimsby, Ont.) (3a).
- Junior defenseman Lauren Klein (Shoreview, Minn.) tallied her first point of the season (1a).
- New Hampshire sophomore Amy Boucher (Edmonton, Alb.) scored the lone goal for the Wildcats against Boston College. The last time UNH competed against Providence (Nov. 7), Boucher scored two of the four Wildcat goals.

Vermont vs. UConn/vs. No. 5 Northeastern - Fri. 11/20 at UConn, Sat. 11/21 at NU
-Senior forward Dayna Colang (Fairbanks, Alaska) led the Vermont Catamounts with four points (1g, 3a) in last weekend's split against Providence.
- Recording two points apiece for the Catamounts were freshman forward Alyssa Gorecki (Monee, Ill.) (1g, 1a) and sophomore defenseman Taylor Willard (Naperville, Ill.) (1g, 1a). Willard's goal was the game-winning tally in Saturday's 4-3 outing. The goal came on the power play with just four seconds remaining in regulation.
- In the last three seasons, Vermont has a 6-3-0 record against UConn and a 1-8-1 record against Northeastern.