Monday, November 16, 2015
Weekly Release: Coyne, Carpenter Near Career Records; BC Pair Reaches Milestones
Eagles Continue to Roll; UConn's Chuli Stops 95 Shots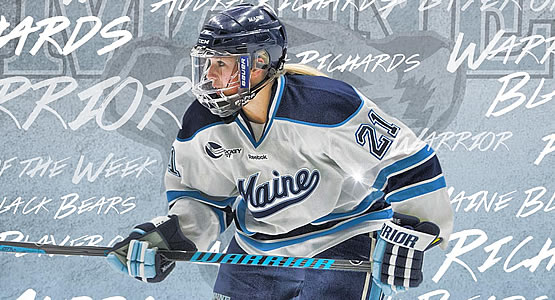 Warrior Hockey Player of the Week Audra Richards of Maine
AROUND HOCKEY EAST: Warrior Hockey East Player of the Month Kendall Coyne (Palos Heights, Ill.) recorded the 10th hat trick of her career en route to a six point (3g, 3a) weekend in two victories over Merrimack. Coyne now sits within striking distance of several all-time Hockey East career scoring records. She currently has 69 goals and 58 assists for 127 points in Hockey East play, putting her just three goals, 16 assists and seven points away from breaking the current marks held by Jenn Wakefield (71 career goals), Sam Faber (73 career assists) and Kelli Stack (133 career points). NU goaltender Brittany Bugalski (Boynton Beach, Fla.) extended her win streak to eight games and posted her second shutout of the season on Saturday ... No. 2 Boston College picked up three more victories, including an overtime win against Boston University. Like Coyne, Alex Carpenter (North Reading, Mass.) nears the all-time Hockey East marks, currently sitting nine goals, 14 assists and 11 points away from first place. Dana Trivigno (Setauket, N.Y.) reached the 100 career point milestone Tuesday's over BU. On the same night, Haley Skarupa (Rockville, Md.) registered her 100th career assist. Hockey East Defensive Player of the Week Katie Burt (Lynn, Mass.) added two wins to her record, including a 24-save shutout against New Hampshire ... The Boston University Terriers are the only team to force the undefeated Eagles to overtime and the only team to score a power-play goal against the Eagles. Rebecca Leslie (Ottawa, Ont.) recorded five assists in three games for BU, two of which were game-winning assists. Leslie is tied for second in the NCAA with 16 assists ... UConn played No.5/4 Clarkson tightly, but were edged out by the Golden Knights in a two-game set. Netminder Elaine Chuli (Waterford, Ont.) denied 95 of 101 shots in two games. Chuli is third among Hockey East goalies with a .944 save percentage ... Maine senior forward Audra Richards (Maplewood, Minn.) posted five points (4g,1a) in three games, including the game-winning goal at Dartmouth ... Merrimack freshman Baye Flanagan (Billerica, Mass.) netted her first career goal in the 8-3 loss to No. 7 Northeastern ... The lone New Hampshire goal of the weekend came from sophomore Amy Boucher (Edmonton, Alb.) ... In the Providence and Vermont weekend split, the Friars' Madison Sansone (Lockport, N.Y.) recorded two goals in each game ... Vermont sophomore defenseman Taylor Willard (Naperville, Ill.) netted the game-winning goal on the power play in Saturday's 4-3 victory over Providence. The goal came with just four seconds remaining in regulation.
---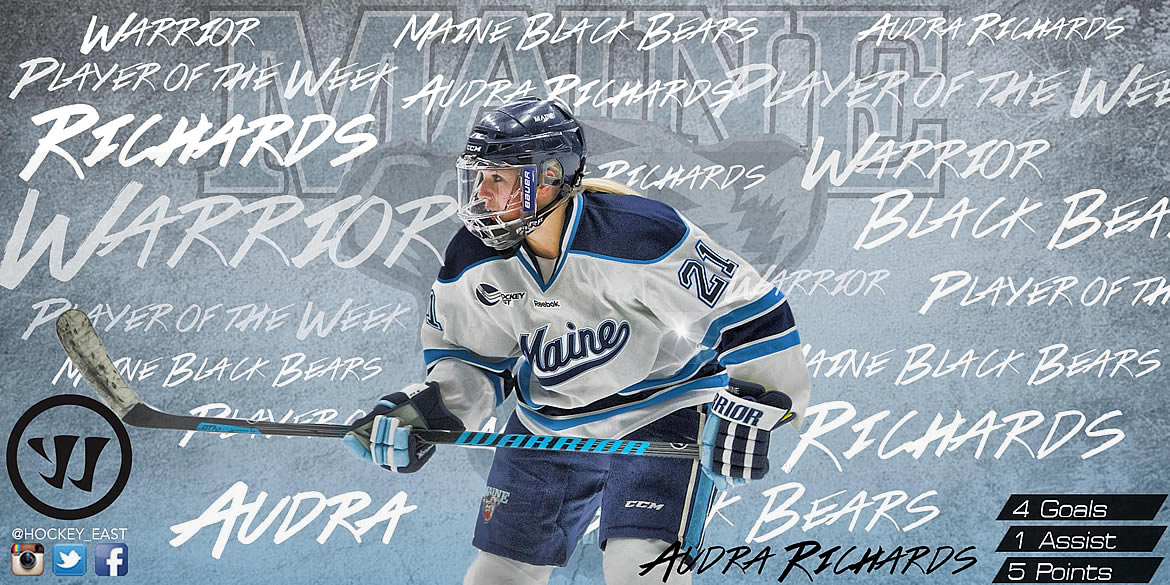 Audra Richards - Maine

Richards continued to spark the Maine Black Bears offense, pouring in four goals and adding an assist in three games last week. She twice turned in two-goal performances, including netting a pair and the game-winner in a 4-1 road win at Dartmouth, snapping a three game unbeaten streak for the Big Green. She then picked up two more tallies and an assist in two games against Boston University to string together a three-game point streak.
---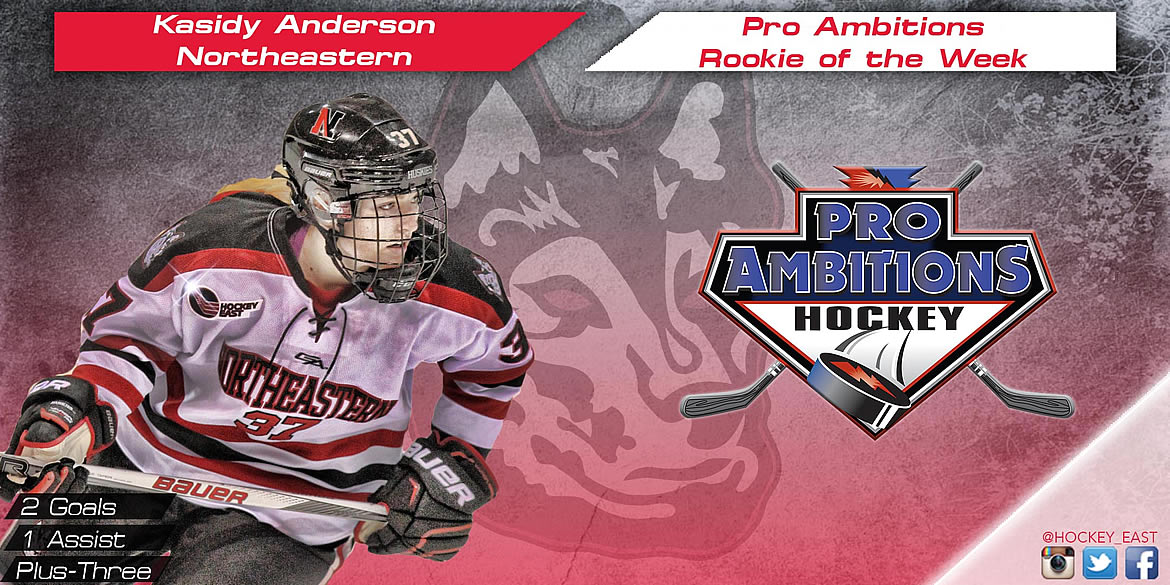 Kasidy Anderson - Northeastern

Anderson posted two goals and an assist over the weekend to help No. 7 Northeastern to a twogame sweep over league rival Merrimack. The freshman scored her second goal of the season in Friday's 8-3 win, before posting a goal and an assist in Saturday's 6-0 triumph. The Shaker Heights, Ohio native collected a plus-three rating in the two tilts.
---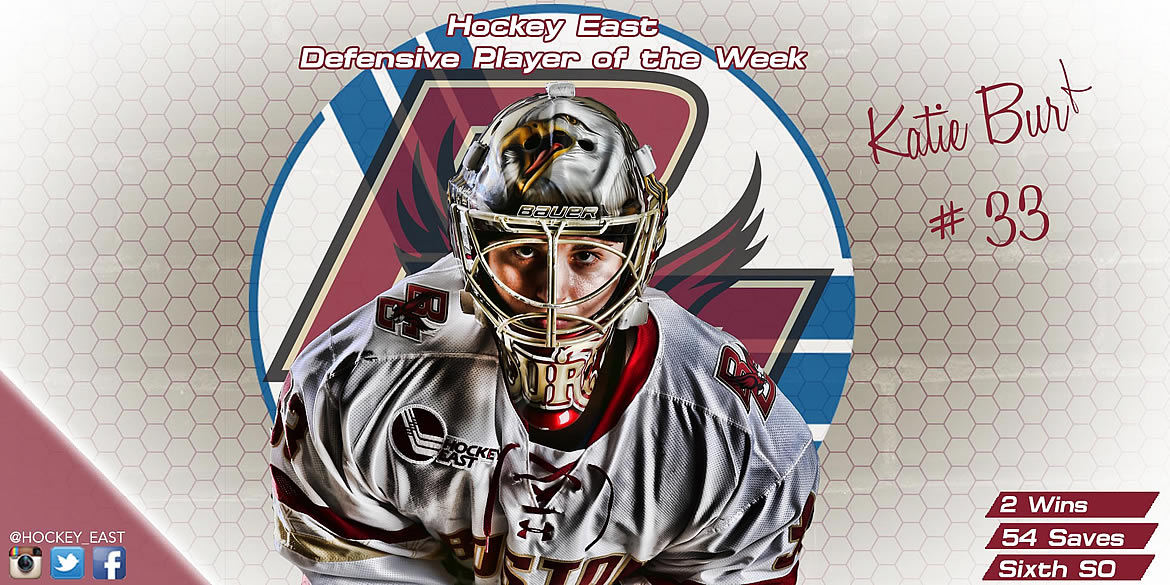 Katie Burt - Boston College

Burt continued her stellar sophomore campaign, collecting two more wins over league foes. She stopped 54 saves in the pair of appearances, including a 30-stop outing to backstop the Eagles to a 4-3 overtime victory against BU. Saturday afternoon, Burt stopped all 24 shots she faced and also assisted on the game-winning goal to push BC past UNH. It was her sixth shutout of the season.
---
HOCKEY EAST WEEKLY TOP PERFORMERS
Haley Skarupa, BC (Sr., F; Rockville, Md.) Helped the Eagles to a 3-0 mark in league play with six points (3g, 3a).
Makenna Newkirk, BC (Fr., F; Scottsdale, Ariz.) Dished out four assists in three games, including three helpers Friday against UNH.
Rebecca Leslie, BU (So., F; Ottawa, Ont.) Registered a point in all three BU games this week to total five assists, including chipping in on each game-winning goal over Maine.
Sammy Davis, BU (Fr., F; Pembroke, Mass.) Picked up three helpers in three games, dishing out two assists in a 3-2 win over Maine Sunday.
Erin O'Neil, BU (So., G: Minnetonka, Minn.) Stopped 29 shots Sunday to backstop the Terriers to a 3-2 win over Maine.
Kendall Coyne, NU (Sr., F; Palos Heights, Ill.) Collected six points (3g, 3a) in two tilts with Merrimack, including her 10th career hat trick Friday night.
Heather Mottau, NU (Jr., D; Milton, Mass.) Scored the game-winning goal and assisted on another in an 8-3 win Friday at Merrimack.
Madison Sansone, PC (So., F; Lockport, N.Y.) Netted four goals in a two-game split at Vermont including short-handed and power-play strikes.
Christina Putigna, PC (Fr., F; Grimsby, Ont.) Registered three assists for the Friars in a two-game split at Vermont and has six points in her last three games.
Lexi Romanchuk, PC (Sr., D; San Jose, Calif.) Picked up four helpers, two in each game, at Vermont and now has five points in her last three contests.
---