Thursday, November 12, 2015
Women's Hockey East Weekend Preview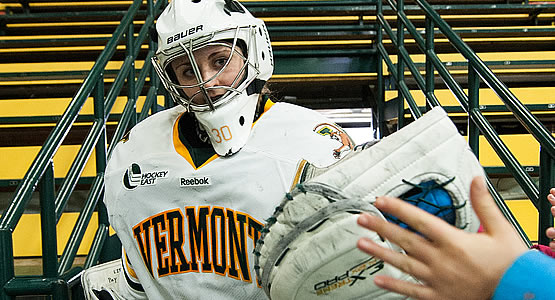 Vermont hosts a pair of games against Providence College this weekend
UNH vs. No. 2 Boston College/vs. No. 9 Harvard - Fri. 11/13 at BC, Sat. 11/14 at UNH, Tues. 11/18 at Harvard
- New Hampshire netminder Kyra Smith (Littleton, Colo.) recorded her first collegiate victory last weekend against UConn, denying 21 of 22 shots and all five UConn power play chances. For her efforts, she received her first collegiate honor and was named Hockey East Defensive Player of the Week.
- Junior forward Jonna Curtis (Elk River, Minn.) led the Wildcats with three points in two games (3a), extending her point streak to six contests. Sophomore forward Amy Boucher (Edmonton, Alb.) netted two goals in Saturday's 5-4 loss to Providence.
- The Wildcats take on two ranked opponents this weekend: No. 2 Boston College (12-0-0) and No. 9 Harvard (3-1-1).
- Warrior Co-Player of the Week Alex Carpenter (North Reading, Mass.) recorded seven points in two games, including the overtime game-winning goal on Tuesday against BU. Carpenter broke a BC record when she tallied her 113th assist in the series against BU, a record previously held by former Eagle Kelli Stack (111 assists).
- Pro Ambitions Rookie of the Week Makenna Newkirk (Scottsdale, Ariz.) netted her first career hat trick to lead the Eagles to an 8-1 victory in the first BU matchup. Newkirk added an assist on Tuesday for a series total of four points (3g, 1a). Newkirk leads all NCAA freshmen with nine goals and is tops among Hockey East rookies with 15 points (9g, 6a).
- Seniors Lexi Bender (Snohomish, Wash.) (1g, 3a) and Dana Trivigno (Setauket, N.Y.) (1g, 3a) recorded four points apiece in the two-game stretch, while sophomore goaltender Katie Burt (Lynn, Mass.) picked up back-to-back wins. Burt leads Hockey East with a 0.66 GAA and an undefeated record at 6-0-0.

No. 7 Northeastern vs. Merrimack - Fri. 11/13 at MC, Sat. 11/14 at NU
- Junior forward Hayley Scamurra (Williamsville, N.Y.) recorded two assists against Maine in a 3-1 Huskies victory to record her fifth multi-point game in her last six outings.
- Sophomore forward Ainsley MacMillan (Ilderton, Ont.) netted her first collegiate game-winning goal while rookie netminder Brittany Bugalski (Boynton Beach, Fla.) extended her win streak to six games. Bugalski leads Hockey East goaltenders with a .970 save percentage, allowing just three goals on 99 shots.
- In the last Northeastern vs. Merrimack matchup on Oct. 30, NU claimed a 5-1 win led by senior captain and Warrior Hockey East Player of the Month, Kendall Coyne (Palos Heights, Ill.) who recorded her ninth career hat trick and one assist. Coyne returns to Hockey East play after winning the Four Nations Cup with the U.S. Women's National Team last weekend.
- Merrimack fought UConn to the buzzer Saturday, but ultimately fell 1-0. Goaltender Samantha Ridgewell (Outlook, Sask.) denied 33 of 34 shots to push her in-conference save percentage to .927, good for fifth in Hockey East.
- Paige Voight (St. Michael, Minn.) recorded the lone goal for Merrimack the last time her squad faced Northeastern on Oct. 30. She leads the team with nine points (4g, 5a).

UConn vs. No. 5 Clarkson - Fri. 11/13, Sat. 11/15 at Clarkson
- UConn split last weekend with league rivals New Hampshire and Merrimack. Senior forward Brittany Berisoff (Kelowna, B.C.) picked up the game-winning goal against MC Nov. 7, her fifth goal of the season. Sophomore defenseman Leah Lum (Richmond, B.C.) assisted on the play. Marisa Maccario (Marblehead, Mass.) scored the lone UConn goal in Saturday's loss to New Hampshire, assisted by freshman forward Jordy Zacharias (Winnipeg, Man.).
- Goaltender Elaine Chuli (Waterford, Ont.) picked up her fifth career shutout by denying all 23 Merrimack shots .
- The Huskies face tough ECAC foe No. 5 Clarkson, who has an 11-1-2 record this season, including a 6-0-0 mark against Hockey East opponents.

Maine vs. Boston University/vs. Dartmouth - Sat. 11/14, Sun. 11/15 at BU, Tues. 11/18 at Dartmouth
- Maine forward Brooke Stacey (Kahnawake, Qué.) saw her point streak snapped at six games after recording the lone goal against Northeastern in a 3-1 set back, but failing to see the score sheet in a 4-1 Maine win at Dartmouth on Tuesday. Stacey is tied for the Black Bears scoring lead with Audra Richards (Maplewood, Minn.) with nine points (6g, 3a).
- Maine faces BU for the second time this season, looking to even the series at one game apiece after a 4-2 Terriers win on Oct. 4. Maine has not seen Dartmouth College since December 8-9, 2012, a two-game sweep for the Big Green.
- Three BU terriers recorded two points in the matchups against BC: Sammy Davis (Pembroke, Mass.) (1g, 1a), Rebecca Leslie (Ottawa, Ont.) (2a), and Rebecca Russo (Westport, Conn.) (1g, 1a).
- Netminder Victoria Hanson (Stoughton, Mass.) denied 39 of the 43 Eagle shots in Tuesday's 4-3 OT loss.

Providence vs. Vermont - Fri. 11/13, Sat. 11/14 at Vermont
- The Providence Friars won their first game of the season against New Hampshire last weekend, 5-4, to claim two points in the Hockey East standings.
- Sophomore forward Madison Sansone (Lockport, N.Y.) netted the game-tying and game-winning goals for the Friars with less than two minutes to play. Her clutch performance earned her the honor of Warrior Hockey East Co-Player of the Week. Sophomore forward Brooke Boquist (Thunder Bay, Ont.) also scored two goals for the Friars in the win.
- Leading the Friars with three points apiece on the weekend were Cassidy Carels (Bruxelles, Man.) (1g, 2a) and Christina Putigna (Grimsby, Ont.) (1g, 2a).
- Vermont has not lost to Providence since October 21, 2012 and is coming off a league win against Maine, 4-2, on Nov. 1. Four Catamounts had multi-point outings in that win, including Saana Valkama (Pirkkala, Finland), Dayna Colang (Fairbanks, Alaska), Amanda Drobot (Churchville, Pa.) and Taylor Willard (Naperville, Ill.).
- Vermont is in the middle of an eight-game stretch of Hockey East games, carrying a 2-2 record in those contests so far.