Thursday, October 8, 2015
Women's Hockey East Weekend Preview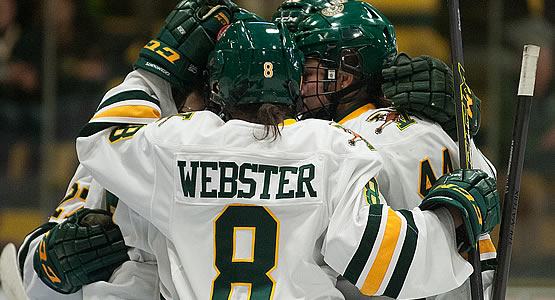 Vermont battles #5 Clarkson in a home-and-home series this weekend
No. 8. Boston University vs. Penn State University - Fri. 10/9, Sat. 10/10 at BU
- Terrier head coach Brian Durocher and his squad look for their third consecutive win this weekend as they face off against non-conference foe Penn State. BU and PSU have never competed against one another.
- BU looks to have another standout pair of games from reigning Hockey East Defensive Player of the Week Victoria Hanson and Pro Ambitions Rookie of the Week Sammy Davis. Hanson leads Hockey East with a 0.61 GAA and a .971 save percentage. Davis made quite the college hockey debut with three goals in two games, one of which was a game-winning goal against Maine. Senior forward Rebecca Russo also proved to be a standout player for the Terriers with her buzzer beater goal against UConn with 0.3 seconds remaining. She also netted the game-tying goal and assisted on Davis' game-winning strike.

Maine vs. No. 7. Quinnipiac - Friday 10/9, Sat. 10/10 at Maine
- The Maine Black Bears have a challenging weekend ahead as they host No. 7 Quinnipiac University. After last week's 4-0 shutout against New Hampshire, the Black Bears will look for leadership from senior forward Audra Richards who scored her first career hat trick in the 4-2 victory against New Hampshire last Friday.
- Black Bear senior goaltender Meghann Treacy recorded 29 saves en route to her 4-0 shutout victory at New Hampshire.

Vermont vs. No. 5 Clarkson - Fri. 10/9 at Vermont, Sat. 10/10 at Clarkson
- Head coach Jim Plumer and the Vermont Catamounts search for their first win of the season against No. 5 Clarkson. They were twice downed by No. 9 Bemidji State last weekend and they face an even bigger challenge this weekend with the No. 5 ranked and 2014 National Champions, Clarkson Golden Knights.
- The Catamounts will need the scoring punch of sophomore center Bridget Baker, who scored the only Catamount goal of the regular season and 2014-15 leading-scorer Dayna Colang. Without graduated offensive threat Amanda Pelkey, the Catamounts turn to rookie Alyssa Gorecki, who netted a preseason goal in the 2-1 exhibition loss to McGill University.

Merrimack vs. Robert Morris - Fri. 10/9, Sat. 10/10 at RMU
- Merrimack fans packed Lawler Rink for the first game in program history last Friday night, drawing 1,700 fans. This weekend, Merrimack heads west to face Roger Morris in the first road trip in school history.
- The Warriors have a young team consisting of 16 freshmen out of the 21 players. Paige Voight scored four points (1g, 3a) in her first two games.

New Hampshire vs. Lindenwood/vs. Syracuse - Fri. 10/9, Sat. 10/10 at UNH
-The Wildcats face two non-league opponents this weekend at the Whittemore Center searching for their first win of the year. UNH has an all-time record of 2-0-1 against Syracuse, while they have never faced Lindenwood.
- Despite a scoreless game for the Wildcats against Maine, junior forward Jonna Curtis earned the Army ROTC third star of the game. Curtis led her team in scoring last season with 22 points (13g, 2a).

No. 10 Northeastern vs. Syracuse/vs. Lindenwood - Fri. 10/9, Sat. 10/10 at Northeastern
- Northeastern is 1-0-1 this season. This year, the Huskies boast depth in both seasoned veterans and talented newcomers. Senior forward and U.S. Olympian Kendall Coyne leads the Huskies in scoring after a hat trick that led to a 9-5 victory against St. Lawrence. Coyne leads the Hockey East in overall scoring with a total of 5 points (4g, 1a).
- Complimenting the offensive threat of Coyne is new netminder Brittany Bugalski. The freshman has started both games of the season and has saved 60 of 67 shots. With a record of 1-0-1, Bugalski looks to defend her undefeated college record this weekend in a pair of home contests.

No. 2 Boston College vs. SLU - Sun. 10/11, Mon. 10/12 at BC
- Senior captain and 2015 Patty Kazmaier Award winner Alex Carpenter and her squad look to repeat last weekend's performance with another pair of wins at home. Carpenter recorded her sixth career hat trick against leads her team with 4 points (4g). Throughout her career at BC, Carpenter has scored 194 points, 94 of those points are goals.
- Backing up Carpenter is defensive powerhouse sophomore Megan Keller. Keller scored the first goal of last Saturday's game and holds a plus-two rating for the season. Sophomore goaltender Katie Burt stands between the pipes again this season for the Eagles, currently carrying a career record of 32-3-2.