Thursday, October 29, 2015
Women's Hockey East Weekend Preview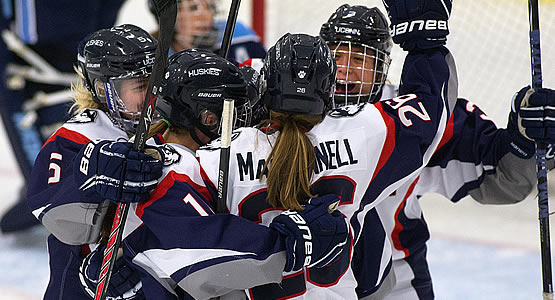 UConn will face-off against Boston College on Friday and Saturday
No. 2 Boston College vs. UConn - Fri. 10/30 at BC, Sat. 10/31 at UConn
- Boston College returns to Hockey East league play after two commanding victories over Cornell. The wins launched BC back to the No. 2 spot in the national polls and earned the Eagles their first first-place votes of the season.
- Alex Carpenter (North Reading, Mass.) earned her third title as Warrior Hockey East Player of the Week this season. She netted her 100th career goal this past weekend along with her third hat trick of the year. Carpenter also scored her 212th career point, setting the all-time Boston College scoring record, previously held by Kelli Stack (209 points).
- UConn senior goaltender Elaine Chuli (Waterford, Ont.) recorded her first shutout of the season Friday as she denied 28 shots to secure the 1-0 victory at Penn State. Sophomore defenseman Leah Lum (Richmond, B.C.) netted the game-winning goal.
- UConn senior forward Brittany Berisoff (Kelowna, B.C.) scored a goal and added an assist for the Huskies on the weekend, contributing to Lum's game-winning goal Saturday. Berisoff leads the Huskies with six points (4g, 2a).

No. 9 Northeastern vs. Merrimack - Fri. 10/30 at Merrimack
- The Northeastern Huskies travel to Lawler Rink for the first tilt with Merrimack in program history. The Huskies will be without senior captain Kendall Coyne (Palos Heights, Ill.) as she prepares for the Four Nations Cup (Nov. 4-8) with the U.S. National Women's Hockey Team in Sweden.
- Sophomore Denisa Krížová (Horni Cerekev, Czech Republic) earned recognition as Warrior Hockey East Player of the Week for the first time this season. Krížová recorded six points in two games (1g, 5a). Behind Coyne, Krížová ranks second on the Huskies with 17 points (5g, 12a) and a plus-16 rating.
- Freshman netminder Brittany Bugalski (Boynton Beach, Fla.) was named Pro Ambitions Rookie of the Week after recording her first career shutout against Providence Sunday. Bugalski stopped 42 of 43 shots for a .977 save percentage in two league games last weekend.
- Merrimack continues to earn points in its inaugural season, splitting a series with Colgate last weekend. The Warriors welcome No. 9 Northeastern to North Andover Friday for the first-ever meeting of the league rivals.
- Katelyn Rae (Courtice, Ont.) led the Warriors with three points against Colgate (2g, 1a). Junior forward Marie Delarbre (Fussen, Germany) followed with two goals, one of which was Saturday's game-winner in a 4-2 victory.
- Freshmen forwards Jessica Bonfe (Woodbury, Minn.) and Paige Voight (St. Michael, Minn.) each recorded two points on the weekend while freshman goaltender Samantha Ridgewell (Outlook, Sask.) stopped 47 of 49 shots to earn the win Saturday.

Boston University vs. New Hampshire/vs. Yale - Sun. 11/1 at UNH, Tues. 11/3 at BU
- Junior forward Maddie Elia (Lewiston, N.Y.) looks to lead the Boston Terriers to their fifth victory of the season and fourth victory in league play after a four-point weekend (2g, 2a) in two contests. Three of those points helped the Terriers to a 5-2 victory over Vermont and earned Elia the Army ROTC first star of the game.
- In the past two seasons, the Terriers have a 6-0-0 record against New Hampshire and a 1-0-1 record against Yale.

New Hampshire vs. Boston University/vs. Vermont - Fri. 10/30 at UVM, Tues. 11/3 at BU
- New Hampshire faces two Hockey East opponents this weekend, traveling to Vermont Friday before playing at Walter Brown Arena on Tuesday.
- Three of the six UNH Wildcat goals at No. 4 Clarkson last weekend came from scoring leader Jonna Curtis (Elk River, Minn.). Curtis recorded four points last weekend (3g, 1a) against a Golden Knights defense that had previously allowed just one goal per game. Curtis now has seven points this season.

Maine vs. Providence/vs. Vermont - Fri. 10/30 at Maine, Sun. 11/1 at Vermont
- Senior goaltender Meghann Treacy (Lake Peekskill, N.Y.) recorded her second blank sheet of the season with 14 saves against Brown on Friday night. She stopped 16 of 17 shots the following day against Brown. Treacy boasted weekend numbers of a 0.53 goals against average and .952 save percentage.
- Sophomore forward Brooke Stacey (Kahnawake, Que.) had three points over the weekend (2g, 1a) while senior forward Jill Langtry (Fort Frances, Ont.) also tallied three points (1g, 2a) in the victories over Brown.
- Providence head coach Bob Deraney and the Providence Friars fight for their first Hockey East victory this season against league rival Maine. The Friars are currently in the middle of a nine-game stretch of conference matchups.
- Freshman defenseman Kate Friesen (Altona, Man.) scored the lone Providence goal last weekend.

Vermont vs. New Hampshire/vs. Maine - Fri. 10/30, Sun. 11/1 at Vermont
- Head coach Jim Plumer and the Vermont Catamounts recorded their first victory of the season with a 3-1 triumph over conference foe Providence College. The win was Plumer's 200th career victory.
- Junior forward Bridget Baker (Los Gatos, Calif.) netted the game winning goal, her second goal of the season. Points also came from Catamount forwards Victoria Andreakos (Aurora, Ont.) (1g), Dayna Colang (Fairbanks, Alaska) (1g), and Saana Valkama (Pirkkala, Finland) (1a).